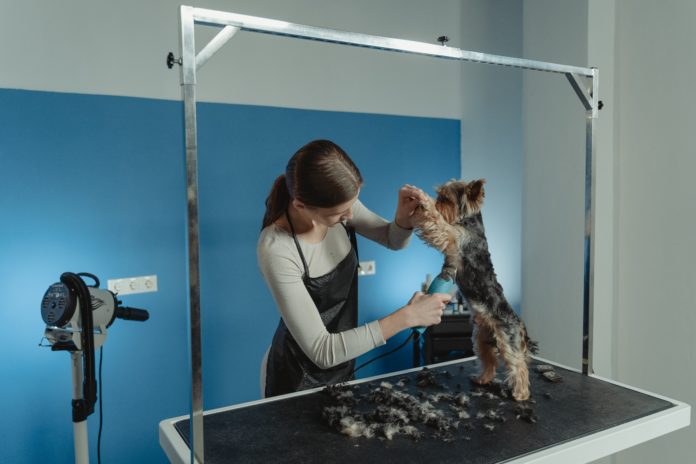 A class action lawsuit claims PetSmart left pet groomers on the hook for unenforceable debt for mandatory classes and training. 
The July 28 lawsuit was filed in California court by a former PetSmart groomer and claims that the national chain's training repayment agreement provision broke state laws and used debt to stop employees from seeking better working conditions, pay or other jobs. The class action was brought by Denver nonprofit firm Towards Justice, Jubilee Legal and has support from the Student Borrower Protection Center. 
While the case relies on California law, the lawsuit calls into question an increasingly common employment law trend. 
BreAnn Scally worked as a bather and groomer at a PetSmart salon in Salinas, California from February through September 2021. According to the suit, Scally wanted to pursue a career in animal rescue and thought becoming a groomer at the store could help her. To be promoted to grooming pets, employees must go through PetSmart's Grooming Academy program which the company's site adversities as a "FREE paid training valued at $6,000." The company advertises the program as a way for people to "glow up" their careers and says the program consists of 800 hours with 200 different dogs.
Under the impression that the course was free, Scally enrolled. As the lawsuit points out, Grooming Academy is not an independently accredited program. 
Before enrolling, Scally signed PetSmart's training repayment agreement provision, which required her to pay PetSmart $5,500 if she was fired or quit before April 2023 or two years after she started the program. 
According to the complaint, Scally's salon manager was her Grooming Academy trainer. The manager was also responsible for running the salon, grooming pets, supervising other groomers and employers and training Scally. The complaint alleges that during the three-week program, Scally was left mostly on her own to learn and practice grooming dogs while being paid slightly over minimum wage. The program's advertised hours, supervision and instruction didn't happen at Scally's salon, according to the lawsuit. 
Scally started to rethink employment at PetSmart, according to the lawsuit, after struggling to cover her bills and experiencing stress in the fast-paced office. Her manager reminded Scally about the training repayment agreement provision, according to the complaint, but said she didn't think PetSmart would collect if she stayed at the job long enough to cover her training costs as a groomer in training, making just over minimum wage while grooming dogs at a slightly discounted rate. Scally said she began to track how many dogs she saw and once she was confident she'd made PetSmart enough money, she quit. 
Scally said she didn't hear anything about the training repayment agreement provision until January 2022 when a collection for $5,500 appeared on her credit report. The debt collector, IC System, explained it was collecting on behalf of PetSmart for the Grooming Academy debt repayment. According to the complaint, Scally's credit score dipped and she was unable to sign an apartment lease. She also held off on plans to pursue a veterinary assistant degree or seek other loans. 
Scally argues that PetSmart broke state employment laws, laws around running an unapproved post-secondary education institute, consumer protection laws, false advertising protections and debt collection laws. 
The complaint lays out several questions for California courts to consider, including if the training is transferable or if it provides a recognized license or degree; if the company or employees are responsible for training costs; if representing the training as free is false advertising; if the cost is an enforceable debt; if PetSmart's acting as an unlicensed lender and if the company provided required consumer disclosures. 
The lawsuit relies on California laws and is one of several employment lawsuits that have popped up around training repayment agreement provisions. Training repayment agreement provisions are legal in almost every state and allow companies to recoup the costs of training that primarily benefits employees who leave within a short time period. 
The lawsuit asks California courts to create four different classes for workers like Scally. The first is for workers who were subject to repayment for Grooming Academy, the second is for those who had debt collection opened for the training costs, the third is for those who bought their own grooming tools and the last one is for salon workers who were required to work through meal and rest breaks. 
The California lawsuit challenges a training repayment agreement provision at the company for lower-paid employees, an increasingly common practice. 
According to a paper published by Loyola Law School professor Jonathan Harris, training repayment agreements are becoming increasingly common and have coincided with modern workforce trends where employees are often left on the hook for the costs of training. 
Like noncompete agreements, training repayment agreements are meant to protect an employer's monetary investment in their workers by requiring them to repay the company for on-the-job training should they leave in a shorter period of time. Every state, including Colorado, recognizes training repayment agreements as enforceable with a few conditions typically centered around how long an employee stays with a company. But, according to Harris, very few have requirements that the training programs be recognized or make any exceptions to programs that are required to get or keep a job. 
While courts typically apply a reasonableness standard to employer noncompete agreements, a 2019 paper by Elon University School of Law professor Eric Fink and Stuart Lichten from New York employment law firm Stuart Lichten Lichten & Bright, P.C. found that in the few training repayment agreements cases that have gone to court, the same standard wasn't usually applied.