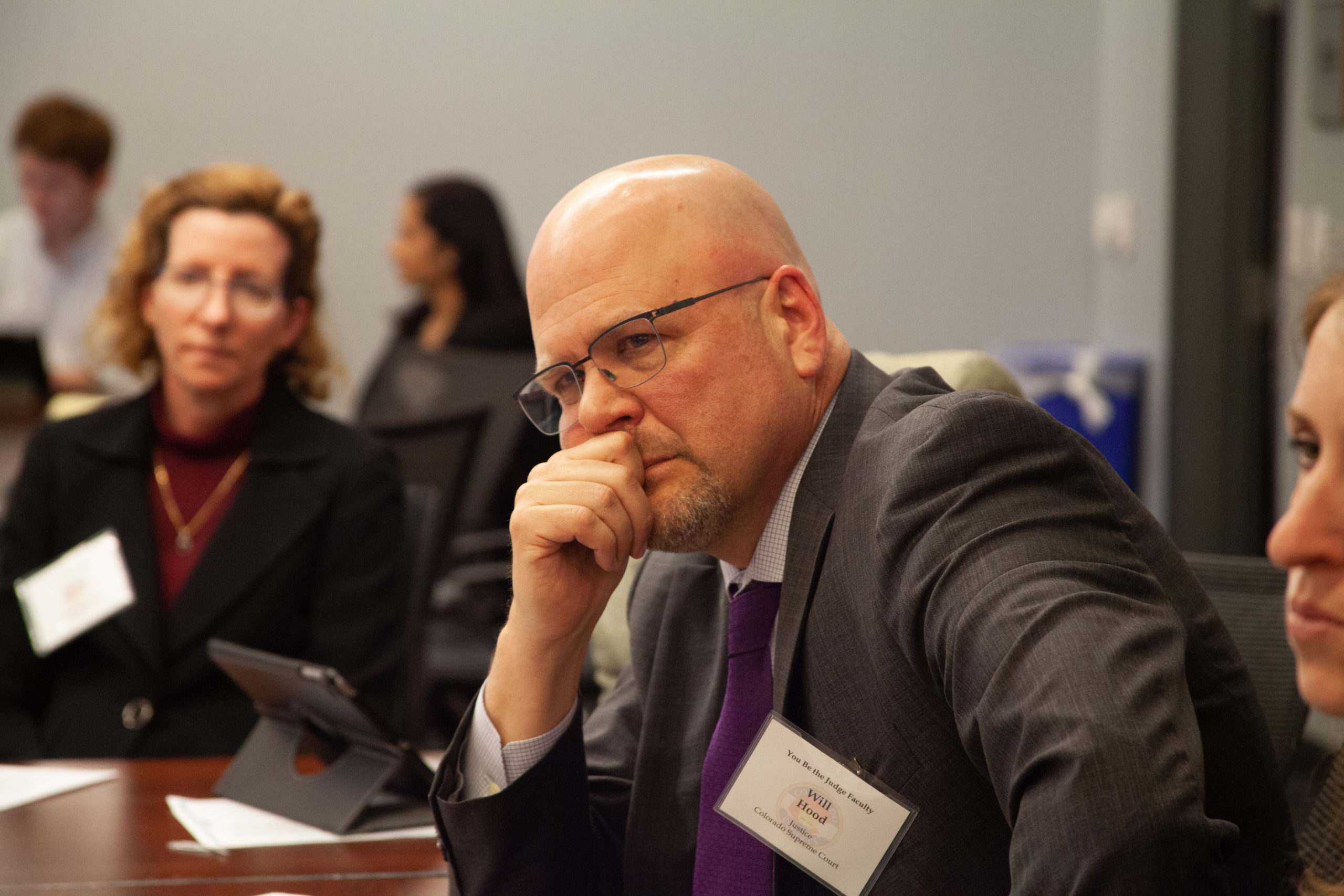 The Center for Legal Inclusiveness  and the Colorado Bar Association on April 22 hosted a "You Be the Judge" event for attorneys who may want to join Colorado's bench someday. Trial and appellate judges, Supreme Court justices and nominating commission members served as panelists to offer advice and answer questions from attorneys. They offered thoughts on everything about the application process, from talking about the importance of spending time on the personal essay to not giving up after the first try. 
Why do You Want to Be a Judge?
Panelists said the first question nominating commissions ask of applicants is invariably why the candidate wants to be a judge. While the answer is important, it's also intended as an icebreaker. 
Colorado Supreme Court Justice Carlos Samour was frank with attendees about the question's  importance. "If you don't nail that question, you don't deserve the job," he said, because applicants know it's coming. But on the flip side, he said, a good answer can set the tone for the rest of the interview to go well. 
Colorado Court of Appeals Judge Terry Fox said lawyers shouldn't think of a judge position as something they are entitled to or as a retirement job. "I don't think anybody should seek a judgeship because of prestige."
Some panelists shared their thoughts on the practical realities of being a judge. Supreme Court Justices Monica Márquez and Will Hood said nominating commissions will vet how well candidates would manage their dockets as judges. And Hood, who sat on the Denver District Court bench before his appointment to the state Supreme Court, said judges can't freeze up when faced with making decisions.
"If you're not willing to pull the trigger on things, you're going to get backed up really fast," he said. "The common denominator is … you have to be a person who is able to make decisions." He added for him, a big adjustment when he moved from the Denver District Court to the Supreme Court was no longer having a higher court as a backstop. As a trial judge, he said, he had the confidence that the state's appellate courts would catch mistakes he made in his decisions, but he no longer has that reassurance now that he's on the state's highest court.
The Personal Statement
Some panelists had different opinions on the importance of the one-page — double spaced — personal statement. Judge Don Toussaint of the Arapahoe County Court said for him, that part of the application took the most work and revising because it's so short. 
Making the personal statement actually feel personal might seem like obvious advice. 
But Shannon Stevenson, an attorney on the Supreme Court Nominating Commission, said she sees a lot of generic essays about applicants' love of the rule of law but that don't make a case for why the commission should choose them specifically. Daniel Ramos, a non-attorney member of the statewide Supreme Court Nominating Commission, said he puts more value in the legal writing sample, which can be a maximum of 20 pages. Byeongsook Seo, a member of the 2nd Judicial District Nominating Commission, added he's not bothered by repeat applicants reusing their personal statements, because he tends to look at them more as a chance to spot red flags. 
Question 16
Question 16 on the application for judge positions asks candidates to list five cases they've litigated in recent years, along with opposing counsel and presiding judges for the cases. Panelists said the question is an important chance for applicants to demonstrate their writing skills, but nominating commissions also call the judges and opposing counsel listed to gauge the character of applicants.
Toussaint said he listed some cases he lost as a practicing attorney. "Don't be afraid to be vulnerable," he said.
In the Interview
Panelists shared an array of dos and don'ts for interviews with the nominating commissions, including personal pet peeves. Márquez told attendees to engage with everyone on the commission, potentially an easy thing to forget given that half of the people they interview with are not attorneys.
Candidates should research commission members so they can connect with them, but Seo said it bothers him when candidates go overboard and sound like they're pandering to him. 
He also added candidates need to remember to answer questions directly, advice he said that actually gets ignored a lot. 
"If there's any comment made" in deliberations over a candidate, "it's that the candidate didn't answer the question," Seo said.
Keeping at It
Several panelists emphasized that the application process is competitive, and few people succeed in getting appointed to a judge position on their first try. Márquez told attendees they should treat each of their interviews for a judge seat as if it's the first time they have interviewed and not to assume that having their name sent up to the governor once will automatically mean you'll be a finalist the next time around.
"All the applicants are relative" to one another each time, she said. 
Jacki Cooper-Melmed, the governor's chief legal counsel, advised attendees to revisit their personal statements each time they apply for a position. She said a person's reflection on why they want to be a judge gets more insightful each time they consider the question.
Samour recalled applying for a district court position four times before his appointment to the 18th District bench in 2006. He served as chief judge of the 18th District from 2014 until his move to the Colorado Supreme Court in 2018. "If this is really your dream, you've got to keep applying."
— Julia Cardi