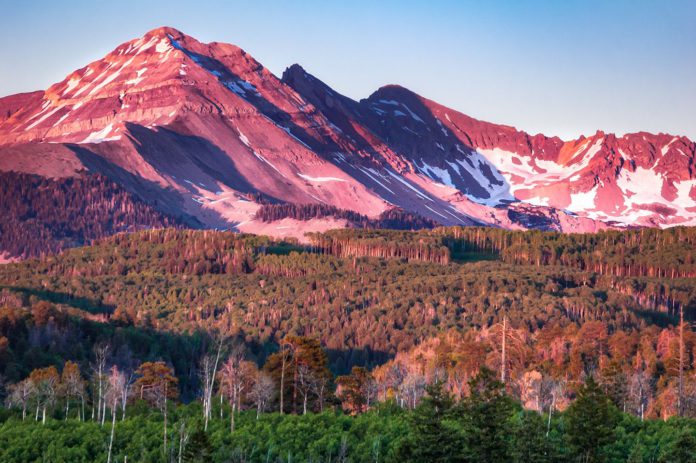 Law Week's annual Colorado 200 list gives the at-a-glance look at Colorado's largest 200 law firms. 
The typical response to that description is: "Colorado has 200 law firms?" 
The vast majority of attorneys in Colorado are either solo or work in small offices. There are 4,733 attorneys who are in five-person firms or larger. Despite being a major hub for the West, the legal community is home to many locally grown offices. Even among the largest offices, many of them started right here in the state. The Colorado 200 gives us a look at what large firms are in Colorado, what firms are growing or shrinking and what the demographics of those large firmslooks like.

Tight at the Top 
As it has been for several years, there are five firms in Colorado with more than 100 attorneys. Those five — Holland & Hart, Sherman & Howard, Davis Graham & Stubbs, Brownstein Hyatt Farber Schreck and Wheeler Trigg O'Donnell — are all homegrown and have planted their flags in the top five positions on each year's list. Beyond the top five, there are a couple firms that are just below 100 firms. With nearly 100 attorneys and rapid growth over the past few years, including a skyscraper bearing its name, Polsinelli could easily be confused for one of those Denver-based firms. 
Through the rest of the rankings, our Colorado 200 list looks more like a Colorado 100. Once you dip below the halfway point, firms are much smaller — about 80 of them have fewer than 10 attorneys. 
A Year Without A Merger 
Colorado is frequently touted as one of the fastest growing cities and one of the largest non-coastal hubs for the legal industry. Even though the Colorado 200 list is filled with mid-size and small offices, 60 of Colorado's 200 most populous law firms have a national reach. 
This year's list looks a little different from years past. Different in the sense that it's mostly the same. 
Nearly every firm on this year's list was here in 2018. There were no large mergers, and there were no new offices opening. The most notable difference was in five-attorney Dickinson Prud'Homme Holway Hoffman joining Jackson Kelly and seven-attorney Black & Graham splitting into two different firms. For a year that is still seeing near-record high levels of transactions at the national level, it has been surprisingly quiet in Colorado compared to previous years. 

DIVERSITY TICKS UP
Our Colorado 200 survey also collects information on demographics of Colorado offices. We didn't receive complete surveys from all 200 firms, so the demographic breakdown doesn't give us a look at all of Colorado's offices.  
Of those that did fill out all the information on our survey, we found that Colorado offices average 33% female partners and 8% minority partners. Colorado's legal community is doing better in diversity for female partners (nationally 21% according to Law360's 2019 Glass Ceiling Report) but lagging for minority partners. According to the NALP 2018 Report on Diversity, published in January, 9.13% of partners at national firms were minorities.  
Both of those numbers have been ticking up, though. In 2017, the percentage of female partners was 23%, and in 2018, that number grew to 27.74%. As for minority partners, firms that reported to us had an average of 7.8% minority partners and in 2018, that number was 7.99%. 
Our Colorado 200 list gives us a quick look at what is happening in Colorado's firms. While there's been overall growth in the number of attorneys working in larger offices, and improvement in diversity in local offices, we want more data. We'll leave our survey up at LawWeekColorado.com a little while longer to help us get even more accurate data. 
— Tony Flesor
| | | | | | |
| --- | --- | --- | --- | --- | --- |
| Rank | Firm Name | Total Attorneys | Colorado Attorneys | Change in Rank | Change in Colorado Attorneys |
| 1 | Holland & Hart | 449 | 222 | 0 | 7 |
| 2 | Sherman & Howard | 186 | 155 | 0 | 1 |
| 3 | Davis Graham & Stubbs | 146 | 146 | 0 | 4 |
| 4 | Brownstein Hyatt Farber Schreck | 244 | 139 | -1 | -3 |
| 5 | Wheeler Trigg O'Donnell | 107 | 105 | 0 | 2 |
| 6 | Polsinelli | 918 | 98 | 1 | 7 |
| 7 | Hall & Evans | 105 | 93 | 3 | 7 |
| 8 | Kutak Rock | 534 | 88 | 0 | 0 |
| 9 | Bryan Cave Leighton Paisner | 1,563 | 86 | 0 | -1 |
| 10 | Hogan Lovells | 2,874 | 83 | -4 | -9 |
| 11 | Faegre Baker Daniels | 730 | 77 | 0 | 2 |
| 12 | Greenberg Traurig | 2,238 | 74 | 1 | 8 |
| 13 | Perkins Coie | 1,176 | 69 | 1 | 9 |
| 14 | Lewis Roca Rothgerber Christie | 230 | 61 | -2 | -8 |
| 14 | Moye White | 61 | 61 | 1 | 4 |
| 16 | Messner Reeves | 106 | 56 | -1 | -1 |
| 17 | Gibson Dunn & Crutcher | 1,300 | 49 | 4 | 4 |
| 18 | Burg Simpson | 66 | 48 | 1 | 1 |
| 18 | Spencer Fane | 300 | 48 | -1 | -2 |
| 20 | Husch Blackwell | 751 | 46 | 2 | 2 |
| 21 | Lewis Brisbois Bisgaard & Smith | 1,500 | 45 | 5 | 5 |
| 21 | Sheridan Ross | 45 | 45 | 1 | 1 |
| 23 | Fairfield and Woods | 44 | 44 | -3 | -2 |
| 23 | Franklin D. Azar & Associates | 46 | 44 | -5 | -5 |
| 25 | Otten Johnson Robinson Neff + Ragonetti | 42 | 42 | 3 | 3 |
| 26 | Berg Hill Greenleaf + Ruscitti | 41 | 41 | -1 | 0 |
| 26 | Snell & Wilmer | 451 | 41 | 5 | 4 |
| 28 | Ireland Stapleton Pryor & Pascoe | 40 | 40 | 0 | 1 |
| 29 | Cooley | 1123 | 39 | 1 | 1 |
| 29 | Dorsey & Whitney | 556 | 39 | -3 | -1 |
| 31 | Ballard Spahr | 642 | 37 | -7 | -6 |
| 31 | Senn Visciano Canges | 37 | 37 | 19 | 12 |
| 33 | Bartlit Beck | 84 | 35 | 0 | 0 |
| 33 | Gordon & Rees | 985 | 35 | 5 | 2 |
| 35 | Fox Rothschild | 941 | 34 | -4 | -3 |
| 35 | Kilpatrick Townsend & Stockton | 650 | 34 | -2 | -1 |
| 35 | Robinson Waters & O'Dorisio | 34 | 34 | 1 | 0 |
| 38 | BakerHostetler | 972 | 33 | -5 | -2 |
| 38 | Foster Graham Milstein & Calisher | 33 | 33 | 0 | 0 |
| 40 | Beatty & Wozniak | 39 | 32 | -4 | -2 |
| 40 | Jones & Keller | 32 | 32 | 3 | 2 |
| 42 | Burns Figa & Will | 31 | 31 | -1 | 0 |
| 42 | Welborn Sullivan Meck & Tooley | 39 | 31 |  1 | 1 |
| 44 | Caplan & Earnest | 30 | 30 | -1 | 0 |
| 44 | Ritsema & Lyon | 31 | 30 | -4 | -2 |
| 44 | Robinson & Henry | 30 | 30 | 6 | 5 |
| 47 | Garfield & Hecht | 29 | 29 | 3 | 4 |
| 48 | Lewis Bess Williams & Weese | 28 | 28 | -1 | 1 |
| 49 | Bachus & Schanker | 27 | 27 | 1 | 2 |
| 49 | Hutchinson Black and Cook | 27 | 27 | -2 | 0 |
| 51 | Ruegsegger Simons Smith & Stern | 26 | 26 | -2 | 0 |
| 51 | White and Steele | 26 | 26 | -1 | 1 |
| 53 | Arnold & Porter | 976 | 25 | 4 | 1 |
| 53 | WilmerHale | 912 | 25 | 11 | 4 |
| 55 | Armstrong Teasdale | 256 | 24 | 4 | 1 |
| 55 | Coan Payton & Payne | 24 | 24 | 6 | 2 |
| 57 | Dentons | 4,582 | 24 | 10 | 3 |
| 57 | Lyons Gaddis | 24 | 24 | 6 | 2 |
| 59 | Riggs Abney Neal Turpen Orbison & Lewis | 75 | 24 | -3 | -1 |
| 59 | Squire Patton Boggs | 1,333 | 24 | -7 | -4 |
| 61 | Lathrop Gage | 251 | 23 | 6 | 3 |
| 61 | The Sawaya Law Firm | 23 | 23 | 6 | 3 |
| 63 | Hoskin Farina & Kampf | 22 | 22 | -4 | -1 |
| 64 | Dietze and Davis | 21 | 21 | 10 | 2 |
| 64 | Littler | 1,552 | 21 | -3 | -1 |
| 64 | Senter Goldfarb & Rice | 21 | 21 | -21 | -10 |
| 64 | The Harris Law Firm | 21 | 21 | 3 | 1 |
| 68 | Frascona Joiner Goodman & Greenstein | 20 | 20 | 6 | 1 |
| 68 | Jackson Lewis | 932 | 20 | 15 | 4 |
| 68 | Kaplan Kirsch & Rockwell | 34 | 20 | 12 | 3 |
| 68 | Koenig Oelsner Taylor Schoenfeld & Gaddis | 20 | 20 | 6 | 1 |
| 68 | Merchant & Gould | 87 | 20 | 6 | 1 |
| 73 | Sweetbaum Sands Anderson | 19 | 19 | 7 | 2 |
| 73 | Vicente Sederberg | 43 | 19 | 10 | 3 |
| 75 | Dill Dill Carr Stonbraker & Hutchings | 18 | 18 | 3 | 0 |
| 75 | Fisher Philliips | 521 | 18 | 27 | 4 |
| 75 | Pollart Miller | 20 | 18 | -8 | -2 |
| 78 | Allen & Vellone | 17 | 17 | 11 | 2 |
| 78 | Holland & Knight | 1,319 | 17 | 11 | 2 |
| 78 | Montgomery Little & Soran | 17 | 17 | -11 | -3 |
| 78 | Nixon Shefrin Hensen Ogburn | 17 | 17 | -11 | -3 |
| 78 | Ogletree Deakins | 922 | 17 | -11 | -3 |
| 78 | Treece Alfrey Musat | 17 | 17 | 11 | 2 |
| 78 | White Bear Ankele Tanaka & Waldron | 17 | 17 | 5 | 1 |
| 85 | Adsero IP | 16 | 16 | -1 | 0 |
| 85 | Dufford Waldeck Milburn & Krohn | 16 | 16 | -1 | 0 |
| 85 | Griffiths Law | 16 | 16 | -6 | -2 |
| 85 | Hall Estill | 137 | 16 | 33 | 5 |
| 85 | Shapiro Bieging Barber Otteson | 20 | 16 | -1 | 0 |
| 85 | Springer & Steinberg | 16 | 16 | 25 | 3 |
| 91 | Altitude Community Law | 15 | 15 | -1 | 0 |
| 91 | Ciancio Ciancio Brown | 15 | 15 | -1 | 0 |
| 91 | Cordell & Cordell | 283 | 15 | 19 | 2 |
| 91 | Haddon Morgan and Foreman | 15 | 15 | -1 | 0 |
| 91 | Ryley Carlock & Applewhite | 40 | 15 | -1 | 0 |
| 91 | Sparks Wilson Borges Brandt & Johnson | 15 | 15 | -1 | 0 |
| 91 | Taylor | Anderson | 30 | 15 | -10 | -2 |
| 91 | Wells Anderson & Race | 15 | 15 | 12 | 1 |
| 99 | Balcomb & Green | 14 | 14 | -9 | -1 |
| 99 | Butler Snow | 360 | 14 | -9 | -1 |
| 99 | Haynes & Boone | 579 | 14 | 4 | 0 |
| 99 | McElroy Deutsch Mulvaney & Carpenter | 265 | 14 | 4 | 0 |
| 103 | Campbell Killin Brittan & Ray | 13 | 13 | -13 | -2 |
| 103 | Childs McCune | 13 | 13 | -13 | -2 |
| 103 | Godfrey Johnson | 13 | 13 | 54 | 5 |
| 103 | Hoban Law Group | 42 | 13 | 15 | 2 |
| 103 | Keating Wagner Polidori Free | 13 | 13 | 0 | -1 |
| 103 | McGeady Becher | 13 | 13 | 15 | 2 |
| 103 | Montgomery Amatuzio Dusbabek Chase | 13 | 13 | 15 | 2 |
| 103 | Ogborn Mihm | 14 | 13 | 15 | 2 |
| 103 | Woods Aitken | 30 | 13 | 87 | 8 |
| 112 | Collins Cockrel & Cole | 12 | 12 | 3 | 0 |
| 112 | Coombe Curry Rich Jarvis | 12 | 12 | 19 | 2 |
| 112 | Cozen O'Connor | 766 | 12 | 7 | 1 |
| 112 | Denver Trial Lawyers | 12 | 12 | 19 | 2 |
| 112 | Fredericks Peebles & Morgan | 26 | 12 | NO DATA | NO DATA |
| 112 | Gasper Law Group | 12 | 12 | 3 | 0 |
| 112 | Greenspoon Marder | 228 | 12 | 46 | 4 |
| 112 | Hernandez & Associates | 12 | 12 | 30 | 3 |
| 112 | Jackson Kelly | 165 | 12 | 30 | 3 |
| 112 | Karp Neu Hanlon | 12 | 12 | 3 | 0 |
| 112 | Markus Williams Young & Zimmerman | 13 | 12 | -1 | -1 |
| 112 | Ridley McGreevy & Winocur | 12 | 12 | 7 | 1 |
| 112 | Stevens Littman Biddison Tharp & Weinberg | 12 | 12 | -8 | -2 |
| 125 | Cochran Freund & Young | 11 | 11 | -6 | 0 |
| 125 | Dworkin Chambers Williams York Benson & Evans | 11 | 11 | 33 | 3 |
| 125 | Fischer Brown Bartlett and Gunn | 11 | 11 | 17 | 2 |
| 125 | Katz Look & Onorato | 11 | 11 | -6 | 0 |
| 125 | Miller & Steiert | 11 | 11 | -6 | 0 |
| 125 | Stinson Leonard Street | 463 | 11 | -62 | -11 |
| 131 | Anderson & Jahde | 10 | 10 | 11 | 1 |
| 131 | Davis & Ceriani | 10 | 10 | 0 | 0 |
| 131 | Glade Voogt Lord Smith | 10 | 10 | -16 | -2 |
| 131 | Gradisar Trechter Ripperger & Roth | 10 | 10 | 11 | 1 |
| 131 | Lohf Shaiman Jacobs Hyman & Feiger | 10 | 10 | 0 | 0 |
| 131 | Metier Law Firm | 10 | 10 | 38 | 3 |
| 131 | Minor & Brown | 10 | 10 | 0 | 0 |
| 131 | Morrison Foerster | 1,001 | 10 | 0 | 0 |
| 131 | Nathan Dumm & Mayer | 10 | 10 | -27 | -4 |
| 131 | Norton Rose Fulbright | 3,060 | 10 | 60 | 5 |
| 131 | Otis Bedigfield & Peters | 10 | 10 | -20 | -3 |
| 131 | Rathod Mohamedbhai | 10 | 10 | 11 | 1 |
| 143 | Fowler Schimberg Flanagan McLetchie | 9 | 9 | -12 | -1 |
| 143 | Hamilton Faatz | 9 | 9 | -12 | -1 |
| 143 | Killmer Lane & Newman | 9 | 9 | -1 | 0 |
| 143 | Levin Sitcoff | 9 | 9 | 15 | 1 |
| 143 | Litvak Litvak Mehrtens and Carlton | 9 | 9 | -1 | 0 |
| 143 | McConnell Fleischner Houghtaling | 9 | 9 | -1 | 0 |
| 143 | Mulliken Weiner Berg & Jolivet | 9 | 9 | -1 | 0 |
| 143 | Murr Siler & Accomazo | 12 | 9 | -1 | 0 |
| 143 | Oates Knezevich Gardenswartz Kelly & Morrow | 9 | 9 | -1 | 0 |
| 143 | Packard and Dierking | 9 | 9 | -1 | 0 |
| 143 | Poulson Odell & Peterson | 9 | 9 | -1 | 0 |
| 143 | The Hustead Law Firm | 9 | 9 | 26 | 2 |
| 143 | Trout Raley Montaño & Freeman | 9 | 9 | 15 | 1 |
| 143 | Vranesh and Raisch | 9 | 9 | 15 | 1 |
| 143 | Wegner Scarborough Younge & Hockensmith | 9 | 9 | -12 | -1 |
| 158 | Baldwin Morgan & Rider | 8 | 8 | -16 | -1 |
| 158 | Epstein Patierno | 8 | 8 | NO DATA | NO DATA |
| 158 | Hackstaff and Snow | 8 | 8 | 26 | 2 |
| 158 | Harris Karstaedt Jamison & Powers | 8 | 8 | -27 | -2 |
| 158 | Jachimiak Peterson | 8 | 8 | -16 | -1 |
| 158 | Johnson & Repucci | 8 | 8 | 0 | 0 |
| 158 | McCollum Crowley Moschet Miller & Laak | 26 | 8 | 0 | 0 |
| 158 | Richards Carrington | 9 | 8 | 26 | 2 |
| 158 | S&D Law | 8 | 8 | -27 | -2 |
| 158 | Shook Hardy & Bacon | 521 | 8 | 11 | 1 |
| 158 | Silver & DeBoskey | 8 | 8 | 11 | 1 |
| 158 | The Bendinelli Law Firm | 8 | 8 | 33 | 3 |
| 158 | Tucker Holmes | 8 | 8 | 0 | 0 |
| 158 | Vahrenwald McMahill Massey & Mitchell | 8 | 8 | 0 | 0 |
| 172 | Alpern Myers Stuart | 7 | 7 | -3 | 0 |
| 172 | Bayer & Carey | 7 | 7 | 12 | 1 |
| 172 | Chayet & Danzo | 7 | 7 | -3 | 0 |
| 172 | Dinsmore & Shohl | 650 | 7 | -53 | -4 |
| 172 | Hatch Ray Olsen Sandberg | 7 | 7 | -14 | -1 |
| 172 | Joseph Immigration Law Firm | 7 | 7 | -3 | 0 |
| 172 | Kolko & Casey (formerly Kolko & Associates) | 7 | 7 | -3 | 0 |
| 172 | Lass Moses Ramp & Cooper | 7 | 7 | -3 | 0 |
| 172 | Marsh Fischmann & Breyfogle | 7 | 7 | -53 | -4 |
| 172 | Reilly Pozner | 7 | 7 | -3 | 0 |
| 182 | Benson Kerrane Storz & Nelson | 6 | 6 | 9 | 1 |
| 182 | Elkind Alterman & Harston | 6 | 6 | 9 | 1 |
| 182 | Folkstead & Fazekas | 6 | 6 | -13 | -1 |
| 182 | Graham Law (Formerly Black & Graham) | 6 | 6 | NO DATA | -1 |
| 182 | Jester Gibson & Moore | 6 | 6 | -13 | -1 |
| 182 | McDermott Stuart & Ward | 6 | 6 | 2 | 0 |
| 182 | Waas Campbell Rivera Johnson & Velasquez | 6 | 6 | 2 | 0 |
| 189 | Beck Payne Frank & Piper | 5 | 5 | 2 | 0 |
| 189 | Broxterman Alicks McFarlane | 5 | 5 | 2 | 0 |
| 189 | Buchanan & Stouffer | 5 | 5 | -20 | -2 |
| 189 | Evans Case | 5 | 5 | -20 | -2 |
| 189 | Hill & Robbins | 5 | 5 | 2 | 0 |
| 189 | Levy Wheeler Waters | 5 | 5 | 2 | 0 |
| 189 | Martin Conklin | 5 | 5 | 2 | 0 |
| 189 | Martinez Law Group | 5 | 5 | NO DATA | NO DATA |
| 189 | Range | 5 | 5 | -5 | -1 |
| 189 | Shoemaker Ghiselli + Schwartz | 5 | 5 | -5 | -1 |
| 189 | Sparkman + Foote | 5 | 5 | 2 | 0 |
| 189 | Zupkus & Angell | 5 | 5 | 2 | 0 |