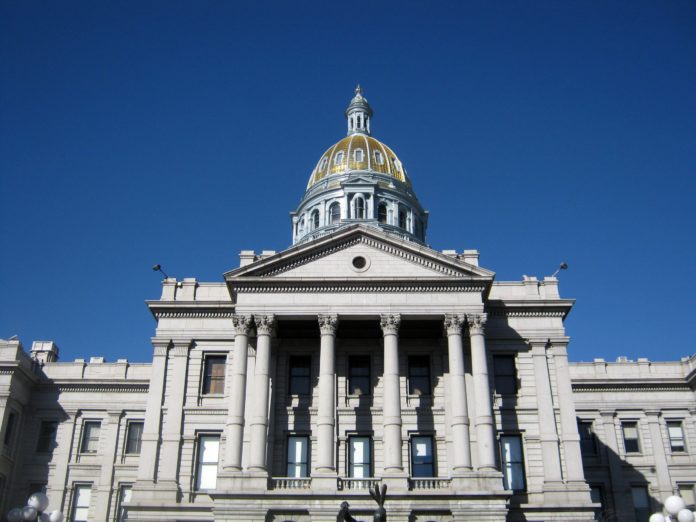 In 2020, Colorado passed a law to protect whistleblowers who speak out about unsafe work conditions during a public health crisis. Now, lawmakers and workers' rights advocates say it's time to make those protections permanent.
Democratic lawmakers on Jan. 26 announced plans to introduce a bill this week to provide permanent whistleblower protections to workers who raise concerns about workplace health and safety practices. The protections would cover workers who report concerns to their employer, other workers, the public or government agencies and protect them from retaliation, discrimination and other adverse actions. Sen. Brittany Pettersen, Sen. Robert Rodriguez, Rep. Leslie Herod and Rep. Tom Sullivan are expected to sponsor the bill.
The legislation is meant to extend protections signed into law in HB 20-1415, also known as the Public Health Emergency Whistleblower Act, which went into effect in July 2020. The PHEW Act only applies during a public health emergency, but the new bill would remove that requirement to allow complaints after the pandemic is over. U.S. Secretary of Health and Human Services Xavier Becerra renewed a nationwide public health emergency declaration on Jan. 14.
The PHEW Act prohibits a private employer, government agency or certain contractors from taking adverse action or retaliating against a worker for raising any "reasonable concern" in good faith about workplace violations of government health or safety rules or about an "otherwise significant workplace threat to health or safety." It also bars retaliation or discrimination against workers who use their own personal protective equipment at work.
Samantha Scarborough, an ICU nurse and CWA Local 7799 member, said during the press conference that she and her colleagues were asked to reuse N95 masks and limited to one surgical face mask per 12-hour shift, even though the masks are only effective for six hours. "With the whistleblower bill in 2020 … we could raise these concerns about lack of PPE and the improper use of it," Scarborough said. "But the temporary protections will not be enough during the next crisis."
It's not just health care workers who have blown the whistle under the PHEW Act. Former Amazon warehouse worker Linda Rodriguez filed a complaint with the Colorado Department of Labor and Employment last spring alleging she was fired in 2020 for raising concerns about safety practices at the company's Thornton facility, including its failure to provide health and safety information in Spanish. The current law protects Rodriguez because she was speaking out about COVID-related practices, said Nina DiSalvo, policy director at the non-profit Towards Justice, which represented the Amazon worker. However, "it wouldn't protect similar concerns about Amazon safety protocols related to the flu or related to lifting heavy weight or to using dangerous machinery," DiSalvo said during the press conference. 
Workers who file a PHEW complaint must first exhaust administrative remedies through the CDLE before bringing an action to court. According to Herod, a total of 126 complaints have been filed since the law took effect in 2020. Seven of those have resulted in settlements, she said, and the Division of Labor Standards and Statistics issued a Notice of Right to Sue for 33 complaints and a final determination in four cases. Three of the settlements were for undisclosed amounts, Herod said, but the four remaining settled claims resulted in aggregate settlements of $215,395.
"Quite frankly, it's working," Herod said of the 2020 law. She added that "in the short time since our bill was introduced, workers heard about it and they also felt more comfortable reporting unsafe work conditions. And some of those complaints even resulted in action."
"We know that [the PHEW Act] gave brave workers the confidence to speak up, to shine a light on dangerous issues," said Livelihood Law Managing Partner Rachel Ellis, speaking during the press conference on behalf of the Colorado Plaintiff Employment Lawyers Association. "And as a lawyer that represents employees, I can tell you that during the pandemic, and before the pandemic, I heard a lot of stories about fear — fear of doing the right thing." When workers were fired for raising concerns, "careers were derailed, bankruptcies were filed, families were panicked," she said. "And unless we take action when PHEW no longer applies, Colorado will be back there again."
Compared to federal protections under the Occupational Safety and Health Administration, the Colorado whistleblower law would protect a wider swath of workers and provide quicker remedies, according to advocates. "The OSHA protections are limited both substantively and procedurally," DiSalvo said. For example, a worker must file a complaint with OSHA within 30 days of suffering retaliation — a very short timeline to learn about one's rights and remedies and retain a lawyer, if necessary. "This state-level protection would frankly provide real protection for Colorado's workers and the protection that they need," DiSalvo said.
One of the PHEW Act's most notable provisions, according to employment law attorneys, allows for qui tam enforcement. A whistleblower who has exhausted administrative remedies may bring a civil action against an employer on behalf of the state. Under the PHEW Act, 75% of any judgment would go to the division and the whistleblower may keep the rest, creating an incentive for workers to bring claims and saving the state resources on enforcement. In November 2020, Towards Justice filed the first qui tam whistleblower complaint under the PHEW Act against Denver Health on behalf of workers who alleged they faced retaliation for speaking out about the effects of COVID and racism in the workplace.