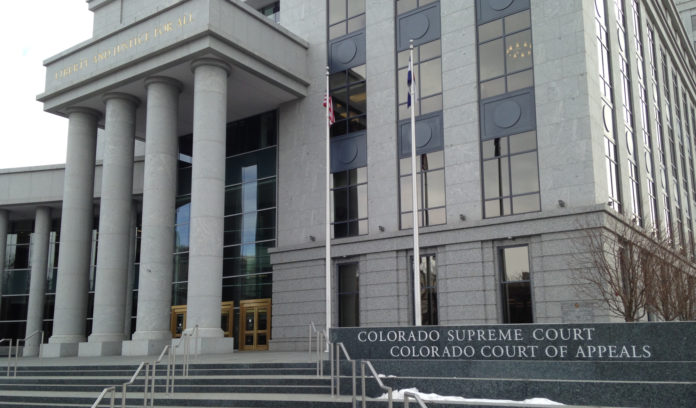 The Colorado Supreme Court on Monday concluded that a portion of the state's harassment statute that prohibits electronic communications "intended to harass" is unconstitutionally broad, affirming a district court's decision.
Alfred Moreno sent his ex-wife emails in which he called her disparaging names and expressed "rage and hatred" toward her. She responded by telling him to leave her alone. Moreno also posted about his ex and her new boyfriend on Facebook. He was charged with harassment under C.R.S. 18-9-111(1)(e), which prohibits communications via phone, text, instant message or computer that are done "in a manner intended to harass" or threaten bodily harm or property damage.
Moreno moved to dismiss the charge, arguing that subsection (1)(e) of the harassment statute is unconstitutional. The district court agreed, finding that the phrase "intended to harass" is unconstitutionally overbroad and vague in violation of freedom of speech protections in the federal and state constitutions. According to the lower court, the language could allow a person to be prosecuted for a wide range of speech with the potential to annoy or alarm others, such as weather forecasts or predictions about political trends.
The state appealed directly to the Colorado Supreme Court. The state cited the high court's 1979 decision in People v. Weeks, in which the court considered the constitutionality of obscene phone calls. In that case, the court found the First Amendment doesn't allow speech to be used as a "battering ram to destroy the tranquility" of a person's home, the state argued, noting that other types of electronic communications are just as invasive as phone harassment. "Emails do not cease to exist when one hangs up the phone," the state said in its opening brief in Moreno. "Instead, such a message resides, visible, on a person's phone or computer until a victim takes the step to erase such a message." Likewise, social media comments don't disappear when a user leaves the app or website, the state said, and may be visible to many people.
"In short, the intrusion into a person's privacy is certainly no less when they are sent an unwanted email or mentioned in a vulgar and harassing Facebook post than when being called on a telephone, and criminalizing harassment under such circumstances 'strikes the proper balance between the defendant's need to communicate and the victim's right to privacy and autonomy,'" the state argued, citing Weeks.
But the Colorado Supreme Court wasn't swayed. Although subsection (1)(e) of the harassment statute mainly targets unprotected speech such as threats, the court said, its restriction on communication "intended to harass" includes a "substantial amount of protected speech." For example, it could prohibit emails or social media posts about the need to combat a public health threat or respond to an active shooter situation, said the unanimous opinion written by Justice William Hood. Likewise, it could encompass negative reviews on Google or Yelp as well as "diatribes posted on public officials' social media accounts by disgruntled constituents, or antagonistic comments left on news sites," the opinion states.
Seeing no way to limit the phrase "intended to harass" to render it constitutional, the high court concluded it is constitutionally overbroad. However, the court didn't invalidate the entire statute. The partial invalidation doesn't affect the other restrictions in subsection (1)(e) on communications that are obscene or made in a manner intended to "threaten bodily injury or property damage," according to the opinion.
"Our holding today might be summarized simply as 'Bolles goes digital,'" Hood wrote, referring to the Colorado Supreme Court's 1975 decision in Bolles v. People. That harassment case, involving a defendant who sent anti-abortion mailers to thousands of Boulder County residents, challenged an earlier version of subsection (1)(e) that covered communications by mail, which the high court concluded was facially overbroad.
"While we sympathize with those who become the target of gratuitous and unfounded insults, we are not persuaded by the prosecution's privacy argument," the Moreno opinion states. In Bolles, the high court found the privacy intrusion was minimal because recipients were free to throw away unwanted mail. "Likewise, today, the swipe of a finger can often block, or at least delete, unwanted electronic communication," Hood wrote. "This is a small price to pay for freedom of speech."