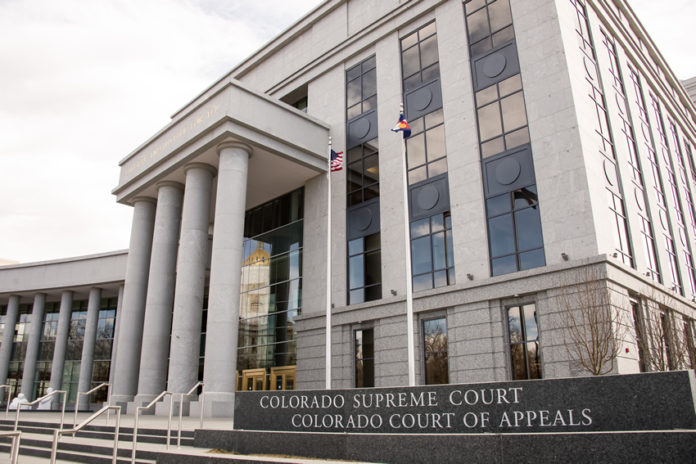 The Colorado Supreme Court on June 28 concluded that mandatory lifetime sex offender registration for people with multiple juvenile adjudications constitutes cruel and unusual punishment. 
The Colorado Sex Offender Registration Act required juveniles adjudicated more than once for unlawful sexual behavior to register as sex offenders for the rest of their lives, with no ability to deregister. But that is no longer the case, thanks to the court's decision and new legislation set to take effect in September.
Defendant T.B. pleaded guilty in 2001 to unlawful sexual contact for a crime he committed as an 11-year-old. Four years later, he pleaded guilty to sexual assault at age 15. Following the second adjudication, he completed probation and offense-specific treatment. T.B. has been petitioning to discontinue sex offender registration since 2010. In his most recent petition, he argued that the lifetime registration requirement under CSORA constitutes cruel and unusual punishment under the Eighth Amendment. On Monday, the high court agreed.
"Mandatory lifetime sex offender registration brands juveniles as irredeemably depraved based on acts committed before reaching adulthood," states the majority opinion penned by Justice Monica Márquez. "But a wealth of social science and jurisprudence confirms what common sense suggests: Juveniles are different. Minors have a tremendous capacity to change and reform."
T.B.'s probation officer testified at an evidentiary hearing in 2010 that the young man had indeed changed, saying he "made a complete turnaround from the time that he was eleven years old." The judge at the hearing agreed, noting T.B. was "not a risk to sexually reoffend at this point in time because of all of the work that he's done." But the juvenile court doubted it could discontinue registration under CSORA due to T.B.'s second adjudication.
In Monday's narrow ruling, the majority emphasized it wasn't weighing in on the legislature's ability to mandate lifetime sex offender registration for adult offenders. However, Márquez noted, juveniles are more amenable to reform than adults, less likely to be deterred by punishment and more susceptible to outside pressure, immature behavior and impulsiveness. "In light of these distinctive attributes of youth, mandatory punishments that are constitutional when applied to adult offenders can violate the Eighth Amendment when applied to juveniles," Márquez wrote.
In reaching its conclusion, the majority looked to a trio of cases — Roper, Miller and Graham — in which the U.S. Supreme Court concluded that sentencing practices that are permissible in the adult context may be unconstitutional when applied to juveniles. The majority also noted that a "substantial majority" of states decline to impose mandatory lifetime sex offender registration on juveniles, which reflects a "national consensus against such a punishment."
Punishment or Policy Choice?
In deciding whether a law imposes cruel and unusual punishment, courts must first decide whether the sanction imposed is a punishment. In its 2019 opinion in T.B.'s case, a division of the Colorado Court of Appeals noted that while the state supreme court had never weighed in on the matter, other divisions of the Court of Appeals had "on multiple occasions, and without exception" concluded that CSORA's registration requirement is not a punishment but a civil measure meant to protect or notify the community. However, the division in T.B. broke with its precedent and held that the registration requirement is a punishment when applied to juveniles.
"I think it's important to note that in defending the statute, the Attorney General's Office argued to the court that this is simply a policy choice, which is highly disappointing," said Tristan Gorman, policy coordinator for the Colorado Criminal Defense Bar. "Because even the court recognizes it's not just a policy choice. It is absolutely punishment."
Chief Justice Brian Boatright was the sole dissenting voice. Boatright said that while he agreed lifetime registration is "unfair" to people like T.B., the "unfairness of CSORA's registration requirement … does not render the requirement, on its face, punishment." He noted that previous divisions of the Colorado Court of Appeals, the U.S. Supreme Court and federal circuit courts have concluded that sex offender registration is not a punishment.
"I acknowledge the social science and policy studies explaining that juveniles are more capable of change," Boatright wrote, but he added that "those policy determinations are for the legislature to make."
The state legislature recently did just that when it passed House Bill 21-1064, which makes several changes to juvenile sex offender registration requirements. The bill, which was signed into law June 24, eliminates mandatory lifetime sex offender registration for those with multiple juvenile adjudications. Under HB21-1064, the duty to register automatically terminates when a person reaches age 25 or seven years from the date the juvenile was required to register, whichever is later. The bill also gives judges more discretion to exempt juveniles from registration for first offenses and tightens laws regarding the publishing or sharing of information about juveniles on the registry.
The majority said in a footnote that although HB21-1064 passed and eliminated the lifetime registration requirement for people like T.B., the court elected to release its opinion to allow him to immediately move forward with his deregistration petition, rather than wait until the bill takes effect in September.
"It's heartening to see the court doing this when they could have just sat back and waited for the new bill to take effect and then declared the issues raised by the petition in [T.B's] particular case moot," Gorman said. "They're making a very strong statement about the unconstitutionality of the statute in this case and the fact that juveniles are different."
Sara Hildebrand, a clinical fellow at the University of Denver Sturm College of Law, filed an amicus brief in support of T.B. on behalf of a group of constitutional, criminal and juvenile law scholars. According to Hildebrand, the brief highlighted the "growing body of neuroscience research" that shows the brain isn't fully developed until well into one's 20s or even later.
"I'm really thankful that the majority was so thoughtful and, it seems, really considered the wealth of social science research and literature that's out there about brain development and took that to heart in its analysis of why the lifetime sex offender registration requirement is different as applied to juveniles than it is as applied to adults," Hildebrand said.
"Hopefully, courts [in other states] will really take a close look at the social science and apply this logic to their lifetime sex offender registration statutes, but also in other contexts," Hildebrand said, adding she hopes courts continue to look at the Roper, Miller and Graham line of cases to "think about how the constitution may apply differently as it relates to kids."
"I'm pleased to see where the court ended up with [the decision], and I'm pleased to see that, at the same time, the legislature was engaged in their own process to try and right this wrong," Gorman said. "And I certainly hope that when it comes to juveniles in particular, this means that the pendulum is starting to swing back toward the middle …  I'm hopeful that this signals both the courts and the legislature will take a more moderate track."