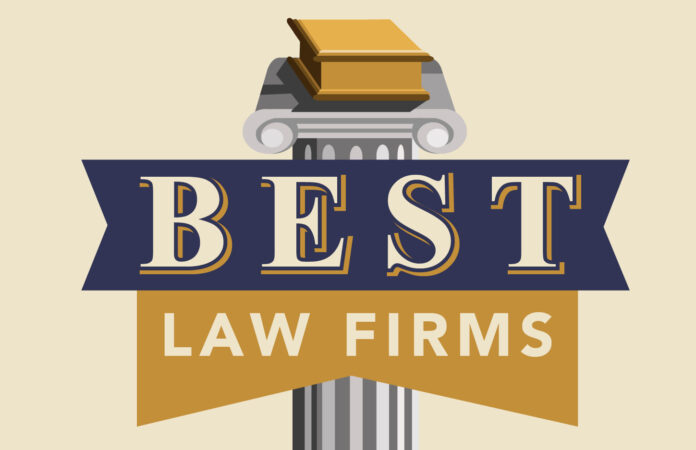 The past year has been a busy one in the real estate market. With high interest rates, battles in the legislature and city council over land use and a high-profile property tax ballot measure, there's sometimes a wonder if those working in real estate find any time to sleep. 
Whether well-slept or not, several Colorado law firms were recognized by Best Lawyers and U.S. News & World Report, which ranks national and regional firms on their excellence according to legal skillset, achievements and client successes. 
Law Week talked with a few of these firms about the challenges they faced in 2023, some of the successes they achieved and what's on their radar for 2024. 
High Interest Rates, Slow Deals and a Cash Crunch 
2023 saw another year of high interest rates, with the Federal Reserve increasing rates another four times, on top of rate increases in 2022. These interest rates, coupled with the difficulties of high inflation across 2023, created more challenges in the real estate sector than in the years before. 
Nicole Ament, Brownstein Hyatt Farber Schreck's real estate department co-chair and shareholder, told Law Week that "as was seen across the real estate industry, transaction flow was slower than the past few years." According to Ament, the firm worked around this challenge by focusing its attorneys on different areas, utilizing attorneys in the ongoing land use and development planning which hasn't slowed to the same extent as transactions.
Ament and Brownstein were not alone in facing these challenges. Valerie Bromley, a partner with Messner Reeves, experienced a similar environment, where "a lot of consultants (attorneys, architects, engineers, title companies, etc.) were extremely busy, which resulted in deals, approvals, plans, etc. taking longer than they would have in 2020 or 2021." Bromley's strategy to address these difficulties involved "communicating with clients and opposing parties related to timing and deadlines up front [to help] set realistic expectations."
Another challenge facing real estate firms during 2023 was "finding ways to help clients keep deals alive when money dried up," according to Husch Blackwell partners Kevin Kelley and Andrea Austin. They told Law Week they kept deals alive by "[drawing] on goodwill from existing relationships, or [negotiating] additional earnest dollars to keep deals going." 
Making Big Deals Happen in Challenging Times 
Despite these headwinds, both Husch Blackwell and Brownstein were able to get significant deals across the line for clients. 
Husch Blackwell attorneys Kelley and Austin viewed their work representing the Charlotte Hornets as their top accomplishment of the year. They worked with the Hornets and the City of Charlotte to come to an agreement that "will see the City contribute $275 million in new arena improvements and a new training center for the team, while keeping the Hornets in Charlotte until 2045," according to Kelley and Austin. 
Ament told Law Week that Brownstein's work in the sale of Silverton Mountain in 2023 was one of its top accomplishments of the year. Ament said that Brownstein has been "working with the developer of Silverton Mountain since it was first envisioned 25 years ago, so the ultimate sale of the fully developed and realized project was a great culmination of a long-term relationship."
Looking Forward to Next Year: AI's Continued Rise, and a Renewed Push for Land Use Changes 
While there's no guarantee the interest rate will drop to the 2% level desired by the Federal Reserve, or that it will pause or lower rates, the trend lines and outlook look positive for both of those issues heading into 2024. However, that doesn't mean that there won't be new challenges facing real estate firms in the new year. 
Ament anticipates that "Gov. Polis will introduce a new version of last year's land use bill." With regards to the potential of a new land use bill appearing in the legislature in the upcoming session, Ament said that the firm works "very closely with our state and local government relations team during the legislative session to monitor pending legislation that could impact our clients, and will advocate for our clients as and when necessary." 
Another issue on the radar for Bromley and Messner Reeves is the continued rise of artificial intelligence. Bromley said she's already "seen it in some aspects in [the firm's] practice where it's used to complete form documents, etc., and it will be interesting to watch how it impacts real estate law moving forward." 
In total,10 firms that practice in Colorado told Law Week they were recognized by Best Lawyers and U.S. News & World Report for real estate law and real estate litigation. 
Brownstein Hyatt Farber Schreck – Tier 1 for Real Estate Law 
Caplan & Earnest – Tier 3 for Real Estate Law 
Coan, Payton & Payne, LLC – Tier 2 for Real Estate Law 
Davis Graham & Stubbs LLP – Tier 1 for Real Estate Law 
Husch Blackwell, LLP – Tier 1 for Real Estate Law 
Ireland Stapleton – Tier 1 for Real Estate Law 
Kamlet LLP – Tier 2 for Real Estate Law 
Messner Reeves – Tier 1 for Real Estate Law 
Moye White – Tier 1 for Real Estate Law and Real Estate Litigation 
Robinson Waters & O'Dorisio, P.C. – Tier 1 for Real Estate Law and Real Estate Litigation