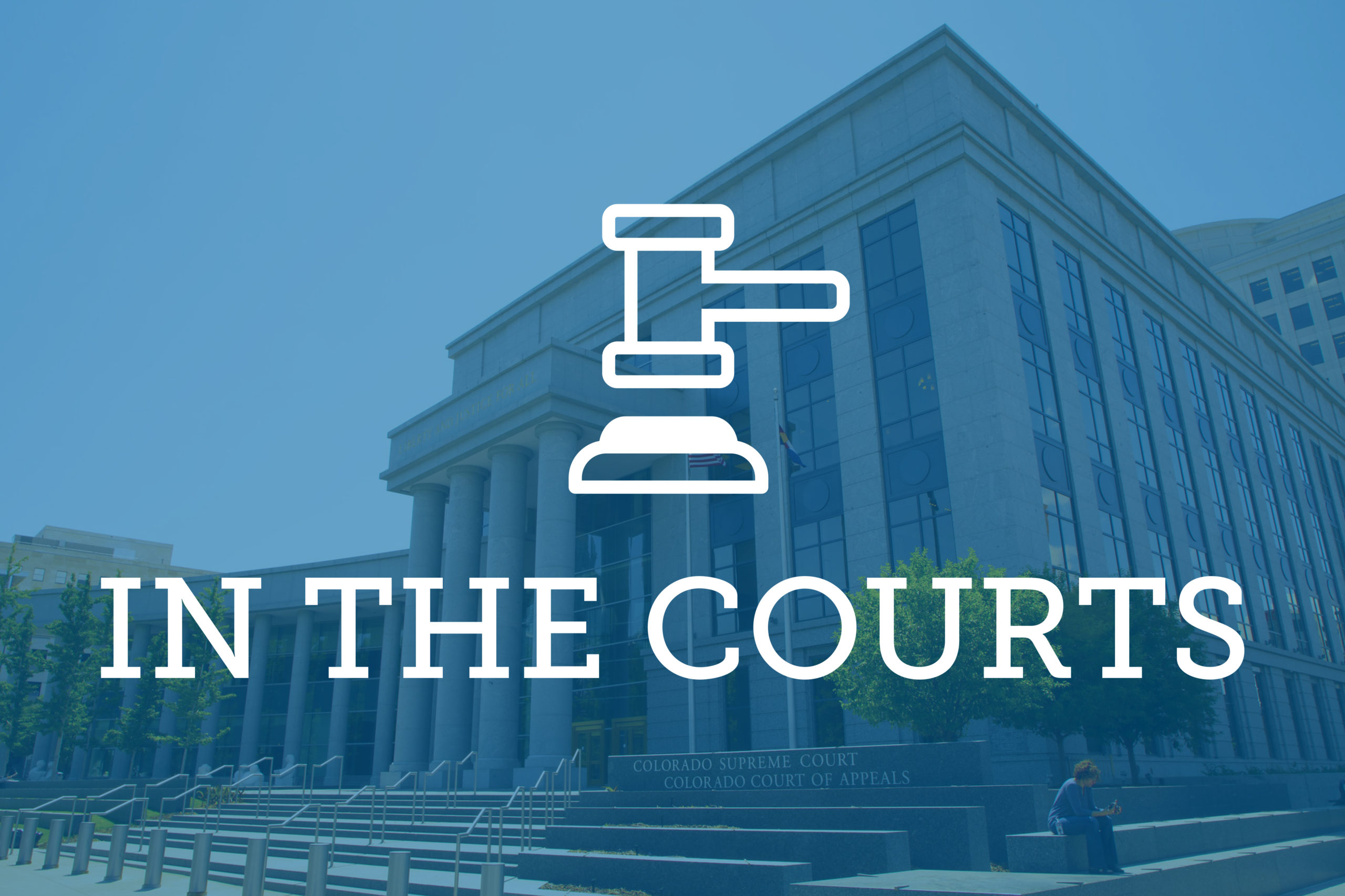 Graham v. Executive Director of Colorado Department of Corrections
In February 2018, Jimmie Graham's parole officer filed a complaint alleging that Graham had violated three conditions of his parole: changing his residence without permission; failing to report to the parole office as directed; and committing a new felony — escape. 
Graham's escape case was dismissed, and he pleaded not guilty to the two remaining allegations. In June 2018, the parole board revoked Graham's parole and ordered him confined to the Department of Corrections for the remainder of his parole period, citing Graham's history of revoked parole as justification. Graham appealed, but his appeal was denied. 
In a habeas corpus appeal, the Colorado Supreme Court considered whether subsection (11)(b) of the parole revocation statute, section 17-2-103, C.R.S. (2019), as it existed between Aug. 9, 2017, and Aug. 7, 2018, authorizes a parolee's confinement for the remainder of his parole period. The court concluded that it does not. Rather, the parole board is only authorized to order a parolee confined for up to 90 days. Because Graham had been confined well beyond the 90 days authorized, the court held that the district court erred in denying his habeas petition. 
The court reversed the district court's order and remanded the case to the district court with directions to grant the writ of habeas corpus, make the writ permanent and order that the parolee be immediately released to parole. 
Parental Responsibilities Concerning W.C.
Winston Conkling and Kimberly Nanke are the parents of W.C. Four-and-a-half years ago, Nanke filed a petition with the trial court for allocation of parenting responsibilities of W.C., beginning what has since become nearly continuous litigation between the parties. 
The trial court entered permanent orders allocating parenting responsibilities between Nanke and Conkling. In those orders, the court found that it was in W.C.'s best interest for Nanke to be his primary residential parent and to have sole decision-making responsibility over him, and Conkling would have parenting time every other weekend. 
Conkling appealed. Before the Court of Appeals issued a decision, however, Conkling filed a "Motion to Determine Whether Remand Is Necessary, and if so for a Limited Remand," alleging that there were significant changed circumstances affecting parenting time and decision-making. In that motion, Conkling asked the court "to determine whether the trial court has jurisdiction to hear and decide a Motion for Modification of Parenting Time while this Appeal is pending, and if so, to grant a limited remand for that purpose."
 Two days after filing that motion — and before the Court of Appeals ruled on it — he filed two motions with the trial court, one to modify parenting time and one to modify the allocation of decision-making responsibility ("motions to modify").
The court denied Conkling's motion for a limited remand without explanation. The trial court then issued an order stating that it did not have jurisdiction to rule on the motions to modify because the action was on appeal. 
Nanke petitioned the Colorado Supreme Court for review of the division's order that the trial court retained jurisdiction to rule on the motions to modify while the matter was on appeal. 
The Supreme Court concluded that sections 14-10-129(1)(a)(I), C.R.S. (2019),and 14-10-131(2), C.R.S. (2019), do not specifically grant trial courts jurisdiction to modify parenting responsibility orders while an appeal of the orders is pending. Next, the court concluded that Conkling's motions to modify were material to his appeal. 
Thus, the court held that the trial court did not have jurisdiction to rule on Conkling's motions to modify while those orders were on appeal. Accordingly, the court disapproved of the Court of Appeals' order.
Martinez v. People
After pleading guilty to Driving While Ability Impaired, Quinten Martinez was sentenced to jail and probation under section 42-4-1307, C.R.S. (2019). The county court twice revoked his probation and resentenced him. Martinez has served 608 days in jail related to this offense, of which 458 stem from probation violations.
In this opinion, the Colorado Supreme Court reviewed a district court's judgment affirming a county court's interpretation and application of section 42-4-1307, C.R.S. (2019). 
The court concluded that the sentence imposed by the county court when it revoked this defendant's probation for a second time was illegal because it exceeded the statutory maximum amount of jail time. Under section 42-4-1307(7), the court held that the maximum cumulative amount of jail time a sentencing court may impose for probation violations stemming from a second or subsequent alcohol- or drug-related misdemeanor driving offense is 365 days. 
Because the defendant had served more than 365 days in jail as of the filing of this appeal, the court reversed the district court's judgment and remanded the case with instructions to vacate the sentence, resentenced him under section 42-4-1307(6) and (7) and corrected the mittimus.
In re Rademacher v. Greschler
The case stems from an assault charge and deferred sentence requiring the payment of $300,000 from John Becker to Carol Rademacher after a lengthy procedural history, including two trips to the Court of Appeals.
Rademacher challenged a district court ruling that she impliedly waived her attorney-client privilege by filing a legal malpractice complaint close to the expiration of the two-year statute of limitations and by then contesting Ira Greschler's statute of limitations defense.
The Colorado Supreme Court concluded that on the facts presented, Rademacher did not assert a claim or defense that either focused or depended on advice given by her counsel or that placed any privileged communications at issue. Accordingly, the court further concluded that plaintiff did not impliedly waive her attorney-client privilege in this case. The court therefore made the rule to show cause absolute.
In re Ballot Title #74, & No. 19SA89, In re Ballot Title #75
The original proceeding arose from the Title Board's determination that it lacked jurisdiction pursuant to section 1-40-107(1)(c), C.R.S. (2019) to consider the petitioner's motion for a second rehearing proceeding regarding Proposed Ballot Initiative 2019–2020 #74 and Proposed Ballot Initiative 2019–2020 #75. 
The Colorado Supreme Court held that the statement in the statute governing ballot title setting that "[t]he decision of the title board on any motion for rehearing shall be final, except as provided in subsection (2) of this section, and no further motion for rehearing may be filed or considered by the title board" means that a proposed initiative is subject to only one rehearing proceeding before the Title Board. The board correctly determined that it lacked jurisdiction to consider a motion for a second rehearing. Accordingly, the actions of the title board were affirmed.
In Re People v. Kilgore
District courts enjoy ample discretion in managing cases before trial, but that discretion is not unfettered. In criminal cases, a district court may not rely on its case-management discretion to order disclosures that exceed the discovery authorized by Rule 16 of the Colorado Rules of Criminal Procedure. Nor may a court require disclosures that infringe on an accused's constitutional rights.
The district court in this case sua sponte ordered the parties to exchange exhibits thirty days before trial. The defendant, Joshua Edward Kilgore, protested, but the district court overruled his objection. Kilgore then filed a C.A.R. 21 petition, and the Colorado Supreme Court issued a rule to show cause. 
The Supreme Court then considered whether the district court was authorized to order the defendant to disclose his exhibits before trial. The court concluded that it was not because the district court's order finds no support in Rule 16 and arguably infringes on Kilgore's constitutional rights. The court made the rule absolute.