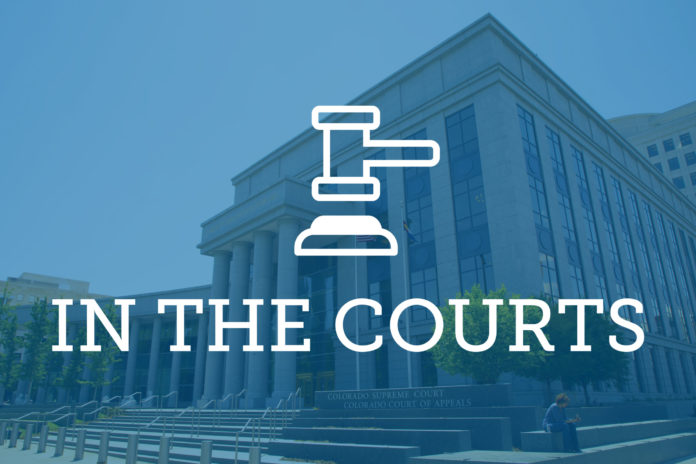 Editor's Note: Law Week Colorado edits court opinion summaries for style and, when necessary, length.
The Colorado Supreme Court en banc discharged a rule involving a second offense.
According to the court opinion, people who are convicted for drug- or alcohol-related traffic offenses in Colorado are subject to progressively severe penalties for each additional conviction. Colorado Revised Statute 42-4-1307(5)(a) provides penalties for a second offense of driving under the influence or driving while ability impaired. That provision applies to defendants who, at the time of sentencing, have a previous conviction for certain related offenses, the high court noted.
On Aug. 22, 2021, Jacob Woodside was charged in Weld County with DUI for an offense he was accused of committing that day. On Nov. 11, 2021, Woodside was again charged with DUI after being accused of committing the offense that day in Grand County.
On March 1, 2022, Woodside pled guilty in Grand County to DWAI. The plea agreement stipulated it was Woodside's first offense and he was sentenced to one year of probation.
The Weld County case was pending and through counsel, Woodside requested at least two continuances in Weld County to allow the Grand County case to resolve. On June 21, 2022, Woodside entered a plea agreement in Weld County, again pleading guilty to DWAI as a first offense.
At a July 26, 2022 sentencing hearing, prosecutors and attorneys for Woodside disputed whether the Weld County DWAI should be sentenced as a second offense. The court concluded that although Woodside committed the Weld County case first, his Grand County conviction was nonetheless a prior conviction at the time of sentencing. The court decided to sentence the Weld County DWAI as a second offense and set the case over for a status conference to allow Woodside and his counsel to discuss whether to withdraw his guilty plea and proceed to trial.
Woodside then filed a petition under Colorado Appellate Rule 21, which the Colorado Supreme Court granted. 
The Colorado Supreme Court concluded under the plain language of 42-4-1307(5)(a), conduct underlying the second offense doesn't have to pre-date the conduct underlying the first. The high court found the language requires only that a defendant have a relevant prior conviction at the time of sentencing for the second offense. The Colorado Supreme Court concluded the trial court properly determined Woodside's Weld County DWAI, though based on conduct pre-dating his Grand County DWAI, was a second offense subject to penalties under 42-4-1307(5)(a). 
The high court discharged the rule to show cause.
Colorado Supreme Court Justice Monica Márquez dissented. Márquez pointed to a 1980 Colorado Supreme Court case, People v. Nees, that concluded, as a general rule, penalty enhancement statutes for repeat offenders only apply if the currently charged offense was committed after a conviction of any offenses to be used as the basis for a penalty enhancement.
"The majority's interpretation of the statute nevertheless ignores the sequence of a defendant's offenses and erroneously permits a defendant's first offense to be punished as though it were the defendant's second or subsequent offense," Marquez wrote.