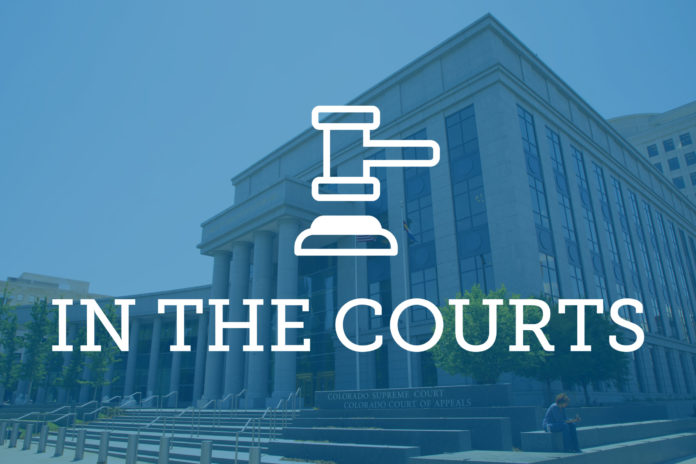 Editor's Note: Law Week Colorado edits court opinion summaries for style and, when necessary, length.
Ford v. Jackson National Life Insurance Company, et al.
The 10th Circuit Court of appeals affirmed in part and reversed in part a case involving discrimination in a workplace.
La'Tonya Ford, an African-American woman, worked at Jackson National Life Insurance Company for about four years including in Denver for most of that time. Ford claimed she suffered from sex and race-based discrimination, faced retaliation for complaining about her treatment, dealt with a hostile work environment and was constructively discharged. After leaving her position, Ford sued and Jackson asked for a summary judgment. The district court dismissed all Ford's claims.
Ford appealed to the 10th Circuit and that affirmed the dismissal of her discrimination claim. The court did reverse in part the dismissal of her retaliation, hostile work environment and constructive discharge claims.
Multiple alleged incidents were provided as factual background for the case including one in 2008 where Jackson held an off-site party at the home of one of the regional directors, John Poulsen. During the party, Ford alleges Poulsen told her to get on her knees and then placed a vodka bottle in his pelvic region and started thrusting the bottle. Ford did not report the incident to human resources, but believes this showed a hostile work environment.
In 2009, Ford was promoted to a business development consultant. She later applied for higher-level positions, but was not chosen and believed it was based on her race and gender. She was later placed on a performance improvement plan by her then supervisor, Corey Walker. After that, Ford submitted a complaint to human resources which alleged Walker treated Ford unfairly and inappropriately including by allowing his team to have racial and sexual discussions without reprimand. Human resources conducted an investigation and found Ford hadn't been discriminated or retaliated against and didn't discover a hostile work environment. Ford had her PIP rescinded and was given a new supervisor, Robert Blanchette.
Later in 2009, Ford submitted a formal complaint to the Equal Employment Opportunity Commission where she alleged Jackson didn't promote its minority employees at the same rate as non-minorities, she experienced a hostile work environment and was being retaliated against for complaining about bad behavior.
In late 2009, James Bossert, one of the vice presidents of Jackson allegedly ordered Blanchette to give Ford a negative evaluation. Instead, Blanchette evaluated her as meeting expectations. Bossert also allegedly wanted Blanchette to fire Ford and another African-American employee, Kimberly Funchess, but he refused.
In early 2010, two vice presidents that reported to Bossert, Paul Fitzgerald and Jack Mishler, met with Blanchette and allegedly insinuated he would be fired if didn't let go of Ford and Funchess. Blanchette was later fired. He believes it's because he didn't fire Ford and Funchess. 
Bossert was then named Ford's supervisor. Ford raised concerns with Gary Stone of Jackson's HR department. Ford contended she was being treated unfairly. Ford felt the territories she covered were reassigned unfairly, which impacted her pay. Ford also complained she was asked to train her colleagues more than white male counterparts. That training time, Ford alleged, also impacted her pay. Ford also complained she wasn't given timely quarterly evaluations, which impacted how she improved her performance.
Later in 2010, Ford supplemented her EEOC additionally alleging she was denied promotions compared to her white male colleagues who were less qualified. Ford also included allegations of a hostile work environment and offered examples.
In October 2010, Ford got an external wholesaler position at a competing company and gave her two-week notice to Jackson. As she was leaving work that day, Ford alleged a Jackson employee threw a promotional football that was defaced with something sexual and racial at Ford. Ford then notified HR she would not finish her two weeks, alleging it didn't do anything to stop the discrimination. Stone flew to Denver after the incident and fired the two employees accused of being involved with the football. Jackson followed that up by holding a meeting in the Denver office reinforcing that conduct would not be tolerated and Jackson's president wrote an apology letter to Ford.
In 2016, the EEOC sued Jackson for allegedly engaging in unlawful discrimination connected to the basis of race and sex. In January 2020, the district court entered a consent decree and in exchange for resolving all claims against it, Jackson agreed to pay compensation to intervenors and other employees on behalf of EEOC who sought relief. Ford, however, was the only party who didn't join the consent decree, which meant she was pursuing her claims against Jackson individually. Jackson moved for summary judgment and the district court dismissed all Ford's claims. The appeal followed.
On the discrimination ruling, the appeals court wrote there wasn't enough direct evidence of discrimination. Ford could also rely on indirect evidence for discrimination. The appeals court wrote Jackson had met its burden for promoting other people over her because they performed better in interviews, among other things. In sum, the appeals court affirmed the dismissal of Ford's discrimination claim.
As for the retaliation claim, the appeals court reversed the lower court's ruling (only on Ford's failure to promote theory). Some of the analysis was based on a September 2010 email between Bossert and Stone. Bossert learned Ford posted for a vacant desk director position. Bossert told Stone he believed Ford would try to leverage that position to work against the company by furthering her complaint. Ford was not offered the position. The appeals court cited this as possible retaliation.
When it came to the hostile work environment claim, the appeals court reversed the district court's order. The appeals court cited the alleged vodka bottle incident and Ford allegedly being asked sexually explicit questions as some of the reasons for the reversal. The appeals court also argued the hostile work environment could be connected to race, due to alleged racially motivated comments at the business.
Finally, the appeals court reversed and remanded the district court's order tossing out Ford's claim of constructive discharge, meaning Ford dealt with a situation where her only recourse was to quit. Since the appeals court reversed the dismissal of the hostile work environment claim, it should then reverse the dismissal of Ford's constructive-discharge claim. 
"This will allow the district court to consider, in the first instance, whether Ford has submitted sufficient evidence of her claim of constructive discharge," wrote Judge Gregory Phillips in the court's opinion.