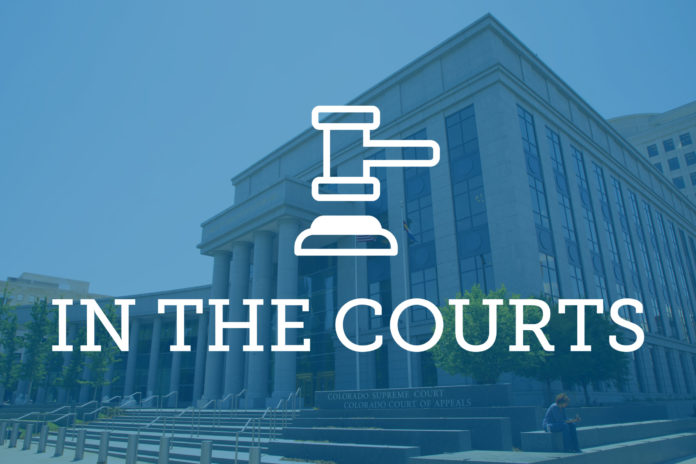 Editor's Note: Law Week Colorado edits court opinion summaries for style and, when necessary, length. 
In this workers' compensation case, the Court of Appeals considered for the first time the interplay between the limitation period for reopening a case and the limitation period for asserting a penalty claim under Colorado's Workers' Compensation Act.
In February 2012, Allen Villegas injured his back while working for Denver Water and received treatment. In 2015, Denver Water filed a final admission of liability admitting to an impairment rating of 17% of the whole person, and Villegas filed a claim for total disability benefits. The claim was dismissed and Villegas was left with a permanent partial disability award — a decision that was affirmed by a division of the Court of Appeals. After an unsuccessful petition to the Colorado Supreme Court, Villegas' claim was closed.
In April 2019, Villegas applied for a hearing and asserted claims for penalties against Denver Water and Dr. Hugh Macaulay, the physician who oversaw his workers' compensation examination, alleging they allowed nurse case managers to attend his appointments without his knowledge or consent. The Workers' Compensation Act requires employers and insurers to advise claimants of their right to refuse to be examined in the presence of a nurse case manager, a nurse who specializes in managing workers' compensation injuries. 
Denver Water and Macaulay moved for summary judgment, contending that Villegas' penalty claims were barred by the statute of limitations in the reopening statute, C.R.S. 8-43-303. They argued Villegas couldn't assert penalty claims unless his case, which was closed, was reopened. Reopening must be sought either six years from the date of injury or two years after the last indemnity payment — whichever is later. For Villegas, that would be October 2018 — two years after his partial disability payments were set to end.
An administrative law judge agreed the reopening deadline had expired and also rejected Villegas' allegations that Denver Water and Macaulay withheld information about nurse case managers. The ALJ found there was no basis for the equitable tolling of the statute of limitations and granted summary judgment in favor of Denver Water and Macaulay.
The Industrial Claim Appeals Office upheld the grant of summary judgment in favor of Denver Water, disagreeing with Villegas' assertion that penalties are governed only by the statute of limitations in the penalty statute, C.R.S. 8-43-304, which allows a penalty claim if it is asserted within one year of discovering the alleged violation. Villegas said he learned nurses at Denver Water's clinic served as nurse case managers less than a year before he filed his claim. The ICAO allowed the penalty claims against Macaulay to proceed, finding that the "closure of issues" only pertained to parties that filed a final admission of liability, which may only be done by an employer and its insurer.
Villegas and Macaulay appealed. A division of the Court of Appeals concluded that the reopening statute of limitations bars Villegas' penalty claims because he filed them more than six years after his injury and more than two years after his last benefit payment.
Villegas argued that because he asserted penalty claims, he didn't need to reopen his case, and the one-year penalty statute of limitations applied. The division rejected that argument, finding both the penalty and reopening statutes address fraud claims, which "suggests the General Assembly anticipated that pursuing a later penalty claim for fraud required reopening a case." And reopening based on fraud is "unquestionably subject to the statute of limitations contained in the reopening provisions," according to the opinion. 
The division rejected Villegas' contention that the two statutes of limitations conflict, concluding that the "statutes work in concert by requiring that penalty claims be brought within one year of discovery of the violative behavior and asserted within the context of an open or reopened claim." The party seeking reopening to pursue a penalty claim must do so before the statute of limitations in the reopening statute runs out, the division said, and Villegas failed to do so.
However, the division disagreed with the ICAO's conclusion that the reopening statute of limitations doesn't apply to Macaulay as a non-party to the final admission of liability. The legislature intended for workers' compensation cases to be closed automatically, the court concluded, including penalty claims against non-parties to the final admission of liability.