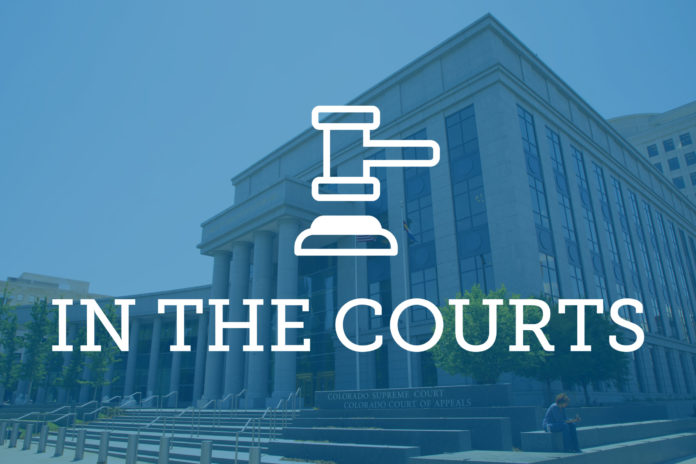 Editor's Note: Law Week Colorado edits court opinion summaries for style and, when necessary, length.
Mitton et al. v. Danimaxx of Colorado, Inc.
The Colorado Court of Appeals unanimously affirmed a judgment in a liability case under the Colorado Dram Shop Act.
According to court records, Lindsey Ward consumed multiple alcoholic beverages at a restaurant in Breckenridge, Colorado. While intoxicated, Ward drove to Breckenridge Market & Liquor and purchased alcohol. Market employees saw Ward appeared to be intoxicated and at least one employee offered Ward a ride home, but she refused. 
Ward drove off with her newly purchased alcohol, lost control of her car and struck another vehicle killing Benjamin Mitton and Nichole Gough. The liquor purchased at the market was unopened in Ward's car. Ward was convicted of multiple crimes and is serving a prison sentence. Two market employees were also convicted of selling alcohol to a visibly intoxicated person.
The victims' surviving family members brought civil action, asserting wrongful death claims against Ward and claims under the Colorado Dram Shop Act, Colorado Revised Statute 44-3-801(3)(a), against the restaurant and market. The plaintiffs resolved the claims against Ward and the restaurant, leaving the market as the only defendant.
The plaintiffs filed a motion for a determination of a question of law that asked a district court to rule the market could be found liable for damages under the act, even though Ward didn't consume the alcohol it sold to her. The market moved for summary judgment, claiming it couldn't be liable under the act because Ward didn't consume any of the alcohol purchased at the market, and her intoxication wasn't and couldn't have been due to the sale of the alcohol there.
The district court granted the market's summary judgment motion. On appeal, the single disputed issue was whether 44-3-801(3)(a) required proof Ward's intoxication could be attributed to the market's sale of alcohol to her. 
The appeals court concluded it does, based on the plain language of the statute, and affirmed the judgment. 
Bara v. Industrial Claim Appeals Office of the State of Colorado et al.
The Colorado Court of Appeals unanimously affirmed an order in an unemployment benefits case connected to COVID-19.
Kristen Bara worked as the office manager at Mental Health CTR of Boulder County, Inc. and in September 2021, MHC announced an immunization and testing policy. The policy mandated all employees provide proof of a COVID-19 vaccination by Oct. 31. The policy allowed employees to get a vaccination exemption for medical or religious reasons by submitting a request before the deadline.
Bara declined to receive a COVID-19 vaccine and didn't seek or receive an exemption. MHC terminated Bara's employment and she applied for unemployment benefits. After finding Bara's violation of a company rule that could result in serious damage to her employer's interests, a deputy with the Division of Unemployment Insurance disqualified Bara from those benefits under Colorado Revised Statute 8-73-108(5)(e)(VII).
Bara appealed the disqualification and at an evidentiary hearing, Bara testified her concerns about the safety of the COVID-19 vaccine and her religious objections to it. Bara admitted she hadn't sought a medical or religious exemption. The hearing officer reversed the deputy's decision and found Bara's refusal to get vaccinated for COVID-19 was based on reasonable concerns about her health and safety and MHC didn't offer reasonable alternatives to vaccination. The hearing officer found Bara wasn't at fault for the separation and was entitled to unemployment benefits.
But the Industrial Claim Appeals Office Panel later reversed the hearing officer's decision. The panel found Bara's failure to follow the vaccine policy could have resulted in serious damage to MHC's interests and disqualified her from unemployment benefits under 8-73-108(5)(e)(VII). It also found Bara was disqualified under 8-73-108(5)(e)(VI) for deliberate disobedience of an employer's reasonable instruction. 
Bara asked the appeals court to set aside the panel's decision contending it improperly substituted its conclusions of law and its interpretation of facts for the hearing officer's. The appeals court affirmed the order, finding her separation of employment was based on her volitional violation of a company rule.