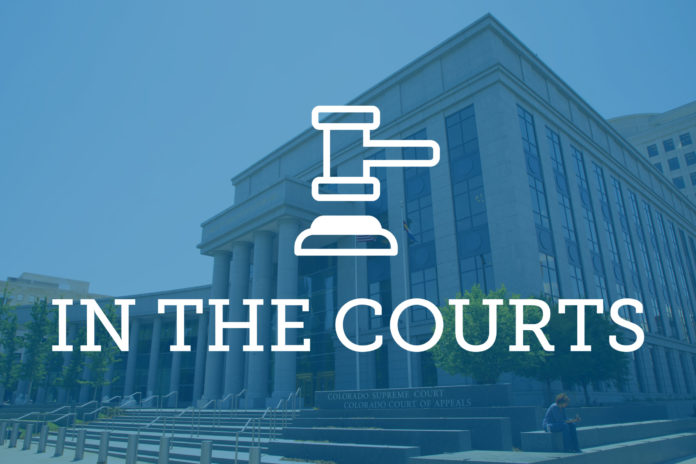 Editor's Note: Law Week Colorado edits court opinion summaries for style and, when necessary, length.
CORE Electric Cooperative v. Freund Investments, LLC
The Colorado Court of Appeals upheld a prior jury ruling involving a case between Freund Investments and CORE Electric Cooperative over a property easement.
The case came after Freund Investments' appealed a trial court's judgment over property valuation. Freund contended the trial court erred by using the appraiser's valuation based on the subdivision development method, which it argued was inadmissible, and by excluding evidence of comparable sales.
CORE Electric Cooperative previously filed a petition in condemnation to acquire a non-exclusive permanent easement for more than 26 acres on Freund's 2,722-acre property. CORE hoped to construct a 115kV transmission line and distribution facilities extending from its Kiowa substation to its Brick Center substation. CORE also asked for a temporary construction easement over smaller portions of the property, which was being used mainly for agriculture.
To determine the fair market value of the condemned property and any loss to the value of the residue at the site, the case went to a valuation proceeding. 
Freund's appraiser, Gregory Owen, used two methods to evaluate the property: a sales comparison and subdivision development method. First, Owen used several similar properties to come up with a per-acre value. He then looked into the easement's value, while also subtracting a loss of in value due to condemnation, which led to a per-acre value of $1,900.
Next, he used the subdivision development method. He divided the property into multiple lots and looked into a variety of factors including which lots were premium, a rise in overall property values and costs of selling the lots. 
Owen eventually found that just compensation would be $300,000, by using a median value between the methods.
CORE then filed a motion to exclude Owen's method as inadmissible. 
"The trial court found Owen's opinion using the subdivision development method inadmissible, reasoning that 'the Colorado Supreme Court expressly forbids the method of hypothetically carving a land into smaller tracts, estimating the value of each site and then adding the estimated values of all the sites together,'" wrote Martinez. "But the court found Owen's opinion using the sales comparison approach admissible."
Before trial, CORE said it objected to Owen's use of the sales comparison because he did not directly talk with a buyer or seller involved in sale of seven comparable properties as required. But Freund argued that Owen did verify for one similar sale with a buyer. The trial court allowed Owen's opinion on the unverified sales saying it "would be admissible under the public records hearsay exception, because Owen confirmed the comparable sales' prices with the assessor's records and cross-checked the prices with the clerk and recorder records. "Despite this, the trial court still excluded six of the seven comparable sales as inadmissible because Owen only verified one. This led to his testimony being limited to the valuation of property using the comparable sales method. 
W. West Foster was also hired by CORE to also appraise the property. He used the comparable sales method to estimate a $2,500 per-acre value with a 50% condemnation value. Foster valued the temporary easement at $693 with a 10% rental rate for a total compensation of $33,300.  
Eventually, a jury awarded Freund $33,300 in damages for the condemned property and $50,000 for damages to the residue.
Freund contends that the trial court erred by not allowing Owen's subdivision method, saying it was not extremely speculative and his methodology was a major factor in his testimony that didn't impact admissibility. The appeals court disagreed.
"Freund next contends that the trial court erred by excluding evidence of the unverified comparable sales because the comparable sales prices were admissible under the hearsay exceptions for public records, and for records of documents affecting an interest in property," Martinez wrote. "Although we agree that the hearsay exceptions apply to the admissibility of comparable sales in a condemnation case and that the trial court erred, we discern no reversible error."
The court of appeals explained that the CORE appraisers didn't find damages to the residue while the appraiser for Freund "believed the biggest impact of the condemnation was on the residue." With the jury awarding $50,000 for damages to the residue, it suggested that Freund did get its point across and an evidentiary error in the case "was harmless."
The Court of Appeals also upheld a conviction of Joseph Washington for second-degree murder, 10 counts of possession with intent to sell or distribute a controlled substance, tampering with a witness or victim and violation of a protection order.
Washington's appeal was based on the court possibly erring by trying his murder and drug charges together. 
According to the unanimous opinion from Judge Michael Berger, Washington and his girlfriend went to a barbecue at Cherry Creek State Park which was hosted by Jason Pope. Jackson Chavez and his ex-girlfriend were with a different group at the park, when Chavez and his ex started to argue, which eventually turned physical.
Pope and Washington approached Chavez asking him to leave, which turned into a fight. Washington is accused of getting a gun then shooting and killing Chavez before fleeing. Washington and his girlfriend eventually went to a hotel that was booked by Richard Giles, who was allegedly given about a gram of cocaine by Washington before leaving. Washington was later arrested.
Police gained a search warrant for the vehicle Washington was arrested in where they found drugs. They also got a warrant to search Washington's home, where more drugs were found.
Prosecutors charged Washington with first-degree murder and 11 counts of possession with the intent to sell or distribute.
On appeal, Washington argued his convictions for murder and drugs should've been tried separately. 
"Washington argues that any error under Crim. P. 8(a)(2) was not harmless because the evidence would not have been cross-admissible had the cases been tried separately," Berger wrote. The court of appeals disagreed, finding that 8(a)(2) doesn't always require separate trials "When evidence is cross-admissible, there is no prejudice in consolidating the cases. …" and that any error from joining the charges was harmless. 
The appeals court added many different reasons why it was harmless. First, the evidence Washington did not act in self-defense or defense of others was overwhelming (no evidence Chavez had a weapon and he was no longer fighting back). There was also overwhelming evidence of Washington being a drug dealer (scales, witness testimony, having $24,000 in narcotics). Berger also mentioned the jury was asked to look at each count separately.
The jury did acquit Washington of two counts of solicitation to commit murder, a drug charge and first-degree murder.
"This split verdict demonstrates that the jury was able to consider the evidence and law applicable to each offense separately and reach a verdict based on those counts alone," Berger wrote.