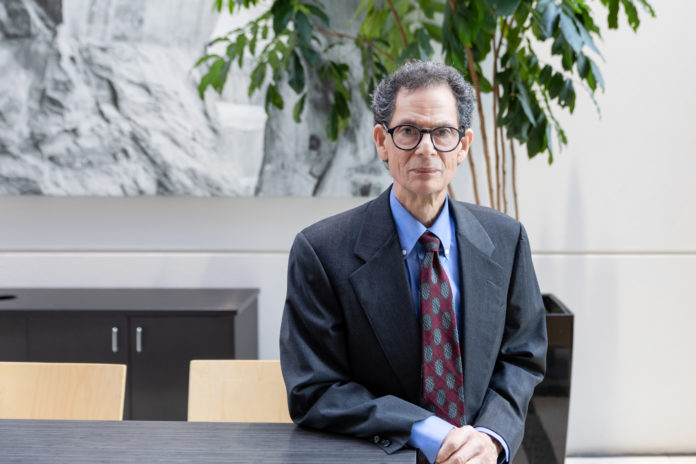 Mark Silverstein, the longtime legal director of the American Civil Liberties Union of Colorado, isn't used to talking about himself. But, the legal cases that Silverstein has worked on during his 31-year career at the ACLU, with 26 years in Colorado, say a lot on their own. 
Silverstein, who announced plans to retire in May, has led the ACLU of Colorado in bringing cases that made headway in advancing civil liberties for Coloradans. 
"I was really lucky getting to work as an attorney at the ACLU," said Silverstein. "I think it's one of the best jobs a lawyer can get." 
As long as he can remember, Silverstein has been interested in civil liberties and constitutional law. The summer after his first year in law school at the Illinois College of Law, Silverstein worked for the ACLU and "it was like everything clicked," he explained. 
Silverstein joined the ACLU straight out of law school, working for the ACLU of Southern California as a staff attorney for five years before he was named legal director of the Colorado chapter in 1996. 
He went to law school later in life, at age 36, and prior to his career in the law, Silverstein was what he calls "a self-styled journalist for a feisty insurgent newspaper" called The Post Amerikan which ran in Illinois from 1972 through 2004. In its pages, the underground publication covered civil rights movements, critiqued War on Drugs era policies and interviewed local activists in between gritty political cartoons and hand-drawn ads. He developed an interest in the First Amendment after various authorities tried to stop distribution of the paper, Silverstein said. 
During his time at the ACLU of Colorado, Silverstein has brought cases that have prompted both the state legislature and courts to enforce civil liberty protections. 
"One thing that I've always wanted to do is to push Colorado courts to pay more attention to the civil liberties guaranteed by our state constitution," Silverstein said. The state constitution offers broader civil liberty protections than some federal laws, he added, and explained that he's pushed the ACLU of Colorado to bring cases that compel these protections. "Sometimes it seems the Colorado courts have paid only lip service to that notion and I've wanted the ACLU to bring more cases that push the state courts to make good on that promise that the state constitution provides greater protection for civil liberties."
One of the cases that sticks out the most to Silverstein, he said, was stopping a surveillance practice by the Denver Police Department through a class action lawsuit. The "Spy Files" were a collection of information from the department's intelligence unit monitoring the activities and movements of protestors and advocacy groups, many of them peaceful and law abiding, for decades. The practice ended in 2003 after a settlement agreement tasked Denver with revising its information surveillance practices. 
Another case that sticks out to Silverstein came after the ACLU of Colorado challenged the extended detention of prisoners who posted bail at the request of federal immigration authorities. At the request of Immigration and Customs Enforcement officials, Colorado sheriffs could hold people who already posted bail when ICE believed they might be eligible for removal from the U.S. The practice, known as ICE holds, didn't require judicial approval and could mean extended and unknown periods of detention for those impacted.
"We put together a class action that was based solely on provisions in the state constitution that [we argued] holding people extra time was the equivalent of an arrest without legal authority, that refusing to release someone who'd posted bond was a violation of the state constitutional right to bail," Silverstein said. The ACLU of Colorado won at the district court level and while the case was pending appeal, the state legislature in 2019 codified the court's ruling into state law. 
Not all of the cases Silverstein's worked on have been smooth, he explained. "Sometimes we work on a case that we think is solidly reasoned and that the law is on our side and a judge rules against us. And then we have to go to a court of appeals and hope that those judges will see our point of view."
He recalled a case where the ACLU of Colorado went to the 10th Circuit Court of Appeals three times while representing a University of Northern Colorado student who had his computer seized as part of a criminal libel investigation over content he wrote for the university's satirical critique website. The case settled for over $400,000 after the student sued the City of Greeley and the Weld County prosecutor who signed off on the search warrant. 
More recently, the ACLU of Colorado represented protestors injured by Denver police officers during the 2020 Black Lives Matter movement. A jury found that officers violated the constitutional rights of 12 protesters and awarded $14 million in damages for injuries caused by crowd suppression tactics that included the use of tear gas, rubber bullets, flash bang grenades and more. The trial wrapped up in April and was one of the first cases challenging the use of force during protests in 2020 to go to court. 
Silverstein will stay with the ACLU of Colorado until a new legal director is found. He doesn't have any retirement plans in place just yet, but, "I guess I've got a little bit of time to make those plans," Silverstein said. 
Colleagues at the ACLU praised Silverstein's leadership in a press release announcing his retirement. "The ACLU of Colorado would not exist as it does today without Mark's unwavering commitment to civil liberties and the fight for justice for the past 26 years," said ACLU of Colorado Executive Director Deborah Richardson. 
"Mark has long been known as one of the most effective lawyers in the ACLU," said David Fathi, director of the ACLU National Prison Project in a press release. "He's everything you could ever want in a colleague: smart, collaborative, hardworking, and fiercely dedicated to the clients we serve." 
The ACLU of Colorado was incorporated in 1952 and is a branch of the national organization that was founded in the 1920s. The ACLU's mission statement is to protect Americans' constitutional rights and freedoms created by the Constitution, its amendments and state protections. The ACLU of Colorado uses litigation, education and advocacy to defend and extend the civil rights and civil liberties for people in Colorado.