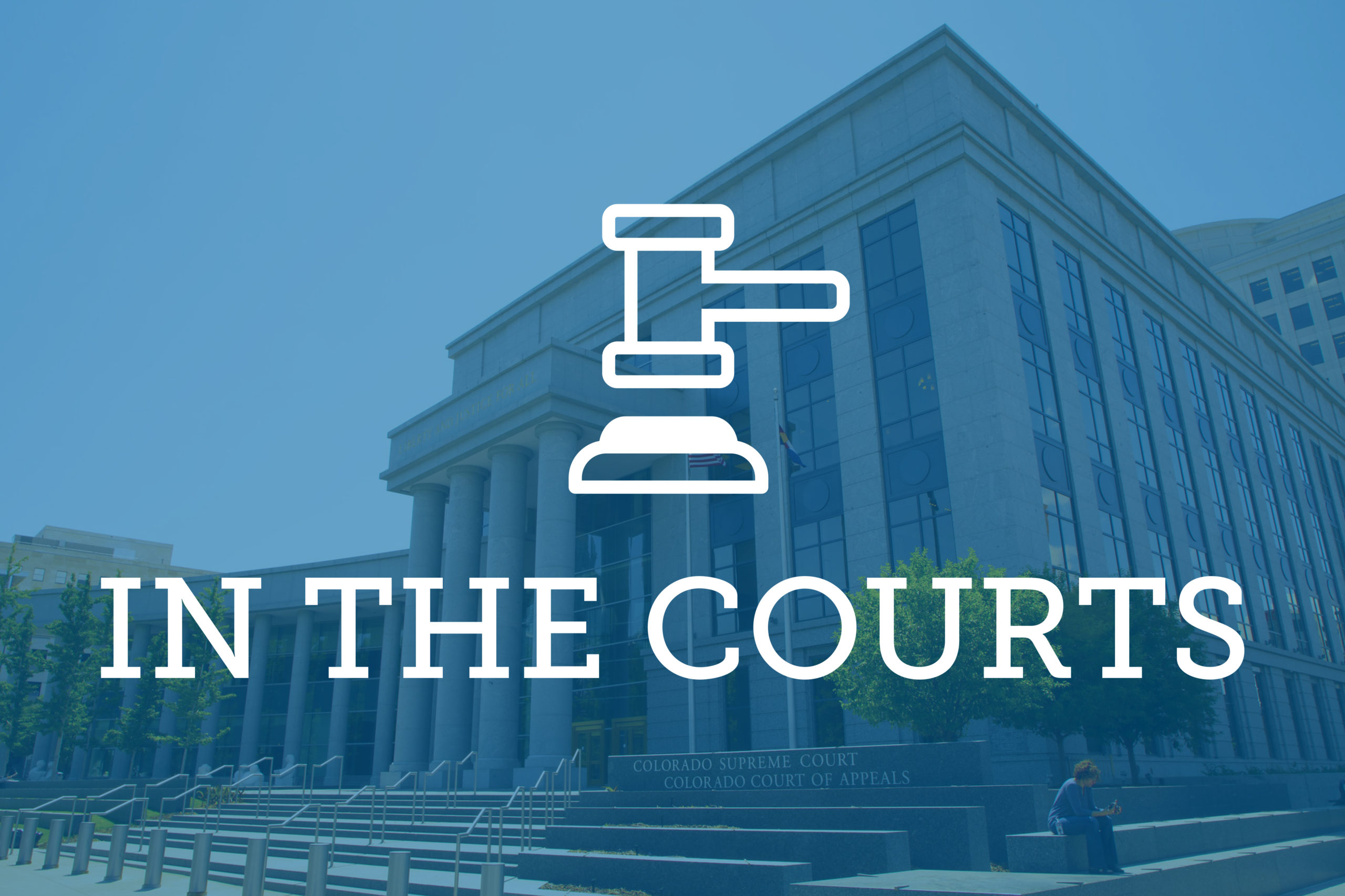 People v. Porter
Reginald Porter, just months after being released from Department of Corrections custody for a prior conviction, robbed and attempted to sexually assault a casino worker. Porter was convicted and adjudicated as a habitual offender. 
Years later, after a couple of appeals, a new trial, convictions on the same charges as before and dismissal of the habitual counts, the Colorado Supreme Court remanded this case to the district court for reinstatement of defendant's habitual counts. 
The district court held a habitual offender hearing at which the prosecution presented evidence that Porter had three prior felony convictions. The court agreed with the prosecution that Porter's three prior felony convictions weren't part of the same criminal episode, adjudicated defendant a habitual offender and sentenced him to a total of 112 years to life.
Porter appealed both his adjudication as a habitual offender and the district court's denial of his request for an extended proportionality review of his sentence. Specifically, he contended that because the prosecution failed to prove that his prior felony convictions didn't arise from the same criminal episode, the district court erred by adjudicating him a habitual offender; and because his prior convictions occurred when he was a juvenile, the court should have conducted an extended proportionality review. 
The Court of Appeals rejected both contentions and affirmed the sentence.
People v. Trujillo
The Court of Appeals was asked to decide whether an express exception to a general statutory rule applies to an arguably related circumstance that is not mentioned in the exception.
The general rule appears in section 18-6-801(1)(a), C.R.S. 2018. This subsection, which addresses crimes that include acts of domestic violence, requires a court to order a defendant who has committed such a crime to "complete a  treatment program and a treatment evaluation that conform with the standards adopted by the domestic violence offender management board." 
The exception appears in section 18-6-801(2), which states that the requirements of subsection (1) "shall not apply to persons sentenced to the Department of Corrections." In other words, a court that has sentenced a defendant to prison for a domestic violence crime cannot order him to complete a treatment program as described in subsection (1).
The Court of Appeals was asked to decide whether the exception in subsection (2) prevents a court from ordering a defendant to complete a treatment program if the court has sentenced the defendant to jail. The court answered that question "no." It concluded that subsection (1)(a) applies to all sentences except for prison sentences.
In this case, the trial court imposed a two-year jail sentence on defendant, Mario Trujillo, for a misdemeanor involving domestic violence. The court also ordered him to complete a certified domestic violence treatment program. He appealed. The Court of Appeals affirmed.
People v. Chalchi-Sevilla
Ricardo Chalchi-Sevilla, appealed the postconviction court's order denying his Crim. P. 35(c) motion without appointing postconviction counsel or holding an evidentiary hearing. 
Chalchi-Sevilla's first claim related to his counsel's advice regarding whether he should accept a plea offer from the prosecution. His second claim related to his counsel's advice regarding whether he should testify at trial. He requested that postconviction counsel be appointed to represent him.
The postconviction court issued a written order denying the Crim. P. 35(c) motion without appointing counsel or holding an evidentiary hearing.
The Court of Appeals reversed and remanded for further proceedings.
In re Marriage of Aragon
In this dissolution of marriage case between Vanessa Aragon and Alain Aragon, Alain Aragon appealed two post-decree orders: a Jan. 28, 2018, order awarding Vanessa Aragon attorney fees, and a March 7, 2018, order awarding her child support and maintenance. 
The parties' 13-year marriage ended in 2017. Under the initial permanent orders, the district court ordered Alain Aragon to pay Vanessa Aragon $823 per month in child support and $1,372 per month in maintenance. Those calculations were based on Alain Aragon then receiving $843 per week in workers' compensation payments for temporary total disability. But because Alain Aragon was awaiting final resolution of a workers' compensation claim at that time, the court reserved a final decision on property division, child support and maintenance until the claim was resolved. 
In July 2017, Alain Aragon settled his workers' compensation claim.
Vanessa Aragon later moved to modify child support and maintenance. She also asked that the issue of attorney fees be reopened and that Alain Aragon be ordered to pay $28,583.50 of her fees and costs. The court granted Vanessa Aragon's request to reopen attorney fees and ordered Alain Aragon to pay 75% of her requested fees and costs.
After a hearing, the court determined Alain Aragon's income by taking his workers' compensation settlement, less the attorney fees he owed to his workers' compensation attorney and the amount set aside for his future medical expenses; prorating that amount over 12 months beginning April 1, 2018; and adding in his income as an Uber driver and from an Airbnb rental property. The court attributed no income to Vanessa Aragon and ordered the parties to recalculate child support and maintenance based on Alain Aragon's income, which resulted in Alain Aragon owing Vanessa Aragon $1,695 per month in child support and $4,170 per month in maintenance. The court noted that child support and maintenance would have to be recalculated on or  before April 1 — the end of the proration period for Alain Aragon's settlement — and it denied Vanessa Aragon's request for additional attorney fees.
The court vacated the attorney fees order, affirmed in part and reversed in part the child support and maintenance order and remanded the case for further proceedings.
West Colo. Motors v. General Motors
This is the second appearance before the Court of Appeals of a dispute between Park Meadows and GM concerning GM's approval of the relocation of another dealership (Alpine) into what Park Meadows asserts is its territory. 
In the claims in this case, more than three years had passed since GM first notified Park Meadows of Alpine's impending relocation. GM thus moved to dismiss both claims as time barred.
Park Meadows amended its complaint to assert that it filed this action on less than 90 days after a previous dismissal for lack of subject-matter jurisdiction. GM again moved to dismiss, and the district court granted the motion. In a detailed written order, the district court concluded that "because the claim asserted in this litigation is for monetary damages not previously made and because of the findings of the executive director … section 13-80 111 cannot serve to permit the Plaintiff to bring its statutory violation claim." 
Park Meadows appealed, arguing that section 13-80-111 applies to both of its claims, and that its new lawsuit against GM should be deemed timely.
The Court of Appeals concluded that it did not need to consider whether Park Meadows' claim for statutory damages qualifies for revival under section 13-80-111 because the previous appeal — which neither party challenges — controls the disposition of Park Meadows' statutory claim. 
The court affirmed.