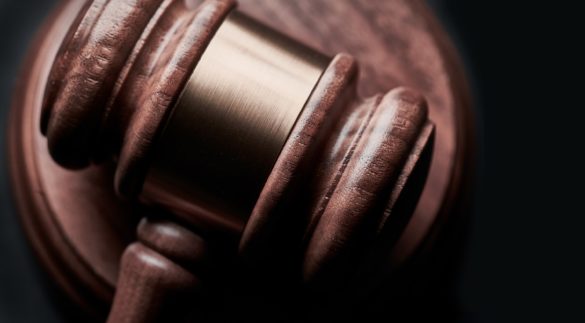 The Colorado Trial Lawyers Association has announced the finalists for its 2020 Case of the Year award, which "acknowledges the positive impact that a single case can have on correcting injustices, advancing fairness under the law, changing attitudes or providing economic incentives to protect public safety."
Reflecting a year of pandemic, protests and renewed focus on police brutality, the 2020 finalists are cases that seek to hold law enforcement accountable and protect the prison population from COVID-19. The winner will be announced June 10 at the CTLA's annual Spring Dinner at the Denver Zoo.
Agazi Abay et al. v. City of Denver
The killing of George Floyd in May 2020 sparked protests around the country, including in Denver, where mostly peaceful protesters were met with riot control tactics by the Denver Police Department and law enforcement agencies from other jurisdictions that had been invited to monitor the protests.
According to witnesses, the police unleashed pepper spray, pepper balls, rubber bullets, tear gas and flashbang grenades on protesters, press and medics. Several were seriously injured, including one bystander who was blinded in one eye by a rubber bullet and others who reported facial fractures.
"The question became: Who monitors the police? Who polices the police?" said attorney Ross Ziev of Help in Colorado, the Law Offices of Ross Ziev, who was part of a team of attorneys that brought a class-action lawsuit against the City of Denver for use of excessive force and First Amendment violations. The attorneys representing the protesters also include Milo Schwab of Ascend Counsel, Laura Wolf and John Michael Guevara of Spark Justice Law and Jason Wesoky of Darling Milligan.
The case is still in the early stages of litigation, but it has already had an impact. A day after the lawsuit was filed on June 4, a federal judge issued a temporary restraining order limiting the DPD's use of force, including its use of chemical agents and projectiles. "This order was quoted in different federal court orders around the country that also protected peaceful protests," Ziev said. The language and terms of the TRO were also reflected in Colorado's police reform bill passed in June.
The order expired June 26, but Denver and the plaintiffs reached an agreement on similar terms to continue restrictions on DPD's use of chemical weapons and projectiles and require body camera recording of protests.
"I think everyone has a role to play in social justice," Ziev said. "Protesters have a role to play. The attorneys have a role to play. And people within the department hopefully have a role to play as well … if they choose to do so."
Carolyn O'Neal v. Fremont County, et al.
In 2014, Carolyn O'Neal was getting ready to take a bath at her apartment in a Cañon City sober living facility when officers from the Fremont County Sheriff's Office showed up for a wellness check. O'Neal informed them she was naked and asked them to leave, but they entered her apartment, handcuffed and detained her and transported her to the county jail.
Once there, officers pushed O'Neal to the ground and later placed her, still naked, in a restraint chair. Officers also used a taser on her, covered her face with a spit mask and forced her to remain nude in the jail, in full sight of deputies and inmates, for about 12 hours.
Attorneys David Lane and Reid Allison of Killmer Lane & Newman represented O'Neal in a lawsuit against Fremont County alleging wrongful arrest and excessive force. A jury awarded O'Neal $3.6 million in 2019. A judge later reduced the award and both parties appealed. However, Fremont County paid $2.4 million to O'Neal in December after dropping its appeal and agreeing to a settlement.
"Police misconduct has not changed over the decades," Lane said. "What has now changed because of audio and video recordings, including cell phone bystander videos and body cams, is the public's awareness of police brutality. And this is a case in point." The officers had a tape of "basically everything they did" to O'Neal, he added.
"We are entering a new era of police accountability because juries can see and hear just what's going on," Lane said. He said minority communities have known about police brutality for centuries, "and white America is now finally waking up to this."
"Carolyn O'Neil was a pre-George Floyd case. And a conservative federal jury in Colorado nevertheless was so outraged by her mistreatment that they awarded her $3 million," Lane said. "So, I think that alone should serve as a wake-up call to law enforcement that if you really don't change your evil ways, these verdicts are going to get bigger and bigger and bigger."
Gary Winston, et al. v. Jared Polis, et al
A study from the Council on Criminal Justice found that the rate of COVID-19 cases reported by U.S. prisons was more than four times the rate among the general population, and the mortality rate in prisons was twice that of the general public. An analysis from the Colorado Department of Corrections last spring estimated that without a dramatic reduction in the prison population, around 90% of prisoners and staff would eventually become infected.
The American Civil Liberties Union of Colorado in May 2010 filed a class-action lawsuit against Gov. Jared Polis and CDOC seeking an emergency order to protect medically vulnerable inmates from the virus.
"In this unprecedented public health crisis, the harmful trend of mass incarceration has become a direct threat to public health," said ACLU of Colorado Legal Director Mark Silverstein in a news release announcing the lawsuit. "Overcrowded prisons are proven hotbeds for transmission, with the two largest outbreaks in the state occurring behind bars. Because the Governor and the DOC are failing to protect incarcerated people, correctional staff and ultimately the public, the court must intervene immediately to save lives."
In November, the ACLU announced a resolution of its case with CDOC. The consent decree requires CDOC to regularly sanitize prison common areas, provide free soap and masks to inmates, test inmates and staff who have been exposed to or have symptoms of COVID-19, and prioritize medically vulnerable inmates when it comes to assigning single cells.
Silverstein said in a press release that the resolution "provides meaningful protections for people in prison, but those protections are not sufficient" to prevent the spread of COVID-19 in prisons. "What's necessary is a significant reduction of the prison population, and the power to carry out that population reduction rests solely with the Governor," he added.
The lawsuit seeking a prison population reduction by Polis has continued. A district court judge dismissed the case in January and it is now pending before the Court of Appeals.
The plaintiffs are being represented by attorneys from the ACLU, Holland Edwards & Grossman, Killmer Lane & Newman, Maxted Law, Finger Law as well as faculty, students and staff from the University of Denver College of Law Civil Rights Clinic.