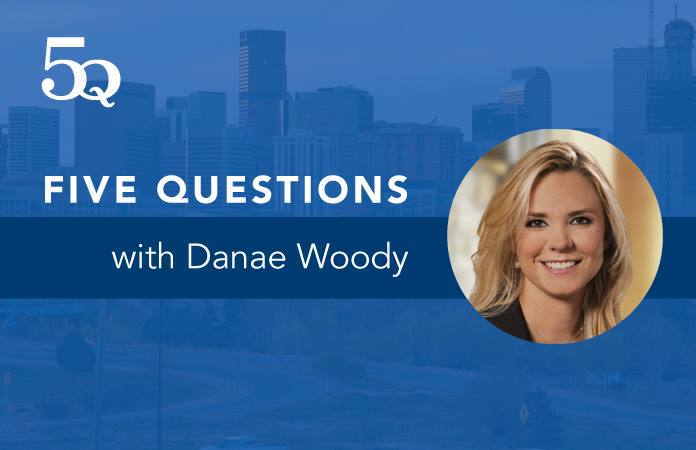 5Q is Law Week Colorado's weekly gateway for members of the legal community to get acquainted with each other. Each week, you'll hear from lawyers, judges and legal academics across Colorado. We ask industry professionals a range of questions from their thoughts on the challenges facing the profession to their personal interests. Their responses are lightly edited for clarity and space. Let us know if you'd like to be included by emailing [email protected]. You can also contact journalist Hank Lacey at [email protected].
This week we spoke with Danae Woody, the founder of the Woody Law Firm, LLC. A specialist in family law, Woody represents individuals in complex divorce litigation, child custody disputes, child support modification efforts and enforcement disputes, non-traditional family formation and dissolution matters, adoptions and appeals. She has also handled estate planning needs. Woody is the president of the CBA-CLE Board of Directors and a graduate of the University of Denver Sturm College of Law and California State University-Sacramento.
Question 1
What is the single best thing any court could do to make its rules easier to access or understand? Discuss. 
A: Make application of the rules consistent. When rules are only applied in certain situations or to certain litigants for varying reasons, it significantly impacts litigants' perceptions of — and ultimately their faith in — the system. The ability for the public to rely upon the fairness of legal process is paramount in our society. 
Question 2
If one, and only one, change in the process of selecting and confirming federal judges could be adopted, what would you suggest? Explain. 
A: Transparency as to the early process. Information is power. For too long, the selection process has been shrouded in mystery. Lack of widespread information, understanding and access to the selectors disproportionately impacts lawyers from historically marginalized communities and thus limits judgeship opportunities for such groups. The result is a federal judiciary that does not truly represent the litigants it serves. 
Question 3
What was your college major and why did you choose it? 
A: Psychology. I have always been fascinated by people. I've desired to understand what makes them tick and tick differently than others.  
Question 4
What is the most fun winter resort in the state? Discuss. 
A: Winter is not my season, but Breckenridge has a special place in my heart. The skiing is amazing, it's close to other winter sport options and is a legit and adorable mountain town. It feels like escaping reality. 
Question 5
You can choose to buy a second home in a midwestern state. In which state do you purchase that second home? Be sure to briefly tell us why. 
A: Minnesota. I am from Minnesota and am in love with that place, especially in the summer! Minnesota is beautiful, literally full of water and is home to some amazing people. In winter, even on the coldest days and nights, people are doing things! The options for winter and summer sports and activities are endless. Minnesota has snow, sun, beaches, rivers, cliffs, waterfalls, cities, prairies, industry, technology, sports, entertainment and, again, very nice people.