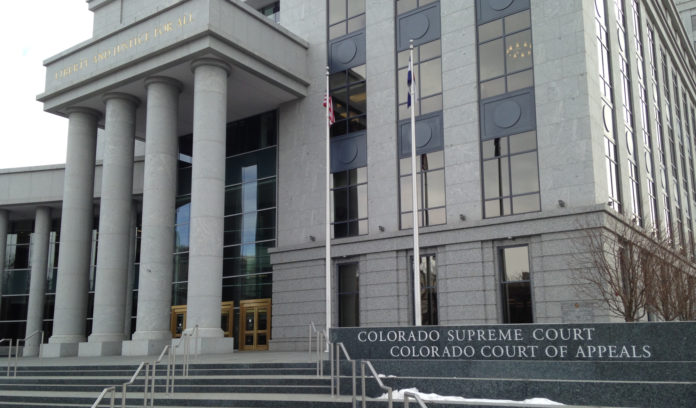 The Colorado Judicial Branch released its annual data report on how state courts fared in fiscal year 2022. 
According to the data, Colorado courts didn't return to pre-COVID-19 rates of jury trials, new court filings and case closures but did improve from fiscal 2021 numbers. Like other states, the 2022 report shows Colorado's legal system was hit hard by the pandemic and is still slowly recovering. 
Every year, the Colorado Judicial Branch releases a report summarizing what the state's district, county, appellate and water courts looked like the previous fiscal year. The data includes information on the number of new fillings by court, case types and more, as well as the number of cases closed out by state courts. 
The 2022 report captures numbers from July 1, 2021, through June 30, 2022, and includes data from the Colorado Supreme Court, the Colorado Court of Appeals, the state's 22 district courts, 64 county courts and seven water courts. 
According to Colorado Supreme Court Chief Justice Brian Boatright, the 2022 report will be a valuable baseline to understand how a number of legislative changes will impact courts. 
"A number of major legislative changes became effective during the pandemic or during this fiscal year. Those changes are expected to impact our filings and workload, although the concurrent COVID impacts have hindered our ability to determine the actual impacts of legislative changes," wrote Boatright in the report's forward. "We will continue to pay attention to the data in the coming years, as we expect it will be important in informing criminal justice policy." 
In the report foreword, Boatright noted that Colorado courts are still playing catch up with the backlog created by the pandemic. 
"Although the raw number of filings has not recovered from what they were pre-pandemic, the workload associated with each filing is higher," wrote Boatright, noting that while remote proceedings are still popular among attorneys and litigants, they can add more work to court staff. "Filings are still down, but our judges and staff are busier than ever." 
At a Glance 
In fiscal 2022, Colorado's 22 judicial districts with 204 district court judges had 199,840 case filings. District court judges oversee felony criminal matters, civil claims, juvenile cases, probate, mental health, divorce proceedings and water cases. These courts also oversee jury trials, appeals from municipal and county courts and review rulings from administrative boards and agencies. 
New filings in district court in fiscal 2022 increased by 1.3% compared to the previous fiscal year (197,609) but were still notably lower than pre-pandemic numbers when 228,570 cases were filed in fiscal 2020, 224,014 new cases in fiscal 2019 and 232,803 new cases in fiscal 2018. 
Colorado's county courts, which handle misdemeanors, felony advisements, bond settings, preliminary hearings, search warrants, protection orders, traffic cases, lower-value civil cases, jury trials and more, saw 344,006 new case filings in fiscal 2022. The 2022 number was a 2.76% increase from fiscal 2021 but also fell short of returning to pre-COVID levels, with 372,116 filings in fiscal 2020, 412,806 in fiscal 2019 and 413,894 in fiscal 2018. 
Within new filings in fiscal 2022, Colorado's district courts saw an 8.69% decrease in new mental health case filings but a 5.46% uptick in probate filings and a 5.02% increase in juvenile filings. At the county court level, fiscal 2022 was a 13.64% increase in infraction filings, or low-level criminal violations that typically aren't punishable by jail time. The number of felony complaints at the county level also increased by 7.45% in fiscal 2022, while traffic filings decreased by 6.04%. 
Courts closed cases at a slower rate in fiscal 2022 compared to pre-pandemic rates, according to the data. 
In fiscal 2022, Colorado district courts reported 198,484 case terminations, a slight increase from the 197,609 terminations in fiscal 2021, but still an 11% to 14% decrease compared to fiscal 2020, 2019 and 2018, which saw 228,570, 224,014 and 232,803 terminations respectively. 
Colorado's county courts fared better in 2022 but still didn't close cases at the same rate as previous years. In fiscal 2022, county courts reported 335,992 case terminations, a 10.4% increase from 2021's 304,278 terminations and up more than 3% from 325,311 terminations in fiscal 2020, but still shy of pre-COVID numbers when courts reported 384,563 terminations in fiscal 2019 and 389,424 in fiscal 2018. 
Colorado's numbers appear to be in line with national research on how state courts adapted during the pandemic and how remote proceedings impacted litigants and court staff. 
An August report from the Court Statistics Project, a joint venture between the National Center for State Courts and the Conference of State Court Administrators, found that across 19 states, including Colorado, new case filings dropped 28% in 2020 and 24% in 2021 compared to 2019. 
Trial Courts 
Across the country, courts were hit especially hard by the COVID-19 pandemic. While many adopted remote proceedings and other safety measures, courts became backlogged especially when it comes to jury trials. 
Data from the state judicial branch shows Colorado courts were hit hard by the pandemic but began recovering in fiscal 2022. 
Prior to COVID-19, Colorado's district courts averaged around 1,300 jury trials and 500 bench trials a year (fiscal 2018 had 1,321 jury trials and 487 court trials; fiscal 2019 had 1,392 jury trials and 500 court trials). 
But starting in 2020, those numbers fell sharply with 974 jury and 371 court trials, a roughly 30% decrease compared to the previous fiscal year. Fiscal 2021 saw an even lower number of trials, with only 545 jury and 433 court trials in Colorado's district courts. 
While courts didn't return to their pre-COVID numbers, fiscal 2022 saw a significant increase compared to 2021, with 1,074 jury trials and 369 court trials. 
The state's county courts saw similar trends after the total number of trials in fiscal 2020 dropped significantly (964 jury and 1,984 court trials) compared to previous years (1,247 jury and 2,360 court trials in fiscal 2019 and 1,381 jury; 2,551 court trials in fiscal 2018). Fiscal 2021 saw continued low numbers with 640 jury trials and 2,129 bench trials but numbers appeared to be on the rise in fiscal 2022, which ended with 833 jury trials and 2,346 bench trials.