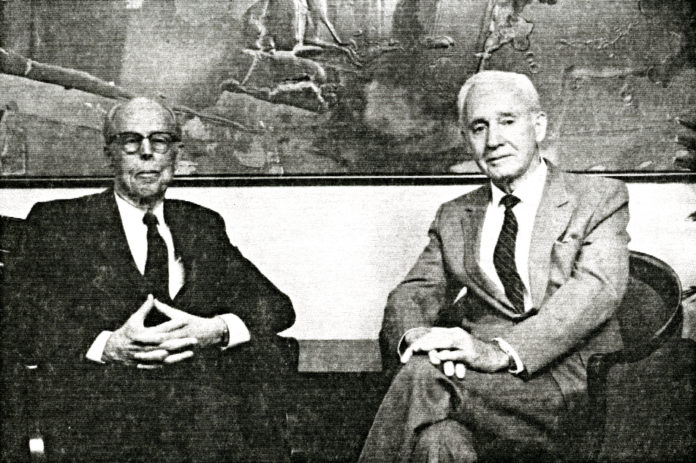 Donald Graham was a partner at local law firm Davis Graham & Stubbs. His legal career spanned more than 70 years — he taught courses at the University of Colorado Law School, served in the U.S. Military from 1942 to 1946, was a member of the Judge Advocate General's Department and attended the Nuremberg trials. But, to Graham, all his accomplishments seemed to be secondary to his love of the law and his wife. 
At his 91st birthday celebration in January 2000, Graham recalled his early experiences in the law. He detailed his career journey from roughly 1939 to 1947. At the end of his birthday speech, he noted his saga had ended and concluded when he married Lucile Stubbs Graham, who he affectionately called "Luke," starting their 51-plus years together. 
Graham started his career in the early depression years, landing a job at the legal department of the Federal Land Bank of Wichita, Kansas. He left the bank after four or five years in late 1939 to teach the 1940 winter quarter at CU Law School. "I taught courses in conflicts of law and federal court procedure, and also did some work in the moot court section," Graham said at his 2000 birthday luncheon, "At the end of CU's 1940 winter quarter, I began my association with Lewis & Grant in what was primarily the firm's real estate section." Lewis & Grant, now known as DGS, was a long way off from the departmentalization as it exists today, Graham noted. 
He continued in that position at DGS until April 1942. "I was still single," Graham explained, "I received a draft notice from the U.S. Armed Forces." He said he'd never needed to be determined fit for the military but said the matter involved uncertainties. "In short, I was inducted," Graham said, noting he was able to work out a plan with the military to be able to go back to DGS for a week or so to clear up some unfinished business he had.
He went to Lowry Air Force Base first to complete a course in maintaining the machine guns used in the Air Corps heavy bombers. Graham was sent to an AFB in Salina, Kansas after he completed the course. 
"Several months later, I was sent to the Officers Candidate School for the Judge Advocate General's Department," Graham said. That school was using most of the University of Michigan Law School's facilities, he noted, and shortly after he was commissioned at the school, he was sent to Europe in 1944. Graham said he went to London, Paris and Frankfurt.
"I felt a particular affinity with the British," he said, explaining that this was also his first trip to Paris, in which he spent eight months "on the heels of the retreating German forces." From there, Graham traveled to Frankfurt as part of the "wind-down activities." 
"All of the officers in our Judge Advocate's section at Frankfurt were given time to attend the war crimes trial in Nuremberg," said Graham. "I spent parts of two fascinating and rewarding days at the trial. As you know, the testimony given by witnesses was translated simultaneously into several languages and received by the observers/listeners via earphones which accommodate to the listener's chosen language." 
Graham returned home in the summer of 1946, separating from the military at the rank of major. "After taking a few deep breaths and getting reoriented to an existence left behind four years ago, I returned to the practice of law with Lewis & Grant," he said. 
"And life moved on," Graham concluded, "Indeed, a major event occurred on April 26, 1947: Luke's and my wedding and the beginning of our 51-plus years together." 
Graham retired from the practice of law in 1977 but he stayed at DGS, serving as of counsel until his death in May 2003, according to his published obituary. He was a member of the Colorado Bar Association, American Law Institute and the University Club in Denver. He served on the board and as a trustee for the Denver Art Museum and was on the board of directors for the Santa Fe Opera.