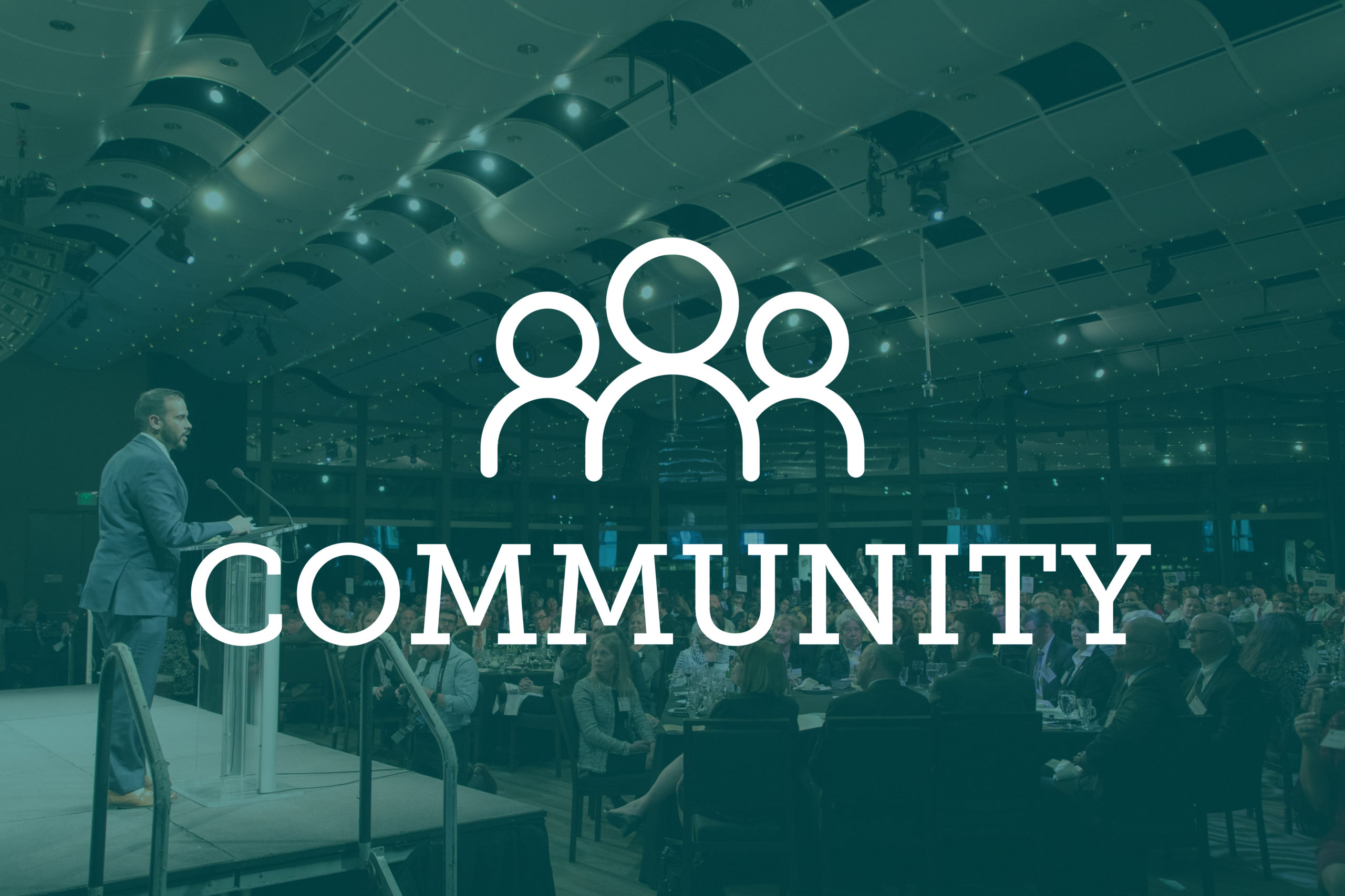 The University of Denver Sturm College of Law held its annual DU Law Stars Dinner Oct. 23, recognizing two alumni and one faculty member for their contributions to the legal field.
Receiving honors this year were Noreen Krall, VP and chief litigation counsel at Apple; Presiding Disciplinary Judge of the Colorado Supreme Court William Lucero; and Alexi Freeman, associate professor of the practice at Sturm. The event was held at the Hyatt Regency Denver at Colorado Convention Center.
"This is an evening to reflect on brilliance, on careers in the law that are particularly spectacular and radiant," said Bruce Smith, dean of the law school, in his opening remarks.
Smith's speech was followed by a dinner and video presentation featuring the night's honorees, their colleagues and friends.
First to be recognized was Freeman, winner of this year's Robert B. Yegge Excellence in Teaching Award, for her work as director of externships and public interest initiatives at Sturm, part of the school's top-ranked experiential learning programs
 "I will concede that there are law schools in this country with more moral philosophers and more dusty, ancient treatises than the Sturm College of Law," Smith said. "And I will concede that I do not care about that fact, because there is only one law school in this nation whose three experiential learning programs — advocacy, clinics, and legal writing — are ranked in the nation's top 10″
Last year, almost 600 Sturm students participated in an externship, including 90% of the graduating class, according to Smith. But despite the size of the program, Freeman still finds time to give the students one-on-one attention. In a video, current and former students praised Freeman for her passion, mentorship and accessibility and cited her as a factor in their decision to go to law school and to attend Sturm.
"Lexi might be the law school Yoda," said current student Gideon Irving, who recalled how Freeman has made time to give him advice outside of office hours.
"I was just struck like, whoah, she's obviously very busy and making time to talk to me, telling me all these super insightful things," Irving said in the video. 
 Freeman graduated from Harvard Law in 2007 and worked on social and racial justice advocacy campaigns as a staff attorney at the Advancement Project in Washington, D.C., before joining the DU faculty in 2013.
"I love my job, so it's a real incredible honor to be rewarded for doing something that I wake up every day and I'm excited for," Freeman told Law Week. "I'm excited to support my students, and I'm inspired by them." 
"I hope to continue on the public interest, racial justice, experiential learning path here for a long time," Freeman said. "And I really appreciate the opportunities I've had and the students who light my fire every day."
Next to be honored was Krall (J.D. Class of 1994), recipient of the William L. Keating Outstanding Alumni Award. In addition to her work as head of litigation at Apple, Krall is co-founder and board chair of ChIPs Network, a nonprofit devoted to advancing and connecting women in technology, law and policy.
Krall attended Sturm's evening J.D. program while juggling full-time work as an engineer at IBM and the demands of a young family, Smith said. In a video, Krall recalled how she had started law school nine months pregnant and graduated law school nine months pregnant, but said, "You just make it work when you want something."
Her career led her to intellectual property work in Silicon Valley, a practice area she enjoys because it puts her at the cutting edge of the law. But she noticed there were few women in high-powered IP positions, which inspired her and six other women, all chiefs of intellectual property, to start ChiPs, with the goal of creating a pipeline of opportunities for women in the industry. The network now has more than 3,000 members.
The final awardee of the night was Lucero (J.D. Class of 1972), who was awarded the Robert H. McWilliams, Jr. Alumni Professionalism Award. Lucero, who grew up in Pueblo, said that he originally wanted to be a teacher, but he didn't have much luck finding a teaching job after college. After his brother Pat was killed in the Vietnam War, he found himself "seeking answers," he recalled in a video.
His search eventually led him to Sturm after his grandmother told him about a program the law school had adopted to encourage Latinos and other minorities to go to law school.
When the program began in 1967, there were only about 20 Hispanic lawyers in Colorado, Lucero said, including around five in Denver. 
He said he notices the progress Latinos have made in the profession when he attends the annual banquet of the Colorado Hispanic Bar Association, which now boasts more than 500 members.
"DU gave me an opportunity, and I'll always be grateful for what they did," Lucero told Law Week. 
After finishing law school, Lucero served in the Denver District Attorney's Office and the U.S. Attorney's office before being appointed in 2004 as the Presiding Disciplinary Judge for the Colorado Supreme Court, where he is responsible for hearing cases involving allegations of lawyer misconduct.
Colleagues and friends praised Lucero as a "consummate professional" and said he has been an inspiration to young people in Pueblo, where a library branch is dedicated in his brother's name. 
"I'm deeply honored," said Lucero. "The folks that I was on the stage with — it was an honor just to be with them. What remarkable people."
— Jessica Folker