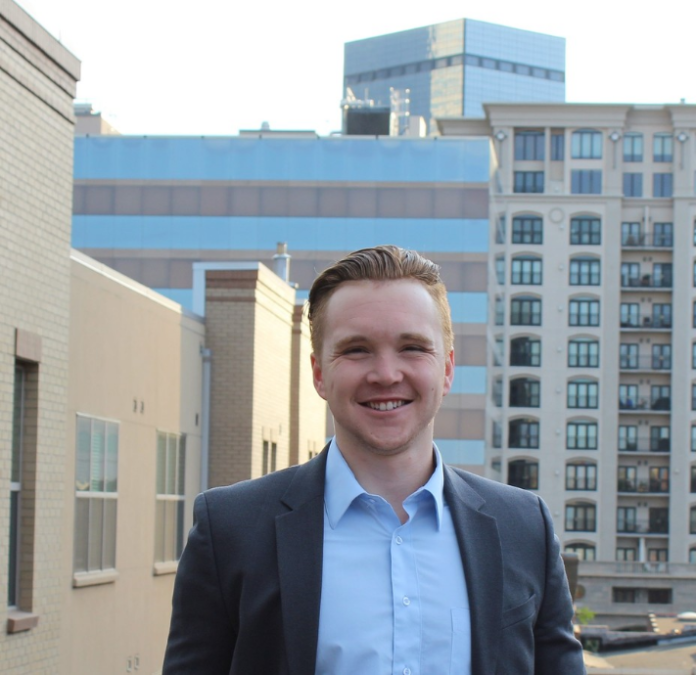 Law students at the University of Denver are spearheading Pioneer Venture Group, a venture capital fund to help students across a variety of disciplines gain practical experience while supporting budding businesses.
The student-led fund, which finished recruiting participants last week, has thrust the students into the action of Denver Startup Week, where they heard pitches from 18 companies on Friday. Students will research these companies and others with the aim of making their first investment by early next year. 
While students from a number of disciplines will run the fund, the initiative had its genesis in a group of students from the Venture Law Society, an extracurricular group for law students interested in corporate transactional and venture law, according to Martin Katz, professor of law and university chief innovation officer at the University of Denver.
"They had this dream of what they considered the ultimate in experiential legal education of getting to run their own fund," Katz said.
Law student Kieran Edstrom, president of the Venture Law Society and managing partner of the fund, said the initiative fills a gap in DU's experiential learning programs.
"We looked around and realized that there are plenty of litigation clinics [and] litigation practicums," he said. "But there were not as many opportunities for transactional students or people that want to go into corporate law to get a hands-on experience in a way that would let them know whether this was right for them." Edstrom co-founded the venture fund along with recent Sturm College of Law graduate Becky Stifter.
The law students' idea got a boost after students from the University of North Dakota who run their own fund, the Dakota Venture Group, came to Denver over the summer and spoke to members of DU's Project X-ITE, the university's entrepreneurship and innovation center, said Katz, who is executive director of the center.
After the meeting with the North Dakota students, an alumnus of the University of Denver, Peter Burwell, offered to provide the initial funding for students at DU to start their own fund, according to Katz.
The Rodney and Barbara Burwell Family Foundation gave $100,000 so the fund could launch and start making investments this fall, Katz said, adding that the fund is talking to another foundation about a similar-sized donation and it will continue to look for other donors. 
In the first year, students will research companies to decide whether a company is worth investing in. Law students will focus on the due diligence process, and Edstrom said he will work to build strategic partnerships with law firms, established venture capital funds and accelerators.
Stacey Bowers, associate professor of the practice and faculty advisor for PVG, said Sturm has added to its curriculum over the past year to provide theoretical knowledge for students interested in working in the venture capital world or with starups seeking funding.
"I think this venture fund is an opportunity for those students to take some of those concepts they're learning in the various classrooms and actually use them," she said.
The organizers also view it as a way for students to gain entry to the region's burgeoning tech and startup scene.
"We have a booming startup economy here, and there just wasn't a direct pipeline for law students in Denver to get involved with that ecosystem," said Edstrom.
In its first year, PVG will focus mostly on startups from Denver or other Front Range cities, with an eye toward expanding statewide or even to other states in the Mountain West, according to Edstrom and Bowers.
More important than a company's location is its stage of funding, according to Edstrom. The fund is authorized to make investments of up to $25,000, but he said he expects the fund to start with a few smaller investments. Edstrom said the level of funding and experience his team can offer will be most valuable for startups at the pre-seed or seed stage.
"We'll be investing in companies for which that's a helpful amount of capital," Edstrom said. For a tech startup, that might be a company with an alpha version of an app that needs funding to get to beta testing, or it could be a someone with a product prototype who needs money for a first manufacturing run, he said.
PVG is an evergreen fund, Katz said, meaning any profits will go back into the fund to be reinvested by students. If the fund manages to grow beyond the amount the students can invest, students will have the option to distribute some of the earnings as scholarships, according to Katz.
While the students will be making all the final decisions about which companies to invest in, they won't have to navigate the world of venture capital completely alone. An advisory board of faculty, business leaders from the community and, eventually, alumni of PVG will offer advice to the students. 
Fund participants will also be able to draw on the expertise of Project X-ITE's mentoring network, which currently has more than 150 mentors. Katz said he hopes the PVG will attract even more mentors to become involved."
While lips were sealed about which companies the students would be hearing pitches from at Denver Startup Week, Bowers said the fund received around 40 pitch decks, which the students had to narrow down by more than half. She said the group would be excited if one, and "over the moon if two," of Friday's pitches leads to a potential investment opportunity.
Edstrom said PVG aims to make its first investment by January and, in order to meet that goal, plans to hear pitches from at least 40 companies before students go home for winter break.
 Katz said he expects the students to have a hard time winnowing down the companies they heard from at Startup Week.
"The companies that are interested in pitching to the students are a pretty impressive group," he said.         
— Jessica Folker