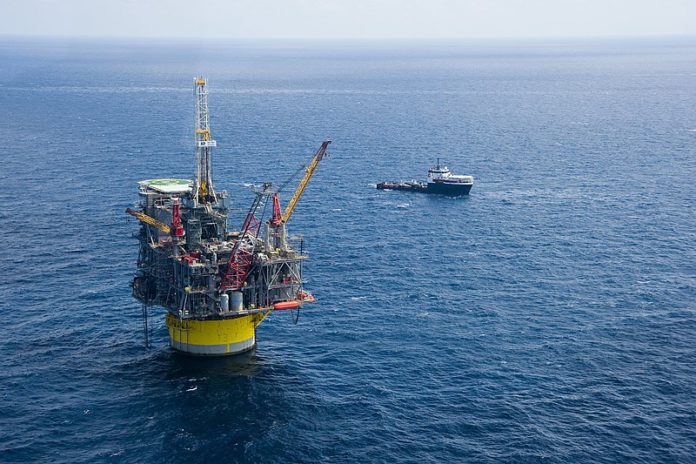 Two federal courts will soon decide whether to block President Joe Biden's move to hold up federal oil and gas leasing. A Louisiana federal judge will issue a ruling after conducting a hearing Thursday on a request by 13 states to block the administration's public lands and offshore fossil fuel pause. A Wyoming-based U.S. district judge, in another effort to secure a court order requiring new leases to be sold, is also expected to rule soon.
The administration fought against the coordinated push to force the Department of Interior to engage in additional fossil fuel exploration deals on Bureau of Land Management acreage, National Wildlife Refuges and other reserves and on the outer continental shelf. Biden's mandate "merely directs the Secretary of the Interior, to the extent consistent with applicable law, to pause new lease sales," wrote three department lawyers in a response to the injunction request filed in the U.S. District Court for the Western District of Louisiana. "Because a direction to follow applicable law is not, by definition, a direction to violate the law, Plaintiffs' challenge to the Executive Order fails." 
Environmental advocacy organizations are also opposed to the efforts by Republican state attorneys general demanding continued fossil fuel production from federal government property. "The urgency of the climate crisis underscores the need for the federal government to pause oil and gas leasing while it undertakes a comprehensive review of leasing and permitting, and to ensure that public lands management aligns with U.S. climate goals and commitments," said Kyle Tisdel, a staff attorney and the Climate and Energy Program director at the Western Environmental Law Center in Santa Fe. 
Biden ordered the moratorium on leasing in a January 27 executive order. "To the extent consistent with applicable law, the Secretary of the Interior shall pause new oil and natural gas leases on public lands or in offshore waters pending completion of a comprehensive review and reconsideration of Federal oil and gas permitting and leasing practices in light of the Secretary of the Interior's broad stewardship responsibilities over the public lands and in offshore waters, including potential climate and other impacts associated with oil and gas activities on public lands or in offshore waters," Biden wrote. 
The Department of Interior did not, in response to Biden's mandate, announce a nationwide stoppage of oil and gas leasing on public lands or offshore. Instead, it postponed or cancelled planned lease sales on an individual basis. That pattern upset GOP-led states that want to maintain the primacy of fossil fuels in the nation's energy mix despite the imperative of reducing greenhouse gas emissions. "By executive fiat, Joe Biden and his administration have single-handedly driven the price of energy up – costing the American people where it hurts most, in their pocketbooks," Louisiana Attorney General Jeff Landry said in a March 24 statement. Wyoming Gov. Mark Gordon sounded similar notes. "The heart of enlightened responsible policy lies in fully understanding all of its consequences," the Republican governor said during an April 27 U.S. Senate committee hearing. "This moratorium discriminates against the people of Wyoming, against all western states with federal leases within our borders." The Biden administration policy does not exempt any state from its coverage.  
The principal arguments lodged by pro-oil and gas states in support of their injunction requests are that the Mineral Leasing Act, a 1920 law that governs hydrocarbon extraction leases on public lands, and the Outer Continental Shelf Lands Act, the federal legislation enacted in 1953 that regulates offshore leasing activities, require Secretary of the Interior Deb Haaland to continue selling leases.
"The MLA is intended to promote the orderly development of the oil and gas deposits in the publicly owned lands of the United States through private enterprise," wrote James Kaste, Wyoming's deputy attorney general, in the Equality State's petition for review of Biden's executive order. "The MLA and the associated regulations, with limited exceptions not present here, require quarterly lease sales." Landry, along with the attorneys general of Alabama, Alaska, Arkansas, Georgia, Mississippi, Missouri, Montana, Nebraska, Oklahoma, Texas, Utah, and West Virginia, made a similar claim. "[T]here were eligible lands available, but BLM unilaterally cancelled the quarterly sales anyway," he wrote in Louisiana's March 31 motion for a preliminary injunction. "The President has no power to abrogate this mandatory statutory command by fiat."
As for the OCSLA, Landry argued that, once the Bureau of Ocean Energy Management completes a five-year offshore leasing plan for one of four specified oceanic regions, it must proceed with the leases proposed in those guidance documents. "The moratorium effectively repeals the Five-Year Program—and does so without consulting with 'the governors of affected states' or 'responding in writing to all comments or requests received from the state governors,' as OCSLA commands," he wrote. "The President has no authority to alter those procedures; they would be rendered hortatory nullities if the President could alter a duly promulgated Five Year Program by fiat, as the Biden Ban purports to do." Wyoming and its co-plaintiff, Western Energy Alliance, do not make an OCSLA argument in their case.
On the subject of the OCSLA allegations, environmentalists dismiss out of hand Landry's view that five-year drilling plans require leasing. "The law does not require the Secretary of Interior to hold the lease sales that are scheduled in a five-year program under any particular time frame," said Mike LeVine, senior fellow at the Ocean Conservancy in Juneau and a former staff attorney with Oceana and Earthjustice. "The program itself is not binding in a legal manner."
Sharon Buccino, senior director of the land division and nature program at the Natural Resources Defense Council, points to a flaw with the states' and the Western Energy Alliance's MLA and OCSLA arguments. "If you look at the language of the laws and also their legislative history, it gives quite a bit of discretion to the government," she said. "In the past that discretion has been exercised in a way that has opened up quite a bit of our public lands to fossil fuel extraction. Now, especially in an era of catastrophic climate change and the need to manage the lands according to a carbon budget, this administration is choosing to exercise that discretion in a different way." 
There appears to be at least one Supreme Court decision that offers some support for Buccino's view. According to a filing in Wyoming v. Biden, a case called United States ex rel. McLennan v. Wilbur, decided in 1931, indicates that Haaland has discretion to put a hold on leasing. That decision held that "the granting of a prospecting permit for oil and gas is discretionary with the Secretary of the Interior, and any application may be granted or denied, either in part or in its entirety, as the facts may be deemed to warrant." The same filing pokes at the states' and Western Energy Alliance's view that later amendments to the MLA changed that ruling. "The 1987 amendments … did not alter the MLA's central 'may be leased' language; nor did Congress intend to overturn McLennan," wrote Michael Freeman, a Denver-based attorney at Earthjustice.
Pat Parenteau, a professor at Vermont Law School and an expert on public land law, said that a challenge to an Obama administration moratorium on coal leasing, a mineral also subject to the MLA, failed for those reasons. "Unless the statute is crystal clear that the agency does not have the discretion" to make changes, he said, lease proponents are unlikely to win the MLA argument. "You could find a district court judge in the oil patch ruling in favor of industry on something like that," he said. "I wouldn't be shocked. But I think [that] once it gets to the circuit level, it would take a pretty specific command from Congress that you cannot ever pause or put a temporary hold on leasing." Parenteau was referring to federal appeals courts.
The iffy nature of the oil industry's legal arguments about how to interpret MLA and OCSLA may also reflect inevitable industry consternation about the necessary shift away from fossil fuels. Karen Sokol, a professor at Loyola University College of Law in New Orleans who specializes in environmental law, pointed out that the hold on leasing may have frightened operators because it presents an opportunity for public land managers to move more deeply into thinking about how to make that transition instead of focusing as much on whether it is needed. "It's fighting everything to keep us on that path because it sees that we're at a critical crossroads," Sokol said. "And indeed we are, because we don't have time to continue production."
Two other environmental laws are at issue in the Wyoming case: the Federal Land Policy and Management Act and the National Environmental Policy Act. Wyoming argued that, once BLM finalizes a Resource Management Plan, a task required by FLPMA, it must "manage public lands in a manner that conforms" to them and must "complete a formal amendment process" before deviating from them. "Plans are plans, plans change," Parenteau said in response to that point, describing a Supreme Court holding that land management roadmaps are not themselves enforceable. 
Freeman dismissed the NEPA claim as illogical. "Wyoming acknowledges that NEPA's purpose is to ensure that federal agencies 'look before they leap,'" he wrote in the environmental groups' response to the Wyoming and Western Energy Alliance request for an injunction. "That is exactly what BLM is doing here – temporarily refraining from irreversibly committing public lands to oil and gas development while it reassesses the leasing program in the wake of … calls for reforms and numerous successful legal challenges." The plaintiffs, he continued, "would flip NEPA on its head by requiring BLM to offer oil and gas leases regardless of whether the agency has completed the necessary environmental analysis."
In both cases, lawyers for the parties attacking the oil and gas leasing pause argue that Biden and the Interior Department did not subject the President's decision to notice and comment requirements associated with an Administrative Procedure Act rulemaking. The APA arguments are equally unconvincing to the environmental group parties (in the Wyoming case) and amici (in the Louisiana case). "As the filings in both cases point out, if you're going to sue under the Administrative Procedure Act, there are very specific requirements about identifying the agency action that has occurred," she said. "The agency action has to be final." She said that opponents do not believe that Biden's January executive order, or Haaland's efforts to implement it, qualify.
More than 26 million acres of U.S. public lands are already leased by fossil fuel companies. There is some evidence that the oil and gas industry may not face any significant economic burden as a result of Biden's move to block new leases. "We have a deep inventory of approved federal drilling permits in hand that essentially cover all of our desired activity over the next presidential term," Devon Energy Corporation executive vice president David Harris said in an October 2020 investor call, as reported by E&E News.
Parenteau thinks the obvious climate change implications of oil and gas activity will be enough to persuade courts to uphold Biden's action on public land leases. "The industry can stick their head in the sand if they want," he said. "But everybody else knows the world has changed. The government has a responsibility to respond to current developments."