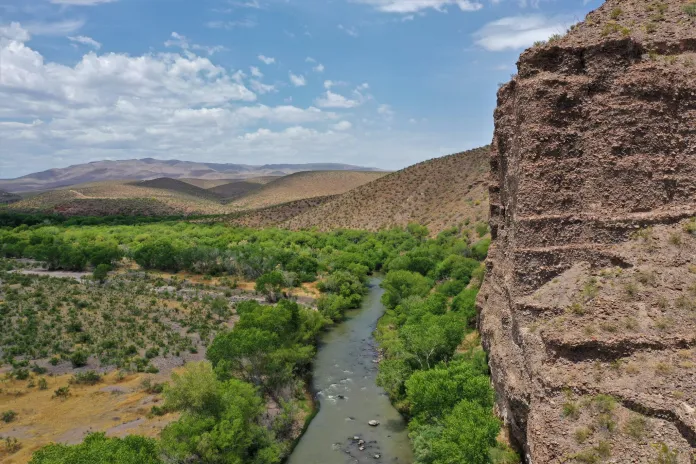 A federal judge in Arizona nullified Monday the Trump-era rule that eliminated Clean Water Act protections for a huge swath of the West.
In her order, U.S. District Judge Rosemary Márquez of Tucson ruled that the Navigable Waters Protection Rule should be remanded to the Environmental Protection Agency and the U.S. Army Corps of Engineers because the Biden administration asked for that outcome in the case filed by the Pascua Yaqui Tribe, Quinault Indian Nation, Fond du Lac Band of Lake Superior Chippewa, Menominee Indian Tribe of Wisconsin, Tohono O'Odham Nation and Bad River Band of Lake Superior Chippewa. 
Márquez also held that the remand should be accompanied by vacatur – a legal term of art that means the regulation will have no more effect – on grounds that EPA and USACE committed "errors" in enacting NWPR that are "fundamental, substantive flaws that cannot be cured without revising or replacing the NWPR's definition of 'waters of the United States.'" 
The judge, a 2014 appointee of President Barack Obama, also decided that, on remand, the agencies would be likely to alter the WOTUS definition and that there is a "possibility of serious environmental harm if the NWPR remains in place upon remand."
Márquez pointed to a range of threats to waterways, wetlands, and aquatic ecosystems from NWPR in justifying the latter conclusion. "Between June 22, 2020 and April 15, 2021, the [USACE] made approved jurisdictional determinations under the NWPR of 40,211 aquatic resources or water features, and found that approximately 76% were non-jurisdictional," she wrote. "The [a]gencies have identified 333 projects that would have required Section 404 permitting under the CWA prior to the NWPR but no longer do." Márquez referred to the part of the Clean Water Act that requires a permit before filling or destroying a wetland or a stream. 
Those impacts have been, according to the jurist, "particularly significant in arid states." "In New Mexico and Arizona, nearly every one of over 1,500 streams assessed under the NWPR were found to be non-jurisdictional – a significant shift from the status of streams under both the Clean Water Rule and the pre-2015 regulatory regime," Márquez wrote. That pattern of regulatory handling of Western streams and wetlands will, in turn, "have cascading and cumulative downstream effects."
Because EPA and USACE already indicated they would replace the NWPR in response to an executive order by President Joe Biden, Márquez' ruling is unlikely to be appealed. 
EPA and USACE will apply the 1986 definition of "waters of the United States," informed by guidance documents released in 2007 and 2008, until a new WOTUS definition is finalized. That definition was updated by the Obama administration in 2015, but that WOTUS rule was replaced by NWPR.
Colorado unsuccessfully challenged NWPR, effectively losing a lawsuit aimed at nullifying it, when a March order by the 10th U.S. Circuit Court of Appeals lifted an injunction against its enforcement in the Centennial State.