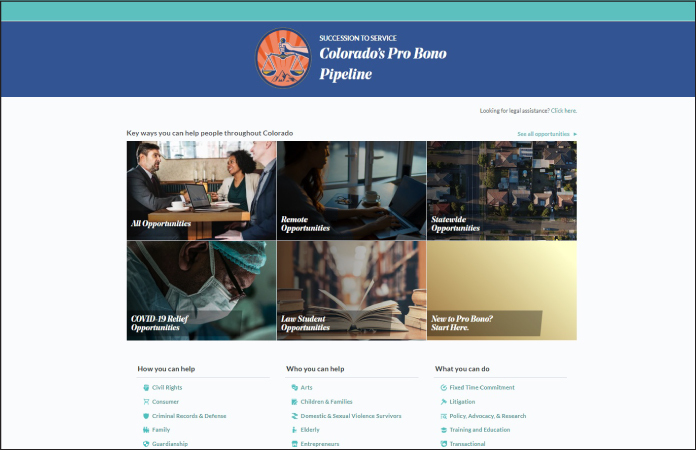 Finding pro bono work just got easier thanks to a new portal that aims to connect Colorado lawyers with legal services providers that need them.
The statewide platform, called Succession to Service, was unveiled at an online event on Aug. 25. Succession to Service is a pilot program of the Colorado Attorney Mentoring Program in collaboration with Metro Volunteer Lawyers and the Colorado Access to Justice Commission.
Succession to Service partnered with legal tech company Paladin to build the portal, which aims to "centralize and streamline pro bono opportunities in a real-time, statewide database that's free for the entire Colorado legal community to use," according to a press release.
According to Ryann Peyton, director of CAMP and one of the co-founders of Succession to Service, the platform "started out as an idea about three years ago where we were looking to figure out how we could engage Colorado lawyers in pro bono work in a more meaningful way." Following some research and focus groups, Peyton said, CAMP and its partners launched a pilot platform in early 2020 that generated nearly 300 hours of pro bono work and connected Colorado attorneys to more than 20 legal services organizations.
"Because of that success, we are now able to partner with Paladin … to really scale this program so that we can become Colorado's statewide pro bono portal," Peyton said at the launch event.
The site is free to use, and registration is not required to search the portal for pro bono opportunities. The homepage features search options for remote opportunities, COVID-19 relief opportunities, statewide opportunities and projects for law students. Prospective volunteers can search by practice area or subject matter, with pre-set search options running the gamut from family law to immigration to intellectual property.
Attorneys can filter by the type of client they'd like to help, including veterans, the incarcerated, entrepreneurs and artists, the elderly, LGBTQ people and survivors of domestic or sexual violence. In addition, the portal allows users to search based on the type of work, such as litigation or transactional, and where they are in their careers, with search options for lawyers, retired lawyers, law students and legal professionals.
The pro bono opportunities range from ongoing commitments to one-time consultations or reviews of a single document. The listings include information on the time commitment required, whether training is provided, required skills and skills attorneys will acquire by working on the project. Each listing also includes a contact form users can fill out to express interest and put attorneys in touch directly with the legal services provider associated with the opportunity.
Some of the legal services organizations looking for volunteers through the portal include Metro Volunteer Lawyers, Colorado Legal Services, RMIAN, Colorado Attorneys for the Arts, Project Safeguard, Alpine Legal Services, International Rescue Committee and the Illinois Prison Project.
During the launch event, Colorado Supreme Court Justice Melissa Hart talked about the new platform's role in addressing access to justice issues around the state. For the past several months, the Colorado Access to Justice Commission has been doing a virtual listening tour of the state's judicial districts, according to Hart, who is a member of the commission. "One of the top-line things that we learned is that the shortage of lawyers to provide legal advice is a pandemic of its own," Hart said, noting the shortage is especially acute in rural communities.
Hart said she was surprised to learn that "lots of people felt that legal advice from someone from a different location—legal advice provided remotely from somewhere else—would be as valuable or close to as valuable as legal advice provided by a community member directly." Hart added that the new portal's emphasis on remote services is "a huge, important step in addressing what's clearly one of the most important challenges that we face."
Hart also praised the platform for making opportunities available to lawyers at every stage in their careers, from law students to attorneys and retired attorneys. "That outreach recognizes that it's going to take all of us to close the justice gap," she said.
Dick Gast, chair of the Colorado Access to Justice Commission, said there are many resources for Coloradans who just need information about the law, from websites to the Self-Represented Litigant Coordinators, or "Sherlocks," who help people navigate the court system. But sometimes people need more than information. "Simply put, some people can't get a fair shot at justice without having an attorney by their side," Gast said during the event. "And there's nothing like the experience of handling a few pro bono cases to drive that message home."
Gast told a story about a pro bono case he handled that left an impression on him. His client was an "itinerant artist" living in the foothills outside Fort Collins who had fallen behind on rent in the middle of a cold winter. Rather than posting notice, the landlord removed the propane tank that was heating her house, prompting the artist to stay overnight with a friend. When she returned the following day, the landlord had already taken all her possessions to a Salvation Army.
"There's really no way she was equipped on a pro se basis to work her way through the procedural complexities of our court system," Gast said. He filed suit and obtained a judgment against the landlord for the value of her possessions plus punitive damages. "Even better, the landlord was solvent, and he wound up paying the judgment amount to my client," he said. "A wrong had been righted, justice was served."
As a token of appreciation, the client gave Gast a watercolor painting of a tree in a forest, which he held up for attendees to see. "It has a note from her on the back that says: A tree can stand alone. But sometimes a person just needs a good lawyer," Gast said. "Pro bono work benefits the clients, it benefits our legal system, but it's also incredibly rewarding for the lawyers doing that work," he added.