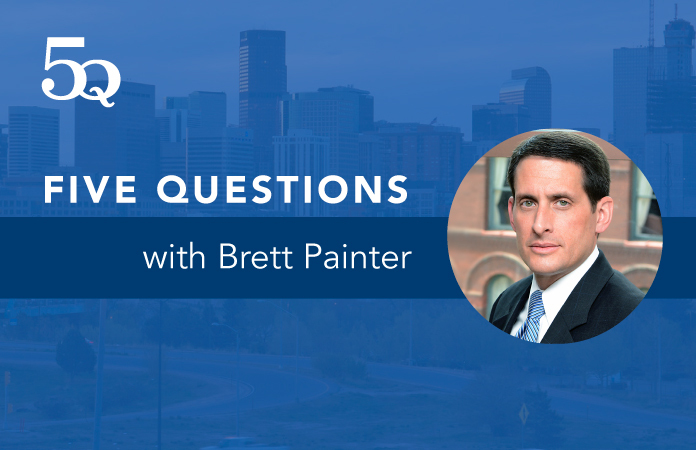 5Q is your way to get more acquainted with the local legal community. Submissions come from lawyers, paralegals, judges and law professors alike. In 5Q, you'll discover insights on the profession while learning more about the people behind the practice. Responses are edited for clarity and length.
Want to be featured in our next 5Q? Respond to the survey today. 
This week, we heard from Brett Painter, a partner at Davis Graham & Stubbs. He chairs the firm's ​​Employment & Labor Group and practices commercial litigation in addition to covering labor and employment matters. Read more about Painter's practice areas in his DGS profile.
Question 1
Which rule of evidence do you think is the most essential in assuring that the truth-seeking function of litigation is achieved?

A: Rule 613. Prior Statements of Witnesses.
Question 2
Should courtrooms be more colorful? Discuss.

A: Not in my opinion. My first memory of being in court is as a young kid watching my dad, a lawyer in Colorado Springs, argue at a motions hearing. Everything struck me as very formal, and afterward, I remember him explaining the formality being an integral part of respect for the judge, the courtroom staff, the lawyers, the parties and the process. For me, a colorful courtroom would detract from that formality.
Question 3
What is your favorite place to fish, hike, or ride your road bike in Colorado?

A: Flagstaff Road, which, depending on fitness level, also can be my least favorite place to ride my bike in Colorado.
Question 4
Star Trek or Star Wars? Explain.

A: Star Wars. I was 7 years old when the original Star Wars movie was released, and my grandmother sewed me a Chewbacca costume for Halloween. Heavy fur from head to toe. I'm pretty sure I wore that thing every day until the following summer, when the threat of heatstroke made it unsustainable.
Question 5
Who was your favorite professor or instructor in law school?

A: Roberto Corrada, who motivated me to be an employment lawyer.