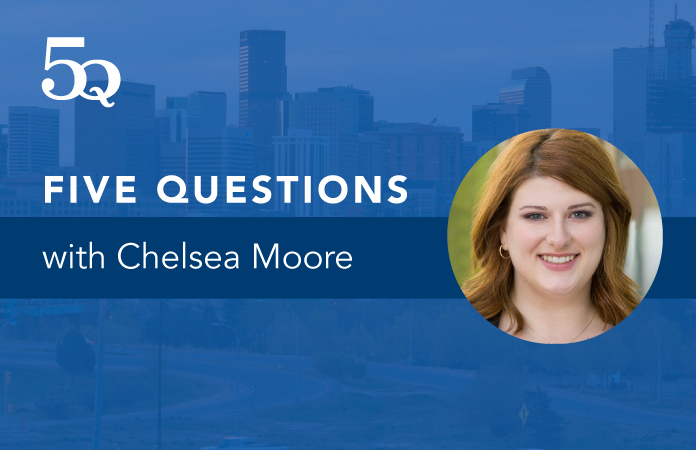 5Q is your way to get more acquainted with the local legal community. Submissions come from lawyers, paralegals, judges and law professors alike. In 5Q, you'll discover insights on the profession while learning more about the people behind the practice. Responses are edited for clarity and length.
Want to be featured in our next 5Q? Respond to the survey today.
This week, we heard from Chelsea Moore, associate attorney at Broxterman Alicks McFarlane. She "is a skilled litigator, winning more than 40 jury trials over the course of her tenure in Colorado's 1st and 18th judicial districts." Read more about Moore's practice and experience in her online biography.
Question 1
Which celebrity was on the posters you had hanging on your teenage bedroom wall?
A: Legolas from Lord of the Rings. Not Orlando Bloom. Legolas. You know, with the hair? I had a life-size cardboard cutout. I'm not proud.
Question 2
What is your favorite restaurant and what's your favorite thing to order there? Cajun
A: Chicken at Le Bilboquet, Spicy Tuna with Crispy Rice at Matsuhisa or a greasy burger from My Brother's Bar
Question 3
Which rule of evidence do you hate the most and why?
A: 803(16) only because it classifies ancient documents as those prepared before Jan. 1, 1998. I take offense to that on a deeply personal level.
Question 4
What's your favorite book and why?
A: The Sound and the Fury by William Faulkner. I'm in awe of how Faulkner uses several different narrative styles, including stream of consciousness. It is a beautiful and heartbreaking work
Question 5
What's your favorite movie or TV show?
A: Star Wars: The Empire Strikes Back and Arrested Development (Bob Loblaw's Law Blog? Kills me every time!)