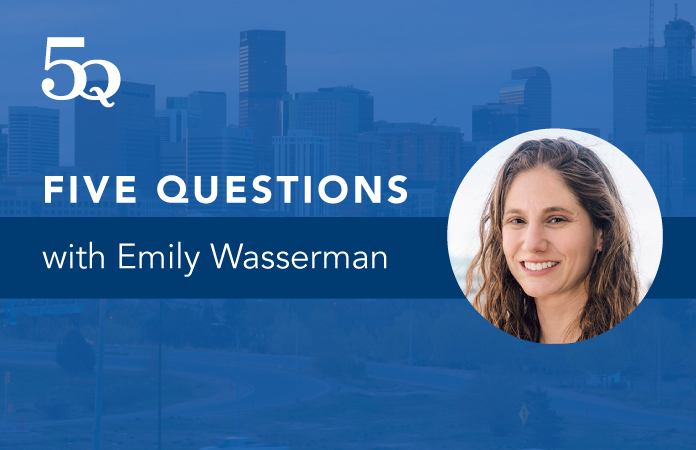 5Q is your way to get more acquainted with the local legal community. Submissions come from lawyers, paralegals, judges and law professors alike. In 5Q, you'll discover insights on the profession while learning more about the people behind the practice. Responses are edited for clarity and length.
Want to be featured in our next 5Q? Respond to the survey today.
This week, we heard from Emily Wasserman, associate and intellectual property attorney at Davis Graham & Stubbs. "Her practice focuses primarily on complex commercial litigation, intellectual property disputes, and counseling clients regarding their intellectual property rights." Read more about Wasserman's practice and experience in her online biography.
Question 1
If you could choose to master a musical instrument that you don't already know how to play, which one would it be and why?
A: I would master the banjo because I would love to spend summer nights playing the banjo with family and friends gathered around a campfire.
Question 2
Which celebrity was on the posters you had hanging on your teenage bedroom wall?
A: Mia Hamm and Julie Foudy from the U.S. Women's National Soccer Team.
Question 3
If you could travel back in time and talk to any historical figure about the law, who would you talk to and what would you say to them?
A: I would travel back in time to have a conversation with Justice Ruth Bader Ginsburg. I would want ask her about which of the many big social issues and inequities she would want to tackle next and what her first step would be. As lawyers, we are uniquely positioned to make a difference, but I find that figuring out how to best leverage those skills can sometimes feel like a challenge.
Question 4
What's your favorite weekend activity?
A: Regardless of the season, my favorite way to spend a weekend is with a long day outside in the mountains either running, biking or skiing (either with my family or pushing my limits).
Question 5
What's your favorite movie or TV show?
A: Burn Notice. If I weren't a lawyer, I'd want to help people by being a very clever super spy.