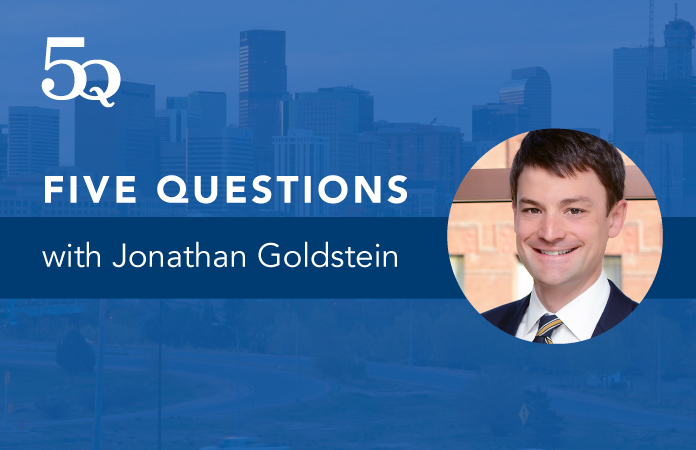 5Q is your way to get more acquainted with the local legal community. Submissions come from lawyers, paralegals, judges and law professors alike. In 5Q, you'll discover insights on the profession while learning more about the people behind the practice. Responses are edited for clarity and length.
Want to be featured in our next 5Q? Respond to the survey today.
This week, we heard from Jonathan Goldstein, an associate attorney and real estate lawyer at Davis Graham & Stubbs. He "represents clients in acquisitions, dispositions, construction and development, financing, and leasing of real property interests nationwide across a range of industries." Read more about his practice and experience in his online biography.
Question 1
If you could choose to master a musical instrument that you don't already know how to play, which one would it be and why?
A: Piano. I actually bought an old Baldwin upright piano off of Craigslist a few years ago hoping to teach myself. So far, only my kids have figured it out. My five-year-old has a unique rendition of "Rocket Man."
Question 2
What is your favorite clause of the Constitution and why?
A: "Congress shall make no law respecting an establishment of religion, or prohibiting the free exercise thereof…" I'm Jewish. So as a member of a religious minority with a long history of persecution, I'm a big fan of our wall between church and state. Reading it, I'm reminded of the risks my ancestors took to immigrate to the United States and I have little doubt that part of what drew them here was the promise — which I think is implicit in this language — that Jews and other religious minorities can freely exercise their religion without fear of reprisal from their government.
Question 3
What is your favorite restaurant and what's your favorite thing to order there?
A: The lunch buffet at Kathmandu Restaurant in Nederland.
Question 4
What's your favorite weekend activity?
A: I spend a lot of time on my bike on the weekends. I'll ride all sorts of roads in the mountains, both paved and gravel. Recently, I've been teaching my son to ride and that's really fun too!
Question 5
What's your favorite movie or TV show?
A: I know I'm supposed to choose something intellectual or rewarding, but all I really ever want to do is watch reruns of Curb Your Enthusiasm.