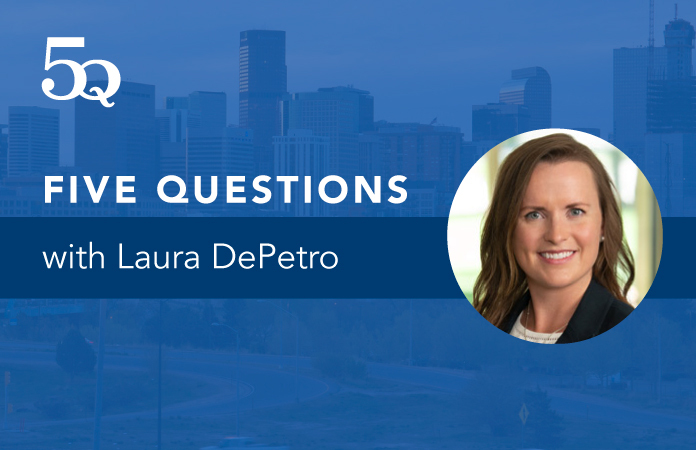 5Q is your way to get more acquainted with the local legal community. Submissions come from lawyers, paralegals, judges and law professors alike. In 5Q, you'll discover insights on the profession while learning more about the people behind the practice. Responses are edited for clarity and length.
Want to be featured in our next 5Q? Respond to the survey today.
This week, we heard from Laura DePetro, partner and construction and commercial litigation attorney at Woods Aitken LLP. She "represents all types of construction companies on public and private jobs, whether it is a contract dispute, design deficiencies, a negligence claim, or complex delay and schedule issues." Read more about DePetro's practice and experience in her online biography.
Question 1
If you could choose to master a musical instrument that you don't already know how to play, which one would it be and why?
A: Fiddle. I love Alison Krauss and how she bridges the genres of folk, rock, country and bluegrass with her talent. Plus, all legitimate fiddle players play with fans blowing in their faces, and who wouldn't want their hair blowing in the wind while they play fiddle?
Question 2
What is your favorite clause of the Constitution and why?
A: The Commerce Clause. The extent and reach to which Congress can regulate conduct is fascinating. And, you get to cite to Commerce Clause cases like Hipolite Egg Co. v. United States, which is just a funny thing to say.
Question 3
Which celebrity was on the posters you had hanging on your teenage bedroom wall?
A: *NSYNC and I'm not ashamed of it.
Question 4
What is your favorite restaurant and what's your favorite thing to order there?
A: Coperta is a top-five favorite restaurant in Denver, and I typically love carbonara pasta dishes from there or elsewhere. It's also a Southern Italian restaurant, and I married into a Sicilian family, so Coperta speaks to me.
Question 5
Which rule of evidence do you hate the most and why?
A: The rules on authenticity, especially if parties won't stipulate to authenticity. Unless there are legitimate objections to the origins of a document, it bogs down the presentation of evidence.