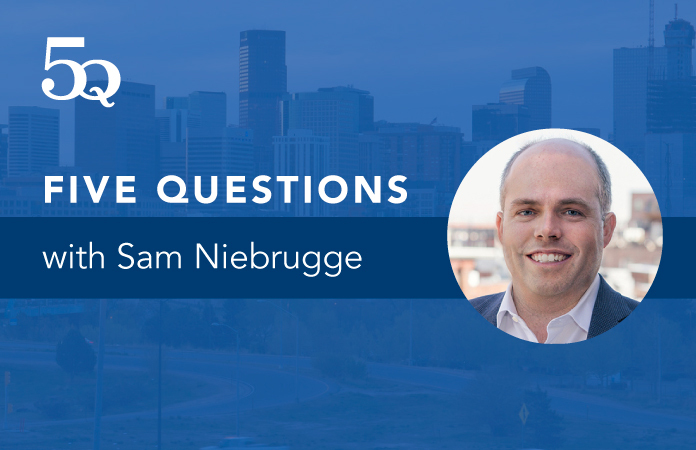 5Q is your way to get more acquainted with the local legal community. Submissions come from lawyers, paralegals, judges and law professors alike. In 5Q, you'll discover insights on the profession while learning more about the people behind the practice. Responses are edited for clarity and length.
Want to be featured in our next 5Q? Respond to the survey today.
This week, we heard from Sam Niebrugge, a partner at Davis Graham & Stubbs. His practice has "involved the drafting and negotiating of purchase and sale, development, exploration, joint operating, farmout and master services agreements, in addition to other agreements in the oil and gas and mining industries." Read more about his practice and experience in his online biography.
Question 1
Which celebrity was on the posters you had hanging on your teenage bedroom wall?
A: Orel Hershiser of the Los Angeles Dodgers. I'm from Denver, but my grandparents lived in Los Angeles and the Rockies didn't come to town until I was in high school. I absolutely loved the late-1980s Los Angeles Dodgers, and Orel Hershiser was their best pitcher. His 1988 season was the stuff of legends.
Question 2
What is your favorite restaurant and what's your favorite thing to order there?
A: The bibimbap at Uncle, which was on their menu for only a short period of time after it opened. Tommy Lee (Uncle's owner) is my childhood friend, and every time I see him I ask him to put this dish back on the menu. Hopefully making the request in this public manner will persuade him!
Question 3
What's your favorite weekend activity? 
A: Road biking. With the stress of what we do, I enjoy the monotony and solitary focus of a few hours on the bike. 
Question 4
Which rule of evidence do you hate the most and why? 
A: I'm a transactional attorney, so (thankfully!) I don't have to worry about any particular rule of evidence. Although I don't encounter evidence in my practice, the prompt of this question gave me warm memories of Professor Sheila Hyatt, who I had for both civil procedure and evidence in law school. Professor Hyatt was a brilliant professor and an incredible mentor. 
Question 5
What's your favorite movie or TV show? 
A: Real close battle between The Office and Seinfeld. I have to give the nod to The Office since I think Dwight Schrute might be the most perfect television character ever.