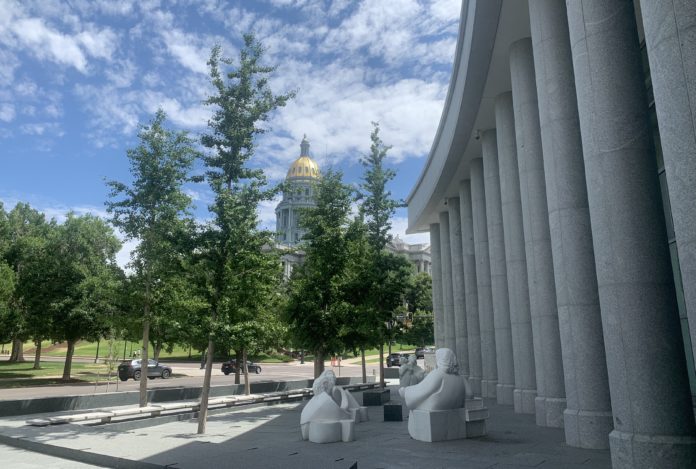 The Colorado General Assembly next session will consider expanding a judicial branch program that looks to bridge the criminal justice system with mental health programs. 
The Bridges Program was created in 2018 by Senate Bill 18-251 and tasked the Colorado Judicial Branch's office of the state court administrator with setting up a liaison program between the criminal justice and behavioral health systems. Since its first participant enrolled in 2019, the program has grown substantially with 2,838 appointments in fiscal year 2022, up by 1,989 cases in fiscal year 2020. 
According to Jennifer Turner, the Bridges Program statewide coordinator, it's a program unlike any other in the country and next session, the state legislature will consider if the program should expand and what it would look like. 
The Bridges Program looks to address a nationwide issue: people in the criminal justice system experience disproportionate rates of mental illness. Treating mental illness while incarcerated is incredibly difficult and symptoms can often get worse in traditional incarceration settings, according to Turner. While many states offer mental and behavioral health services for those in the criminal justice system, the Bridges Program is housed within the judicial branch and emphasizes bringing those services into the court process. 
"The thing about this program that's so unique is our liaisons have two sets of clients," said Turner. "So one set are the judges and attorneys where they're really acting like court appointed experts. The other set of clients are the participants themselves and then they're functioning like mental health advocates." 
Currently, the Bridges Program has 29 court liaisons across the 22 judicial districts who work with criminal defendants with mental health needs. Judges refer defendants to the program who are then assessed by liaisons who connect them with behavioral health and other services and advocate to the court on their behalf. According to Turner, a liaison's work can range from holding a defendant's hand in court to working with a judge to move them from an incarceration facility to a health care setting. 
"Anybody in the justice system who has really significant mental health challenges and really wants support, [the Bridges Program is] just to be able to navigate through these systems equitably, as compared to their counterparts who don't have these really significant mental health challenges," said Turner. 
In fiscal year 2021, liaisons made 5,855 reports for judges and defense attorneys, informing them about a participant's needs and connecting participants on bond with 1,100 community based services including behavioral health, housing social support and health care programs. 
While the program is open to any defendants with mental health needs, the Bridges Program is required to prioritize people who've been found incompetent of standing trial. The Bridges Program estimates that about 82% of its cases in FY 2021 were competency related with the remaining 18% of cases serving those with general mental health challenges. "Even though it's not really spoken to very much in the legislation, that catalyst for this piece of legislation was to address the competency crisis in the state of Colorado," said Turner. 
The Bridges Program estimates that it's only meeting about a third of the state's competency cases. Based on June 30 point in time data, the program found that a court liaison was assigned to 35% of the state's competency cases, leaving 3,596, or 65%, of the competency cases without a liaison.
Turner said there's a large unmet need within Colorado's competency cases as well as general mental health cases. 
Currently, Turner is gathering feedback from a number of stakeholders about the program to bring to the Colorado General Assembly in January 2023. The legislature is considering expanding the Bridges Program and requested a report on the current program and suggestions for expansion. 
One of the anticipated responses, according to Turner, is that the program needs more liaisons. "Whenever I ask people what do we need to do to improve the program, the number one response I get is we just need more liaisons," she said. "And our liaisons are, especially in our larger districts, are just way beyond capacity. And so it's just recognition that we're doing good things and we're just meeting a really small percentage of the need that's out there."
The Bridges Program will look at other areas of unmet need and potential growth in a series of meetings over the summer to report back to the state legislature for next session. On top of questions over the number of liaisons available, the program will ask stakeholders to provide feedback on the program's current structure, available services, outcomes and location in the judicial branch. 
The first meeting was held on July 15. Other meetings, which are open to stakeholders and members of the public, will be held in August, September and October. Anyone interested in joining the meetings can reach out to Turner for further information.