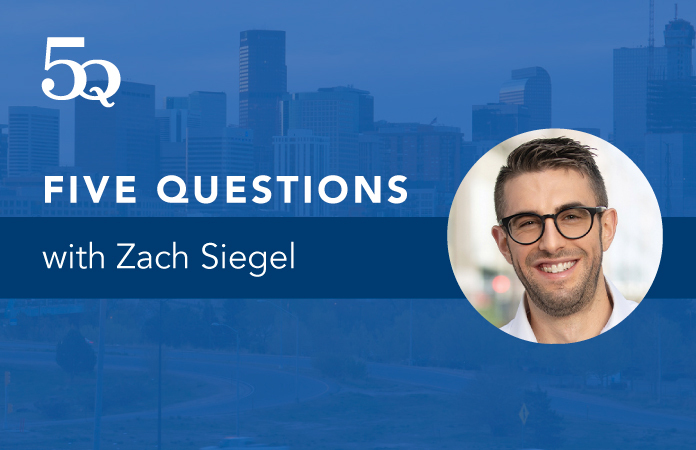 5Q is your way to get more acquainted with the local legal community. Submissions come from lawyers, paralegals, judges and law professors alike. In 5Q, you'll discover insights on the profession while learning more about the people behind the practice. Responses are edited for clarity and length.
Want to be featured in our next 5Q? Respond to the survey today.
This week, we heard from Zach Siegel, associate and real estate attorney at Brownstein Hyatt Farber Schreck. He "draws on experience representing real estate developers, REITs, landlords and tenants in a wide range of complex transactional matters, including acquisitions, dispositions, financing, leasing and development projects." Read more about Siegel's practice and experience in his online biography.
Question 1
Which celebrity was on the posters you had hanging on your teenage bedroom wall?
A: I'm a big baseball fan and had posters of my favorite player, Mark McGwire, hanging on the walls of my bedroom as a kid. Unfortunately, Mark, like many other ballplayers in the late '90s was a cheater cheater steroid eater (I guess technically, injector). Anyway, that rubbed me the wrong way, so I took the posters down and learned a valuable lesson about integrity.
Question 2
What is your favorite restaurant and what's your favorite thing to order there?
A: Here are my (really, the) Top 5 Denver restaurants and what to order there: 1. Fruition – This menu rotates seasonally, so just go there and order whatever they recommend (you won't be disappointed!) 2. New Saigon – 2CH, 16 RW and 16SH. 3. Safta – Lamb Ragu Humus, all of the Salatim, Persian Rice and Harissa Chicken. 4. The Cherry Cricket – Cricket Burger with cream cheese, jalapenos and, trust me, raspberry jelly. 5. Taste of Thailand – Som Tum, Tom Kha Gai, Pad Woon Sen, Pad Thai and Butternut Choo Chee. Extra credit for that answer, please.
Question 3
What's your favorite weekend activity?
A: My favorite weekend activities are going to Rockies games and exploring the Denver dining scene with my fiancée. I also love to get outside for a hike, or, on a cold day, hop on the Peloton for a Britney Spears-themed ride with my favorite instructor, Cody Rigsby.
Question 4
Which rule of evidence do you hate the most and why?
A: I'm a transactional attorney, so I don't deal with the rules of evidence on a daily basis. Like any good, detail-oriented associate, however, I have developed a few contract-specific pet peeves, including (but, of course, not limited to), the misuse of the word "shall," the use of any word that makes it sound like Shakespeare wrote your agreement (e.g., hereinafter, whereof, heretofore, wherein, etc.), and the lack of Oxford commas (just writing this sentence was pretty cathartic for me).
Question 5
What's your favorite movie or TV show?
A: My favorite TV show is "The Wire" and my favorite movie is "The Sandlot."