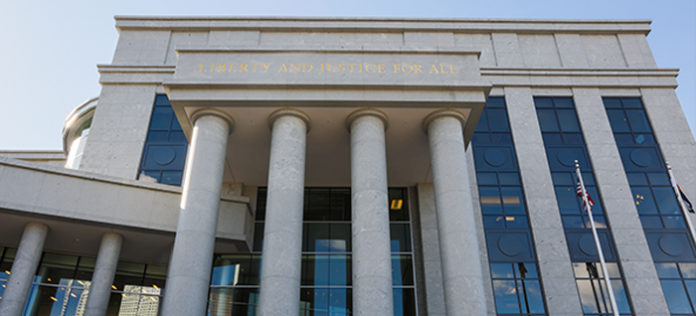 The Colorado Supreme Court published 19 opinions in the last month of the session. The court will continue to publish opinions between now and when the argument schedule resumes in September, but with Nancy Rice leaving the bench, the court seemed to take a harried pace in releasing its rulings.
At the beginning of June, Law Week published a snapshot of cases argued this session that had yet to be ruled on, as well as metadata on the types of opinions and the judges who gave them as part of the appellate review issue. The following opinions were released since the appellate review.
CRIMINAL DOCKET
People v. Austin
Ilyias Austin was charged with second-degree assault and filed for a preliminary hearing. That hearing required the crime to have a mandatory sentence or to be a crime of violence.
The district court said it was neither. The Supreme Court said the crime was one of violence and granted a preliminary hearing and remanded the case.
In re People v. Shank 
After using a public defender in a criminal case, Alyse Shank tried to use that same public defender for a related civil forfeiture action. The state tried to disqualify the attorney. Shank argued that the statute for public defenders allows them to be in any proceeding in the interest of justice
The court ruled that a public defender could represent someone in a civil forfeiture case.
Verigan v. People
Kimberlie Verigan admitted to possession of methamphetamine after being searched at a traffic stop. She was arrested and taken to the police station and read her Miranda rights, waived them and again confessed.
In court Verigan moved for her statements to be suppressed because of how they were obtained. The court used a U.S. Supreme Court fractured ruling to say that her statements were given voluntarily.
People v. Stackhouse
After being convicted of sexual assault on a child, James Stackhouse moved for post-conviction relief due to ineffective counsel. The post-conviction court vacated his convictions and granted a new trial.
For the new trial, Stackhouse filed a motion to limit the trial to one allegation of sexual abuse as the first jury only found him guilty of one assault. The district court agreed.
The court reversed the district court's ruling that he may only be retried on one count.
In re Rains
After a crash at a municipal airport following a near collision between two planes, a jury was asked questions of pilot negligence. The pilots were not found to be negligent.
The trial court granted a new trial under a Colorado Rule of Civil Procedure. The court ruled that the trial court had not met the requirements of the rule in question.
Castillo v. People
Andres Castillo was shot at one night and shot back at his assailants. Nearby police officers rushed to the scene and opened fire on Castillo, who shot back at them. In court he claimed self-defense and that he didn't know he fired at police officers.
The trial court instructed the jury on what voids a self-defense claim. The court ruled that one of the instructions had no evidentiary support. His conviction was reversed.
 INSURANCE CASES
Renfandt v. New York Life Insurance Company
Mark Renfandt's family was denied his life insurance money after he committed suicide under the influence of many legal intoxicants. The insurance policy had a stipulation saying that suicide while sane or insane voided the policy. Renfandt argued that her husband was too intoxicated to have suicidal intent.
The court only ruled on how the policy of suicides is interpreted in Colorado. They stated that the phrasing of "while sane or insane" only covers suicides committed with intent.
State Farm v. Griggs 
In a case where a group of people injured in a car accident was to be given insurance money from the driver at fault, an attorney for State Farm testified. During the trial, State Farm had a change in representation.
Lawyers of one of the victims claimed that attorney-client privilege was waived when State Farm's first attorney testified during the case. The court said that attorney-client privilege was not waived.
CORPORATE LAW
Rocky Mountain Exploration, Inc. v. Davis Graham & Stubbs, LLP
Rocky Mountain Exploration, Inc. sold Lario Oil and Gas Company oil and gas assets. However Lario had an undisclosed partner that RMEI had disavowed.
The law firm Davis Graham & Stubbs represented the disavowed company in the exchange and drafted the logistics of the deal. It did not tell RMEI whom it really represented.
The court ruled that the sale was legal. A clause in Lario's transaction agreements was determined to be enough notification for a third party's involvement and discounted other claims RMEI held against the others.
U.S. Welding, Inc. v. Advanced Circuits, Inc.
U.S. Welding was an exclusive supplier of nitrogen to Advanced Circuits. Eventually Advanced wanted to receive larger shipments, which Welding was not willing to do.
Advanced offered to buy out the remainder of the contract so it could start buying from a different supplier. Welding sued for breach of contract without giving a lost-profits analysis.
The court said Welding was not obligated to mitigate damages by giving up rights via being bought out, as the lower courts had ruled.
GOVERNMENT
Gessler v. Smith 
In 2012, then-Secretary of State Scott Gessler used his discretionary budget to attend two Republican events out of state and requested the remaining budget without documentation of expenses. The Independent Ethics Commission found he had breached public trust. Gessler then challenged their jurisdiction.
The court said the IEC were within their Constitutional powers and for Gessler to pay a penalty
City of Boulder v. Public Service Company of Colorado 
The Boulder City Council passed an ordrnance to establish a light and power utility to replace Xcel Energy, which challenged the ordinance. 
Xcel argued that Boulder hadn't correctly calculated the cost of supplying power outside of city limits, which failed an earlier ordinance's requirements. Boulder stated that Xcel's challenge was untimely, making it outside of the district court's jurisdiction.
The court said the complaint was valid and timely, so the lower court had jurisdiction.
THE REST
Mason v. Farm Credit of Southern Colorado
After defaulting on several loans to Farm Credit of Southern Colorado that financed his farm operations, Zachary Mason was sued by Farm Credit. 
Farm Credit also alleged that Zachary Mason's father James Mason converted his son's property to his own and went after him.
The case asked if an amended complaint is grounds for a jury trial. The court held that James Mason was entitled to a jury trial.
Colorow Health Care, LLC v. Fischer
When admitting her mom to a nursing home, Judith Fischer signed documents, including one of forced arbitration in certain legal disputes. The notice for the agreement was in 12-point font, not the bolded 10-point font that the Health Care Availability Act mandates.
When Fischer's mother died, Fischer sued for wrongful death, which the nursing home tried to move to arbitration.
The court said that the larger font was "substantial compliance" of the regulation, making the agreement for arbitration binding.
In re People v. Sir Mario Owens
In 2017 the Colorado Independent filed a motion to unseal records of a post-conviction motion from Sir Mario Owens' trial. It argued there was a presumptive access to judicial records for the press.
The court never held that court records are under the same rules as court proceedings, which the press can access. The court concluded that records do not have the same level of access.
McMullin v. Hauer
After failing to successfully develop a subdivision in Rio Blanco County, Crea and Martha McMullin sold portions of the foreclosed real estate.
One of the purchasers who bought most of the land argued they had rights to a 17-acre open space adjacent to the property via a common-interest community some documents established.
The court said the documents were insufficient to create such a community, allowing the McMullins to retain the open space.
Roberts v. Bruce
This case looks at a dispute between a set of siblings and their mother, Mary Sue Roberts, over control of a trust fund. Initially it was in Colorado courts but Roberts said it was out of the courts' jurisdiction as she lived in West Virginia.
Roberts failed in a federal court after an appeal from a West Virginia court. During that, the siblings had incurred considerable attorney's fees. They went to a Colorado court to compel Roberts to pay their fees.
The court ruled that an award of attorney fees is limited to actions in Colorado courts.
Coors Brewing Co. v. City of Golden 
Over a few decades, Coors Brewing Company used its water rights to lease to other companies out water it had taken from Clear Creek and that it was supposed to eventually return to the river. 
Eventually the state engineer, who stated their water rights did not allow for reuse of water, did not approve a lease.
The court affirmed the water court's ruling that Coors would need a new water right in order to reuse water.
In the Matter of James C. Wollrab
Actions by attorney James Wollrab against a long-time client Laszlo Bagi led to litigation on Wollrab's actions that allegedly violated rules of professional conduct.
Bagi offered office space for Wollrab in a building he had recently purchased. Bagi tried to purchase the property earlier with Wollrab's help, but failed. 
For the office space, Wollrab edited down a lease agreement that gave him many benefits at the expense of Bagi. Lawsuits followed soon after.
Wollrab was accused of violating two rules due to how he edited the lease and for actions in trying to help Bagi buy the property. The court ruled that he had not broken as many rules as the hearing board had found.
— Connor Craven