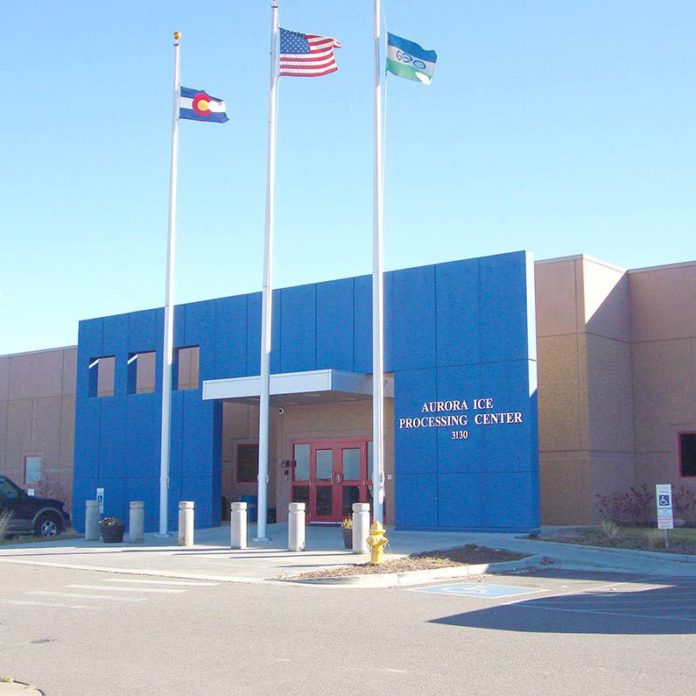 As the U.S. begins to reopen from the pandemic, the number of non-citizen detainees at the U.S. Immigration and Customs Enforcement contract facility are increasing. With that increase has been a growing number of expedited removal proceedings — which can mean immediate deportation for those seeking asylum.
The main way of determining whether an asylum seeker will be deported in expedited proceedings are credible fear interviews, or CFIs, which are conducted by asylum officers when an individual is subject for expedited removal, according to the ICE website. In order to get such an interview, the individual must tell U.S. Customs and Border Protection they want to apply for asylum, fear persecution or torture and fear returning to their home country.
According to the Rocky Mountain Immigrant Advocacy pro bono help in CFIs can be the difference between success and failure. Colleen Cowgill, the pro bono coordinating attorney for RMIAN's detention program, said there has been a "huge increase" in the number of people in need of help at the Aurora facility, especially with asylum seekers trying to pass CFIs.
Cowgill said the credible fear review is the only way for many in expedited removal to get out of those proceedings. However, if a person passes their interview and is placed back into normal removal procedures, the detainee can apply to stay in the U.S., such as with a U visa, granting a window to obtain citizenship after providing law enforcement in criminal investigations. "But it does hinge on passing the interview," Cowgill said.
Cowgill said expedited removals are a "fast-track" deportation procedure. In these removals, if an individual doesn't express their fear of returning to another country, and if they don't pass the CFI, "you may not ever actually have the opportunity to see a judge."
If an individual fails to pass the CFI, the government is able to summary report them after that interview, Cowgill said.
Generally, the CFIs apply to two groups, Cowgill said. The first are those arriving at a border and request asylum at a port of entry, and the second are individuals who enter without inspection and are picked up within a hundred miles of the border. However the individual is picked up, if they request asylum or express fear of returning to their country, the CFI process is started, according to Cowgill. After this point a CFI is scheduled with a USCIS asylum officer who will look for a significant possibility they could establish eligibility for asylum.
"It's meant to be a low-standard at these interviews. It's been defined as a 10% chance that they may be persecuted in their home country," Cowgill said. She added that part of the CFI was to establish whether a person can produce any evidence of an asylum claim, not their entire case.
Any person qualifying for the process is given an orientation for the credible fear process, a list of free or low-cost legal services, the opportunity to waive a waiting period and at minimum 48 hours after their arrival at the detention site before the interview, according to the DHS website.
Those detainees sitting for the CFI have the right to have an attorney present at the interview, she said. Most people go unrepresented to the interview, but even for those who have an attorney present, the attorney role is limited. The attorney can check on questions being asked by the USCIS representative, and at times and depending on how the USCIS officer views the attorney's role, the attorney may ask additional questions that might have been missing and offer a closing statement.
But just because someone was picked up near a physical U.S. border doesn't mean they stay in those states. Cowgill said RMIAN has seen large numbers of Brazilian asylum seekers arrive at the Aurora facility recently who came to the country around San Diego. Many individuals were transferred to Aurora via airplane after being detained in California.
A lot of times, it's due to capacity, Cowgill said, adding that other detention facilities around the U.S. from Washington to Louisiana have seen an uptick in their detention population. "We don't get too much insight into what else goes into that analysis, but we do know it's not just Aurora."
For Aurora, the interviews have been held completely remotely, Cowgill said. Individuals are brought to a room in the facility, the USCIS appears by video, as does an interpreter. Those interviews, especially with individuals with less common languages can take time to orchestrate. Those interviews can then last from 30 minutes to multiple hours depending on how much information is necessary to be shared.
For RMIAN, the ability to perform CFI preps remotely has been a help because it has increased the number and area of pro bono attorneys volunteering, Cowgill said. Attorneys no longer have to go to the facility in Aurora, which has allowed attorneys from across the U.S. to volunteer time.
"It is a huge help in helping folks feel ready and confident for their interview," Cowgill said.
Many solo practitioners or retired attorneys have been volunteering time for CFIs, she said. In many cases, people who have volunteered to help have come back to help again. She added that in 2019 RMIAN worked with several firms to create the Preparing Asylum-Seekers for Success, or PASS, program where attorneys would work a full day at the facility aiding with CFI preps.
For CFI prep volunteers, RMIAN provides with resources and access to the RMIAN website with additional material. They follow up these resources with a call to answer questions of volunteers, and then RMIAN asks the pro bono volunteers to call their detainee, help them prepare for the interview and orient them on why they're going to have the CFI.
The other aspect of that call, Cowgill said, is to discuss with their individual why they are afraid of returning to their home country. She added that part of the CFI preppers job is to help the detainee see the connection between expressing their fear and the standard for establishing asylum legally.
Cowgill said that in many cases where a person fails a CFI, they are unaware that it may be their sole time to speak to someone before their claim was heard. She added that having an attorney inform them of the importance of sharing their fears and concerns are critical pieces of the CFI.
"Don't leave anything out thinking you might have an opportunity later — give as much as you can," Cowgill said.
The program wasn't in much demand during the winter months of the pandemic, according to Cowgill. The number of CFIs in general dropped with fewer people being allowed across the border, she said, adding that there were only a handful of CFI instances during the pandemic. However, the PASS program is starting to gear back up with increased demand now.
As of April, the numbers on the Aurora's intake list have been increasing, she said. With a population reaching to nearly 600 it's the highest population seen at the Aurora facility since before the pandemic. Of that number, Cowgill said that somewhere around 350 were relocated to Aurora from border areas.
The Aurora Sentinel reported on May 27 that the American Civil Liberties Union of Colorado had sent a letter to health department officials and ICE officials requesting all ICE detainees have access to COVID vaccines. ICE spokesperson Alethea Smock confirmed to the Sentinel that a recent outbreak of COVID was due to the numbers of non-citizens being transferred to Aurora from border areas.
Colorado Rep. Jason Crow's office also provides access to accountability reports for the Aurora contract center. In the most recent report, dated May 19, 31 individuals had been cohorted or quarantined due to sickness. Twenty-two people had been brought into the facility and seven had been let go, according to the Aurora report. It was unknown if any were released to the community, removed from the country, moved to another facility or in some other category. In total, since March 30, 2020, a total of 527 COVID cases have been reported at the Aurora facility.
While the Aurora facility was one of the first to see a large increase in population, Cowgill said. ICE was releasing some individuals and appeared to be taking steps to social distance detainees.
However, the increase of detainee transfers from one detention center to another has led to increased cases of COVID-19, she said. Just after the recent influx of transfers to Aurora, the facility saw the number of COVID-positive detainees reach over 100, within a week of arrival.
Cowgill said that from the tracking, it seemed fairly clear that the detainees being brought into the Aurora facility by transfer had contracted COVID after reaching the U.S. She noted that President Biden has kept in place a Trump-era limitation on letting individuals into the country at the borders as a public health concern and COVID.