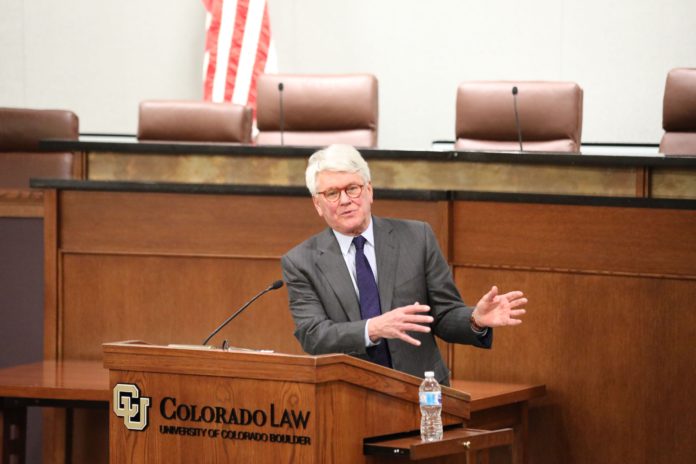 The Obama White House's former top lawyer had much to say about the rule of law under the current administration.
On Thursday night, the University of Colorado Law School hosted Gregory Craig, former White House Counsel under Barack Obama, as part of its annual John R. Coen Lecture Series. Craig is currently of counsel in the Washington, D.C. office of Skadden Arps Slate Meagher & Flom, and he served as White House Counsel during Obama's first year as president. Before that, he had led the team defending then-President Bill Clinton from impeachment.
In his hour-long speech and Q&A session, Craig opined on how the law is viewed and respected by American leaders and institutions, and he conveyed many critiques on President Trump's actions regarding the law.
Now in its 61st year, the Coen Lecture Series invites a distinguished lawyer, judge or legal scholar to speak at CU Law School on a public policy tinged subject. Past Coen Lecturers include Lucinda Low, president of the American Society of International Law, and William Ury, a negotiation expert who authored the book "Getting to Yes."
Reflecting on U.S. history and political events under the Trump administration, Craig delivered a "State of the Union" of sorts regarding the rule of law in America.
Since the early twentieth century, American society has survived several periods where the rule of law was "weak," Craig said.
Throughout the lecture, he would cite examples of "low points," such as the McCarthy Hearings in the 1950s and the "massive opposition" to the Supreme Court's decision to end public school segregation in Brown v. Board of Education — which was "not just in the South … but also in the North."
Americans had already witnessed much in the twentieth century to make them politically cynical. "As someone who grew up in the sixties," Craig saw nothing new about Americans questioning the integrity of government institutions. Americans had already "struggled through all of that," he said.
"But recent developments … I think threaten to replicate and reproduce that perfect storm of wind, thunder and lightning that disrupted our democracy back in the '60s, in which I think may lead to another cycle of cynicism," Craig said.
He listed recent political events that he said threaten the rule of law, including gerrymandered voting jurisdictions as well as Senate Majority Leader Mitch McConnell's refusal in 2016 to allow confirmation hearings for Obama's Supreme Court nominee — an act Craig called "a great affront to the Constitution."
Craig said that considering "weak moments" for the rule of law in previous decades — among which he cited the House of Representatives' decision to impeach Clinton, the Supreme Court's Bush v. Gore decision, and the decision to go to war in Vietnam — the U.S. hasn't yet reached a new low. "
It seems to me that we are not yet today dealing with anything comparable to those examples," Craig said. "But I think there is a likelihood that there will be a serious constitutional conflict … in the near future. And it would be a mistake to think the crisis is not yet upon us."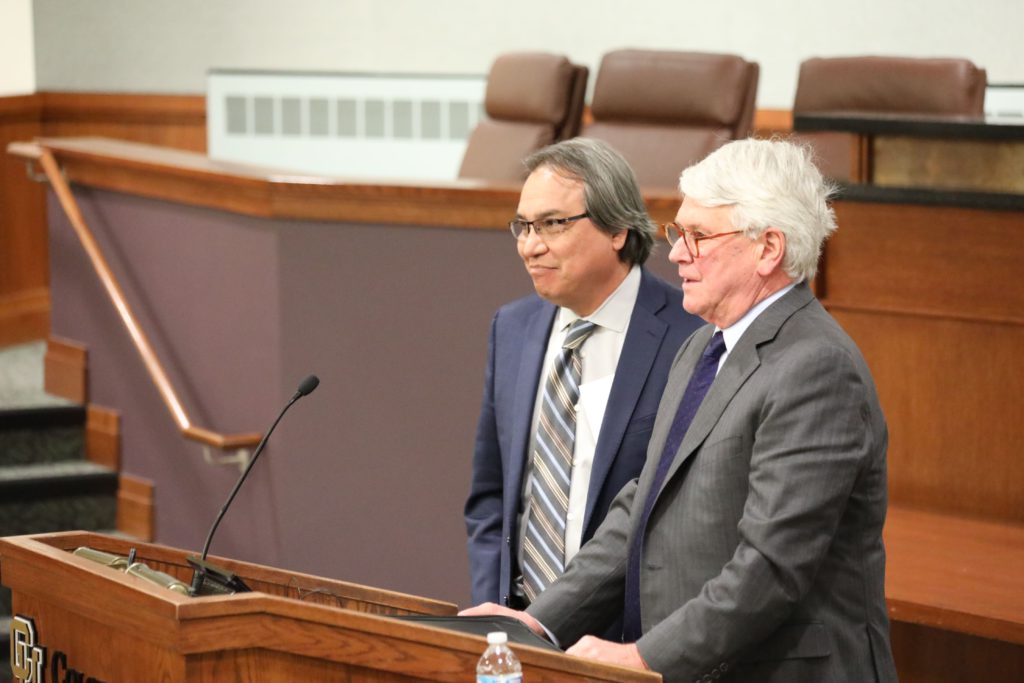 He listed examples where President Trump "has not adequately respected the rule of law and has contributed to a culture that ignores and disrespects [it]."
These included Trump's "refusal to take any steps to comply," according to Craig, with the Emoluments Clause of the Constitution, as well as his pardon of Arizona Sheriff Joe Arpaio — an act that carried "a racist dimension," he said.
Trump hadn't violated the Constitution per se by using the power he had to pardon Arpaio, who was found to have violated a court order in his immigration enforcement, Craig said. Nor had Trump lacked the constitutional authority to fi re FBI Director James Comey, per se.
"But just because you're exercising a constitutional power doesn't mean that you're not abusing it."
Craig said the cultural problem regarding the rule of law won't go away on its own after the Trump presidency. "The antidote to this kind of poison is certainly not more of the same. It is neither a Democratic nor a Republican solution … it requires a national consensus to be built around basic and fundamental national values." Those values include voting for candidates who support the rule of law and going to court when needed to "check excess," he added.
"It will take American citizens from both parties to regain control over this experiment in self-government."
-Doug Chartier