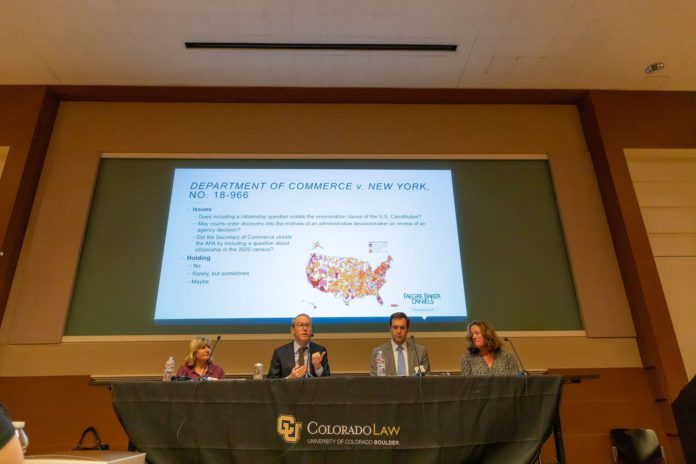 The retirement of Justice Anthony Kennedy last summer threw the future of the U.S. Supreme Court into flux. The open seat led to a bitter confirmation fight over now-Justice Brett Kavanaugh. And even though his appointment solidified a 5-4 conservative majority, alliances for the court's 5-4 decisions during the past term have been less predictable than when Kennedy still sat on the court.
A panel discussed the court's future and its notable cases from the just-ended term at the University of Colorado Law School's annual U.S. Supreme Court review CLE. Colorado Supreme Court Justice Melissa Hart moderated the panel that included CU Law professors Helen Norton and Scott Skinner-Thompson, as well as Aaron Van Oort of Faegre Baker Daniels' Minneapolis office. 
Van Oort said during the 2018-2019 term, there were 10 distinct voting lineups among the court's 5-4 decisions, reflecting how much the Supreme Court is still finding its jurisprudential identity just a year post-Kennedy. 
"My own personal prediction at the time was that Chief Justice Roberts was going to be the swing justice on a lot of things. It turns out that I was right, and I was wrong," he said. Van Oort discussed the philosophies the court's conservative justices tended toward this past term when they swung 5-4 votes. 
Roberts tends to swing 5-4 decisions on issues that deal with the court as an institution or cases that have far-reaching consequences. Justice Clarence Thomas tends to swing when his textualist view of the Constitution leads him to what seems like a politically liberal result. Kavanaugh currently appears the likeliest to defer to precedent. And Justice Neil Gorsuch, distrustful of centralized government power, tends to steer votes on libertarian issues.
Just a handful of issues in the U.S. Supreme Court's most-watched decisions from the past term: Gerrymandered voting districts, whether crosses can be secular, a citizenship question and a trademark debate stemming from a profane brand name. 
Skinner-Thompson pointed out that Roberts wrote about one-third of the term's 5-4 decisions, taking the reins on the most nuanced cases requiring deft handling. 
Perhaps the epitome of nuanced came in the Supreme Court's decision on several distinct issues in the fight over a 2020 Census citizenship question, Department of Commerce v. New York.
"I don't think I've seen this, where [justices] swung in the same case," Van Oort said to snickers throughout the room, referencing the multiple voting lineups for concurrences and dissents on the case's different issues. 
Hart refrained from commenting on the substance of Supreme Court decisions but offered a few thoughts on how she believes the federal high court as an institution has deteriorated. She believes opinions have gotten much too long and doesn't like how frequent separate opinions have become. Hart added each justice's impulse to make their own voice heard contributes to the perception that the U.S. Supreme Court has turned political.
"I'm dismayed by how much the justices, all nine of them, appear to feel that it's important that they have their own individual voice." 
Van Oort said Roberts would likely agree with that sentiment, reflected by him writing about half as many separate opinions as the other justices. 
He added the proliferation of separate opinions sometimes seem like attempts to coach litigants on arguments to make and issues to raise in future cases. Prominent in Van Oort's mind are Justice Elena Kagan's dissents in gerrymandering cases.
"She went way beyond the scope of issues to advise them on how to set up their standing argument, how to make the current arguments they're making, and she even suggested some new merits arguments they might [make]," he said. 
Norton said she discusses the value of separate opinions with her students. Justices' motivations, she said seem to range from wanting to make their voices heard, to dropping hints  to lawmakers about legislative fixes for decisions they don't like.
Van Oort added strategy never seemed to motivate Justice Antonin Scalia's dissents, referencing his dissent in United States v. Windsor that predicted the eventual full legalization of same-sex marriage. 
"He always proclaimed loudly what he thought was always going on [and] pulled the curtain back. … It sometimes had a counterproductive effect from his standpoint of broadening the majority holding, rather than limiting it."
Hart said the Colorado Supreme Court has a responsibility to make unanimous decisions whenever possible. 
She said reaching unanimity means compromise, and justices sometimes have to let go of their most staunch positions for the sake of a middle-of-the-road but united opinion. 
Hart said she thinks hard before she writes a separate opinion.  Data previously collected by Law Week shows during this past term, Hart dissented 11 times and wrote two of those dissents.
"I concluded, particularly with the concurring one, I just thought I need to say something about what I see going on in the trial courts that I'm very troubled by," she said. "But there have also been countless times where I disagree with the outcome … but it was a case where it was really important that there be a rule, and the fact that I would have said it was a different one, who cares?" 
— Julia Cardi