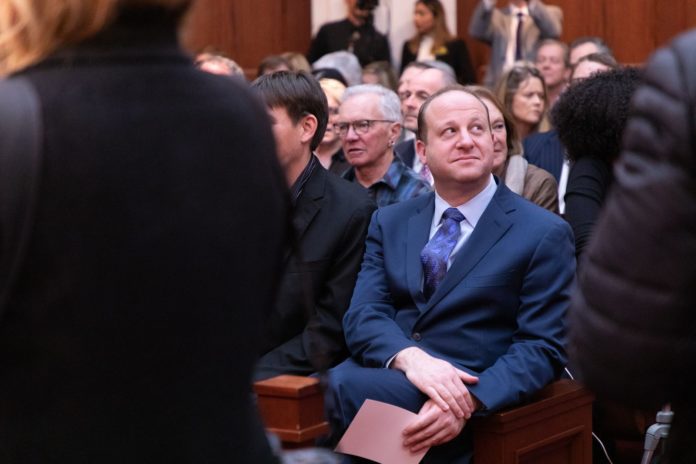 Colorado Gov. Jared Polis gave his State of State Address Jan. 17 discussing a myriad of issues, including the Club Q shooting and housing.
Polis believed Colorado's best days are coming after getting through a first term that included the COVID-19 pandemic, inflation and gun violence. Polis was joined at the event by survivors of the Club Q shooting and a moment of silence was held for the victims. 
"We should always strive to learn from our experiences and as we move forward we should consider strengthening Colorado's extreme risk protection order to prevent those who are a risk to themselves or others from getting their hands on a gun," Polis said after his comments about the Club Q shooting. "We can do more to spread awareness and make sure it's used when the situation calls for it."
Under the law, family, household members or law enforcement officers can petition the court that a person poses a risk to themself or others. If approved, the person the order is against must surrender their firearms and concealed carry permit. Polis wants to add district attorneys to the list of people who can request the order. 
Polis also discussed where he wants to see Colorado when it celebrates its 150th anniversary in 2026. Polis said one step toward progress is improving housing in the state.
"Many Coloradans are struggling to find a place where they can afford to live," Polis said. "Many more are being forced out of their neighborhoods with no hope of ever living close to where they work."
Polis added housing impacts many things, including the environment and traffic, and creates economic challenges. Polis said the last time Colorado made big land use changes was in 1974. A legislative expert Law Week recently spoke with suggested traditional housing affordability discussions have been more at the local level, but it's now expected the legislature could step into land-use and zoning decisions.  
"It's time to legalize more housing choices for every Coloradan and give homeowners more freedom, revitalize our cities and towns and protect the character of our state, our open space and our wild areas," Polis said. 
Polis surmised since 2019, billions of dollars have been dedicated to housing in Colorado, but more needs to be done, including calling on public landowners to be part of the solution. He also wants to get rid of a lot of the red tape.
"We can't just buy our way out of this," he said. "We have to break down government barriers, expand private property rights and reduce regulations to actually construct more housing, to provide housing options at a lower cost, so that all Coloradans can thrive."
Another goal set forth is reducing property taxes. Last year Polis signed a property tax package that provided $700 million in relief for homeowners and businesses over two years.
"We must work together to pass a long-term property tax relief package that reduces residential and commercial property tax rates and creates a long-term mechanism to protect homeowners from being priced out of their homes," Polis said. 
Other Issues
Polis began his speech focused on the historic nature of the current general assembly which, for the first time in history, has a majority of women. 
"That's the first time in history, not the last time in history," Polis said, which was followed by a standing ovation.
Polis said the future of the state is also tied to water, as concerns continue to grow involving increased demand, drought and conflicts with other states.
"Your work on housing will truly go a long way to protect water, our most precious resource, but we also need to continue investing in water projects across the state," Polis said. He added they hope to get more funding from the federal government for water projects while fighting for the state's water rights.   
Education was another top priority for Polis. The day of State of the State was also the first day families could apply for free preschool in Colorado. So far, 4,300 families have already signed up. Polis called on the legislature to refer a ballot measure that allows Colorado to use excess Prop EE funds, which are connected to nicotine products, for preschool, which would give voters a choice to support services for more children and help lower-income families enroll their child in full-day preschool.
Public safety issues were also brought forward, including more funding for law enforcement. Some of it would be used to crack down on auto theft after the state broke a record for stolen vehicles in 2021 and was on a similar path in 2022. 
To watch the full speech, click here.