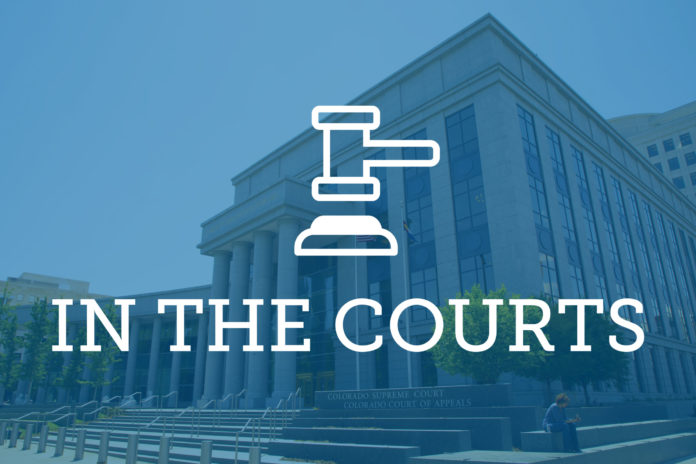 On Friday the U.S. Supreme Court agreed to hear a Colorado man's First Amendment appeal which asked how courts should analyze someone's subjective intent when considering if a message is a true threat. 
The high court on Jan. 13 agreed to hear an appeal from Billy Counterman after an Arapahoe County jury in 2017 found him guilty of stalking (serious emotional distress) related to several years of Facebook messages he sent to a local musician. 
The Colorado Court of Appeals rejected Counterman's free speech appeal and the Colorado Supreme Court declined to hear the case in April 2022.
The U.S. Supreme Court agreed to take the case which asks if prosecutors must "show that the speaker subjectively knew or intended the threatening nature of the statement" to establish speech is a "true threat" that isn't covered by Constitutional protections or if using an "an objective 'reasonable person'" standard is enough. The case asks SCOTUS to clear up confusion over how courts should apply a 2015 ruling in a case around free speech and online threats. 
Denver musician Coles Whalen accused Counterman of sending her a series of unwanted, "creepy" messages from 2014 through 2016 through her personal and professional Facebook accounts. Whalen said she blocked Counterman, but still received messages from newly created accounts. 
Whalen retained attorneys and took out a protective order against Counterman. The singer-songwriter said she also canceled several performances out of fear he might show up. 
Colorado prosecutors charged Counterman with stalking. During trial, prosecutors argued a series of messages implied Counterman had seen Whalen in person and he might harm her. Among those statements were messages like: "Was that you in the white Jeep?"; "Five years on Facebook. Only a couple physical sightings."; "Staying in cyber life is going to kill you. Come out for coffee. You have my number"; and "You're not being good for human relations. Die. Don't need you." A jury convicted him of stalking. 
Through state public defenders, Counterman appealed his conviction and argued the messages he sent to Whalen were not "true threats" and therefore protected by the First Amendment. He asked the state's Court of Appeals to find the lower court made constitutional and instructional errors during his trial. 
The series of messages, attorneys for Counterman argued on appeal, didn't contain any statements of purpose or intent to cause injury and given their context (sent over social media when Whalen had a public page and Counterman didn't actually know if she was reading the messages), they didn't rise to "true threats." 
In arguments to the Colorado Court of Appeals, attorneys for Counterman emphasized the nature of social media could mean Whalen interpreted the messages as threats, even if they weren't. 
"This court should be especially aware of the nature of digital communications when regarding messages solely transmitted on the internet because looking at messages in hindsight increases the danger that ambiguous statements not intended to be threats will be interpreted as threats," wrote Counterman's attorneys in the appeal. 
The Colorado Court of Appeals in July 2021 rejected those arguments. The unanimous panel of Judge Craig Welling joined by Chief Judge Gilbert Román and Judge Jaclyn Brown found that under standards set by state and federal case law, the messages would be interpreted by a reasonable observer as threats and weren't protected speech. 
Now in front of the U.S. Supreme Court, Counterman argues the reasonable observer approach used by Colorado courts is too narrow to factor in someone's subjective intent. 
The appeal to the U.S. Supreme Court asks it to clarify how lower courts should apply its 2015 decision in Elonis v. United States which found prosecutors needed to prove a man intended a series of Facebook posts to be threats for a criminal conviction. 
Counterman's attorneys in their appeal to the U.S. Supreme Court noted courts across the country have taken different approaches to factor in subjective intent when determining what is a true threat. Several appellate circuits and state courts (including Colorado) rely on an objective standard that asks if a reasonable person would consider a message a threat. Other courts (including the 10th Circuit) require proof the speaker intended the statement to be a threat. 
"At least nine states are subject to conflicting state and federal standards, so that the constitutional protection given speech depends on the happenstance of the courthouse in which the case is prosecuted," noted the application for certiorari, including in Colorado where federal and state courts take different approaches.
Upholding Colorado's objective standard, Counterman's brief argues, would allow "felony convictions for pure-speech crimes based on negligence alone [that] conflicts with First Amendment principles." 
In his petition for review by the Supreme Court, Counterman's attorneys emphasized that the continued growth and popularity of social media and online communications mean that drawing the line between protected speech and threats is increasingly important. 
"While social media and the internet have vastly increased the potential to communicate, they have simultaneously 'magnif[ied] the potential for a speaker's innocent words to be misunderstood,'" wrote Counterman's appeal. 
The wide variety of niche internet cultures, the appeal added, means different people can have very different interpretations of a message, opening the door to the prosecution of non-threats. "Unlike traditional mail, which is sent to a specific address in a known jurisdiction, e-mail, Facebook messages and other online communications can be read anywhere, subjecting online speakers to different constitutional standards based on geographical chance."
The U.S. Supreme Court hasn't set oral argument dates for the appeal but it will likely hear and rule on the case in its 2024 term, which starts in the fall.