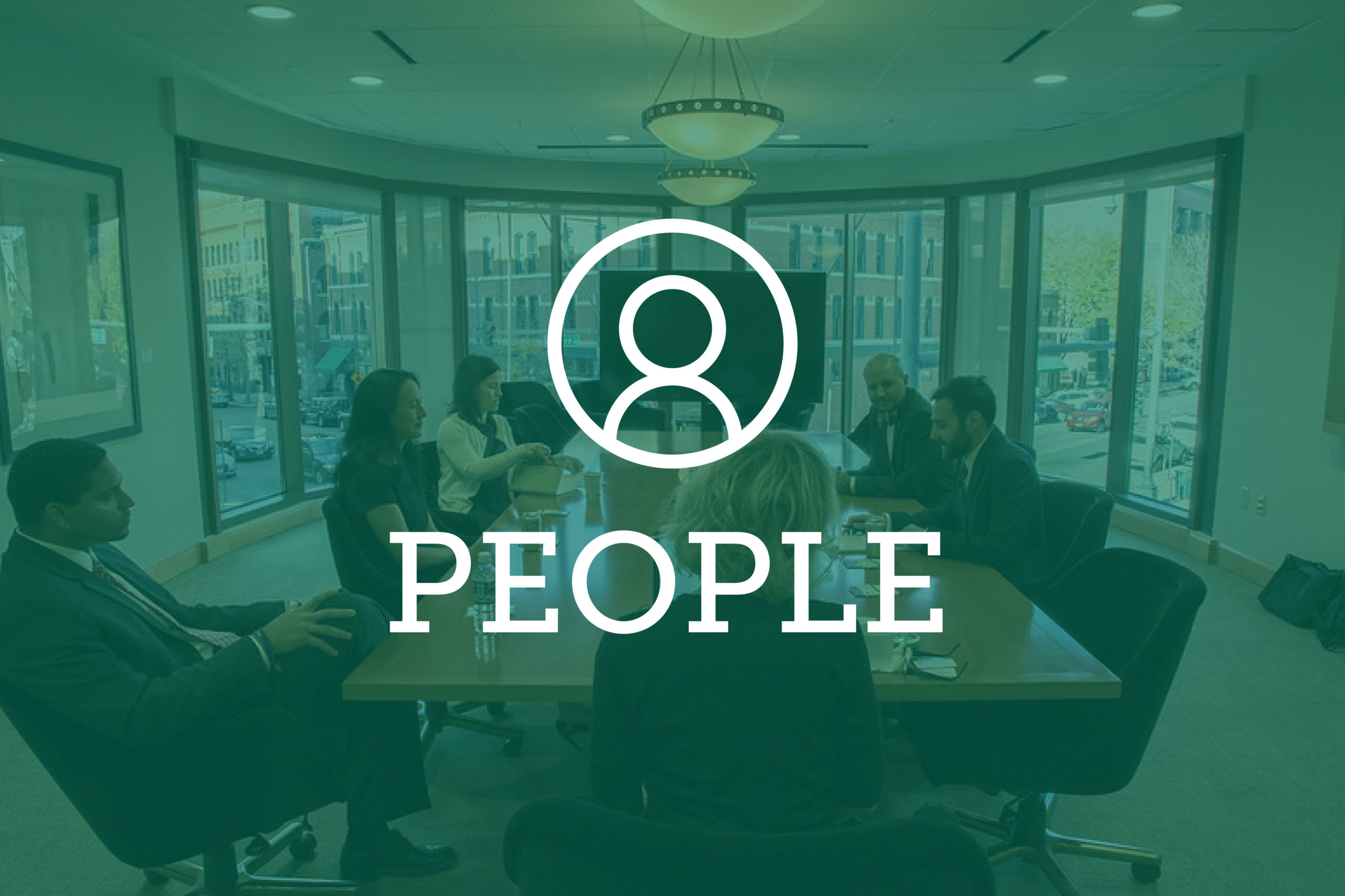 Law Firm Updates
On Dec. 1, global law firm Hogan Lovells announced several updates to its Colorado offices. 
Timothy Aragon is the Denver's office new managing partner, replacing Cole Finegan who was recently sworn in as the U.S. Attorney for the District of Colorado. Aragon has been with Hogan Lovells since 2004 and is on the board of directors for the Colorado Hispanic Chamber of Commerce and the Downtown Denver Partnership's Civic Ventures Board. Litigation Partner Jeff George takes over as managing partner at the Colorado Springs office, replacing John Cook. George brings 30 years of experience in trial litigation in state and federal courts and served as a board member on Goodwill of Colorado, Pikes Peak Hospice Foundation, March of Dimes and Junior League of Colorado Springs Advisory Committee. The firm also announced that Ana Tenzer, a partner in its corporate and finance practice, will become an administrative partner at the firm's Denver office on Jan. 1, 2022. 
Denver family law firm Broxterman Alicks McFarlane PC announced on Dec. 1 that Alexandra Uri joined as an associate attorney. Uri was a law clerk at BAM before joining the state bar in October. The University of Denver Sturm College of Law alum has worked at the Denver Juvenile Court and the Arapahoe County District Attorney's Office as an intern. 
Lathrop GPM announced the addition of two attorneys, Tom Rodriguez and Casey Breese, to its Denver office on Dec. 2. Both attorneys and Kathleen Dunlap, a newly hired paralegal, will join the office's trusts, estates and legacy planning group. Rodriquez, counsel, brings 20 years of legal experience in probate litigation, fiduciary representation and other will and trust litigation in the Denver area. The Emory University School of Law alum is a former American College of Trust and Estate Counsel fellow and former elder law section co-chair at the CBA. Breese, a Washington University School of Law graduate, will focus his litigation practice on contested trusts, estates, guardianship and conservatorship. He returns to Lathrop GPM as an associate after working previously at Welborn Sullivan Meck & Tooley and previously Steptoe & Johnson.
On Dec. 2 Colorado commercial firm Ireland Stapleton Pryor & Pascoe, PC announced the addition of two associate attorneys Harshwinder Badhesha and Paige Pashea. Badhesha, a University of Denver Sturm College of Law grad, will represent clients in a range of commercial and civil litigation matters. She previously served as a judicial extern for the 10th Circuit Court of Appeals and for Justice Carlos Samour, Jr. on the state Supreme Court and worked at the Colorado Attorney General's Office. Pashea, also a University of Denver Sturm College of Law alum, is a real estate attorney who represents clients in a range of transactions. As a law student, Pashea was a law clerk at Lockheed Martin Space and Arcadis U.S., Inc and a judicial extern in Colorado's 18th Judicial District. 
The Judiciary 
On Nov. 29 Denver Mayor Michael Hancock received a short-list of nominees selected to fill a Denver County court vacancy created by new funding to add an additional judge. The 19th Denver County Court Judge finalists were selected by a seven-member Judicial Nomination Commission established by a charter. The finalists are Michael Angel, David Blackett and Judy Estrada. Mayor Hancock must select the position by Dec. 14. 
On Dec. 1, the  U.S. Department of Justice announced Cole Finegan was sworn in at a private ceremony as the U.S. Attorney for the District of Colorado. Finegan, formerly of Hogan Lovells, served as chief of staff and Denver city attorney under former Denver Mayor John Hickenlooper and as chief legal counsel in the office of the governor. Now, Finegan heads the federal office's 160 attorneys and professional staff.  
Gov. Jared Polis appointed Justin Haenlien to the 13th Judicial District Court on Dec. 2. Haenlien will serve Kit Carson, Logan, Morgan, Phillips, Sedgwick, Washington and Yuma counties starting Jan. 1, 2022. The University of Denver Sturm College of Law graduate fills a vacancy created by the retirement of Judge Michael Singer. Currently, Haenlien is a solo practitioner at Haenlein Law Firm L.L.C. where he handles criminal, traffic, juvenile delinquency, dependency and neglect, mental health and bankruptcy matters. Before starting his own firm, Haenlein was an associate at Stephen W. Monks, P.C.
Kudos 
On Dec. 2 the Colorado Bar Association and the Colorado Judicial Institute announced Christine Hernández of Hernandez & Associates, P.C. was appointed was appointed co-chair for the CBA|CJI Diversity on the Bench Coalition. Hernández will lead the coalition with retired Judge Gary Jackson. The co-chairs announced their immediate priorities are balancing the number of Hispanic and Latino judges throughout the state and focusing on the lack of Black judges in the state appellate courts.