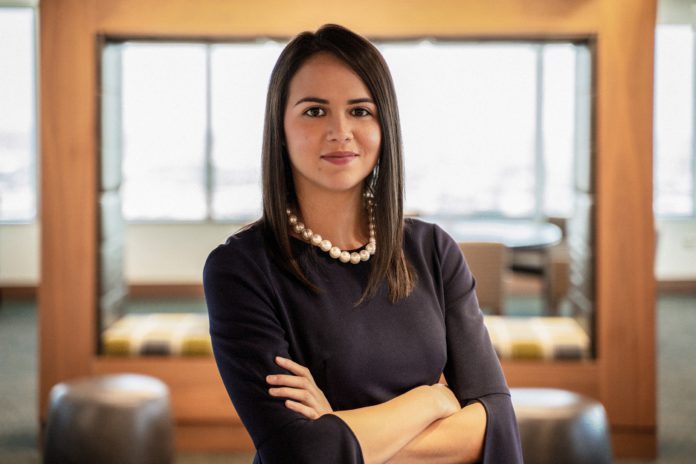 Holland & Knight announced May 18 that corporate services attorney Laura Lopez Nickerson has joined the firm's Denver office as an associate. She previously practiced at Jones & Keller in Denver.
Nickerson focuses her practice on mergers and acquisitions, securities and corporate finance, and cross-border transactions. She has represented in industries including energy and natural resources, financial services, government, healthcare and life sciences, real estate and technology. 
"We are delighted to welcome Laura as the newest member of our growing corporate team," said Shawn Turner, executive partner of Holland & Knight's Denver office. "She has impressive transactional experience in key industries that complements our existing capabilities and will be an important contributor to the success of the practice and the office."
Nickerson received a law degree from the University of Denver Sturm School of Law and a bachelor's degree from Oklahoma State University.
JUDICIAL ANNOUNCEMENTS
Gov. Jared Polis on May 15 announced the appointment of Jill Dorancy to the 2nd Judicial District Court. Her appointment is occasioned by the resignation of Judge Elizabeth Starrs. 
Dorancy is Counsel for Jost Energy Law, a position she has held since 2017. Her practice focuses on oil and gas litigation and regulatory matters. Previously, Dorancy was a hearing officer for the Colorado Oil and Gas Conservation Commission, a partner at Cooper & Dorancy, an associate at Ireland Stapleton Pryor & Pascoe, an associate at Ritsema & Lyon and an associate for Goldstein & Associates. Dorancy also clerked for Justice Gregory Scott of the Colorado Supreme Court. Dorancy received a bachelor's degree from Binghamton University – State University of New York and a law degree from the University of New Mexico. Dorancy's appointment is effective July 1.
The 17th Judicial District Nominating Commission will meet via videoconference on July 1 to interview and select nominees for appointment by the governor to an Adams County judgeship. The vacancy will be created on July 2 by the retirement of Judge Dianna Roybal. 
Application forms are available from the office of the ex officio chair of the nominating commission, Justice William Hood III, 2 E. 14th Ave. in Denver, the office of the court executive, Patricia Kmitta, 100 Judicial Center Drive in Brighton, and atthe court's home page at www.courts.state.co.us/Careers/Judge.cfm.
Applications must be submitted by 4 p.m. June 15. Any person wishing to suggest a candidate to fill the vacancy may do so by by 4 p.m. June 8.
The members of the nominating commission for the 17th Judicial District are: Jennifer Chavez, Martin Flaum and Jennifer Hostetter of Westminster; Michelle Stermer and Gina Weitzenkorn of Aurora; and Jonathan Datz of Broomfield. The commission currently has one vacancy.