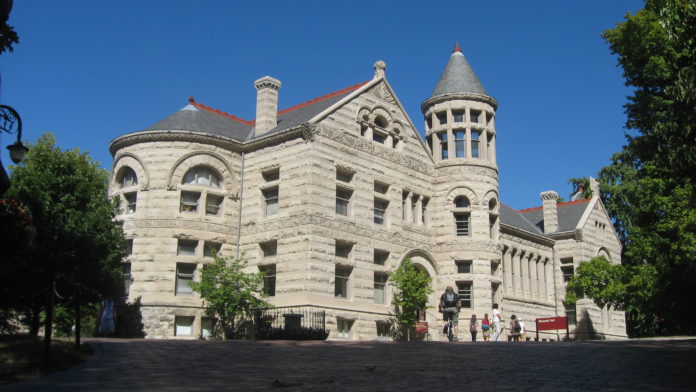 A group of Indiana collegians is asking Supreme Court Justice Amy Coney Barrett to block a public university's policy that requires all students be vaccinated against disease caused by the SARS-CoV-2 virus. 
The Aug. 6 petition contends that Indiana Universityconditioned their education on a surrender of their constitutional rights to "bodily integrity, autonomy and of medical treatment choice" by requiring immunization against COVID-19. 
IU will allow students with objections based on religious considerations or their medical needs to avoid vaccination. Enrollees who attend only online programs also do not have to be immunized. 
The crux of the students' argument is that IU's mandate should be subjected to tougher scrutiny than it was by a federal judge in the Hoosier State and the 7th U.S. Circuit Court of Appeals. 
So-called intermediate or strict scrutiny is appropriate, wrote the students' lawyer, Terre Haute-based James Bopp, "because, under modern constitutional jurisprudence, an infringement on now-recognized fundamental rights of bodily integrity, autonomy and of medical treatment choice exists here by IU's conditional denial of benefits, seeking to coerce IU students into forfeiting their fundamental rights on the threat of virtual expulsion."
The petition asserts that a 1905 Supreme Court decision does not give "carte blanche to impose what is necessary to keep other students safe in a congregate setting." That decision, known as Jacobson v. Commonwealth of Massachusetts, held that state governments can constitutionally compel vaccinations as a way to protect public health. In an opinion by Justice John Marshall Harlan, the court said that judges do not have to consider questions about the effectiveness of a vaccine before upholding mandatory immunization rules.
The 7th Circuit ruled Aug. 2 that there is no constitutional right against compulsory vaccination. Any argument that it exists runs up against both the Jacobson case and a 1997 decision in Washington v. Glucksberg, wrote Judge Frank Easterbrook for a unanimous panel. "To the contrary, vaccination requirements, like other public health measures, have been common in this nation," Easterbrook, an appointee of President Ronald Reagan, said. Judges Thomas Kirsch and Michael Scudder joined Easterbrook's opinion.
Judge Damon Leichty of the U.S. District Court for the Northern District of Indiana rejected the students' request for a preliminary injunction on July 18. "Schools that provided a religious exemption from mandatory vaccination requirements did so above and beyond that mandated by the Constitution," Leichty wrote. "Recognizing the significant liberty interest the students retain to refuse unwanted medical treatment, the Fourteenth Amendment permits Indiana University to pursue a reasonable and due process of vaccination in the legitimate interest of public health for its students, faculty and staff."
Barrett can refer the petition to the entire court or decide it herself. The petitioners ask Barrett to issue an injunction by Aug. 13.
The case is Klaasen v. The Trustees of Indiana University.