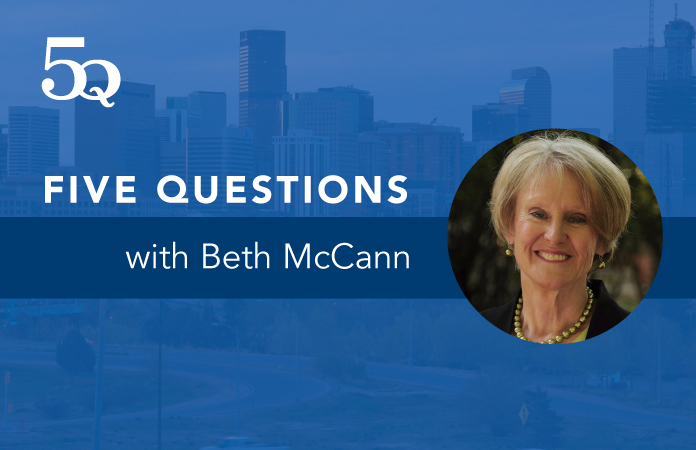 5Q is Law Week Colorado's weekly gateway for members of the legal community to get acquainted with each other. Each week, you'll hear from lawyers, judges and legal academics across Colorado. We ask industry professionals a range of questions from their thoughts on the challenges facing the profession to their personal interests. Responses are lightly edited for clarity and space. Let us know if you'd like to be included by emailing [email protected].
This week we spoke with Beth McCann, Denver's district attorney and the first woman to be chief prosecutor in the Mile High City. McCann has been DA since 2017. Before that, she was a member of the Colorado General Assembly for nearly a decade. 
McCann began her legal career as law clerk to the late U.S. District Judge Sherman Finesilver. She then served for eight years as a deputy DA and as chief deputy DA in Denver and then  was a partner at Cooper & Kelley. McCann, who also served as Denver's first manager of safety and oversaw the city's police, fire and sheriff's departments and as Director of Excise and Licenses, is a graduate of the Georgetown University Law Center and Wittenberg University. She is a founding member of the Colorado Women's Bar Association and is a former member of the Board of Governors of the Colorado Bar Association. 
McCann has been a resident of the Queen City of the Plains since 1975.
Question 1
What is your favorite clause of the Constitution? Explain. 
A: I'm still waiting for the Equal Rights Amendment. That will be my favorite clause. Otherwise, I go with the 4th Amendment, which is technically not a clause of the Constitution but definitely [an] important right under the Bill of Rights. This is important because it requires that law enforcement be able to articulate valid reasons to conduct searches of homes, cars, etc. This is a critical protection for all of us. 
Question 2
What changes to the system of lawyer professional discipline would you suggest in an effort to improve it?
A: I think more transparency would be helpful for the community to understand what kind of complaints are made and the results. 
Question 3
If you could choose to master a musical instrument that you don't already know how to play, which one would it be?
A: Guitar, because you can transport it easily. 
Question 4
Which of our neighboring states is your favorite place in which to vacation or visit? Arizona, Kansas, Nebraska, New Mexico, Oklahoma, Utah or Wyoming?
A: Utah, because it has such beautiful natural scenery. I enjoy the challenging rivers to raft or kayak, mountain biking or hiking in Moab and visiting Arches and other natural wonders. 
Question 5
Agree or Disagree:
Calvin and Hobbes is the best comic strip ever created. Discuss.
A: I am going to date myself but I was a big fan of Doonesbury. Calvin and Hobbes is a great comic strip. My daughter loved it.