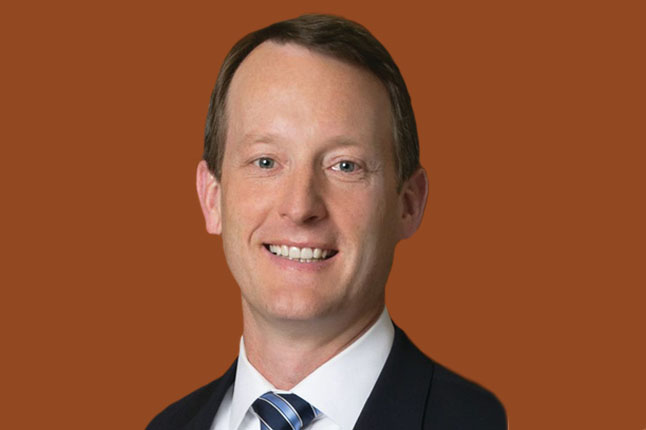 President Donald Trump announced Wednesday he has nominated Brownstein Hyatt Farber Schreck shareholder Jason Dunn to serve as the U.S. Attorney for the District of Colorado.
At Brownstein, Dunn chairs the firm's political and regulatory law practice group and its state attorneys general practice group. His legal practice focuses on regulatory and consumer protection investigations, constitutional and election law and appeals. He has argued cases in the Colorado Supreme Court and the 10th Circuit Court of Appeals.
"I'm honored to be nominated by the president and look forward to the confirmation process," Dunn said.
Dunn has previously served as deputy attorney general and assistant solicitor general under former Colorado Attorney General John Suthers, where he helped manage an office of more than 250 lawyers. Following law school at the University of Colorado, Dunn clerked for Justice Nathan Coats of the Colorado Supreme Court.
Dunn is a native of Colorado and, in addition to his law degree, received a bachelor's degree and master's of public administration degree from the University of Colorado.
Dunn was among four nominees for state U.S. Attorneys and part of Trump's 15th wave of U.S. Attorney nominations.
He will take over the position from Bob Troyer, who in November was appointed to the U.S. Attorney position, per the Vacancy Act, on a temporary basis by U.S. Attorney General Jeff Sessions. 
Troyer had been acting U.S. Attorney following the resignation of John Walsh in July 2016 and will remain U.S. Attorney until the U.S. Senate confirms Dunn's nomination. 
Despite fluctuations in the Sessions Department of Justice's stance on marijuana and immigration enforcement, the office under Troyer's direction did not see major changes in enforcement priorities.
LATERAL WATCH
Dorsey & Whitney announced Wednesday that Betty Carter Arkell joined the firm's emerging companies group in Denver as a partner.
Arkell has more than 40 years of experience representing established and emerging growth companies as well as venture capital and private equity funds. Her prior experience includes being a partner at Holland & Hart and at Kirkland & Ellis.
Arkell is active in many community and industry organizations. She serves on the boards of directors of Rockies Venture Club and Colorado Technology Association. She is an advisor to Blackstone Entrepreneurs Network, Jabs Center for Entrepreneurship at the University of Colorado Denver and Startup Colorado. She also is on the board of directors for the Southwestern region of Accion, a nonprofit organization that provides capital to underserved entrepreneurs.
Polsinelli announced Wednesday that real estate lawyer Robert Detrick joined the firm in Denver. 
Detrick's practice is focused on master planned communities, resort and mixed use projects. He has been involved in real estate development projects including resort developments at Keystone Resort and Copper Mountain Resort in Colorado; organizing and creating master planned communities such as  Mesa del Sol, New Mexico, Turtle Bay Resort, Hawaii and The Village at Winter Park, Colorado; and, helping with the development, joint venturing, construction, and leasing of large health care facilities, such as St. Joseph's Hospital in Denver.
BOARD APPOINTMENT
Peter Burg, senior shareholder of Denver-based law firm Burg Simpson Eldredge Hersh & Jardine, has been appointed to the advisory council of Phamaly Theatre Company, an organization that produces professional plays and musicals that exclusively feature actors with all nature of disabilities: physical, cognitive, intellectual and emotional.
Burg's work involving claims for people with traumatic brain and/or spinal cord injuries is aligned with Phamaly's mission of increasing visibility for engagement for people with disabilities and their families through cultural activities. 
Burg will join eight other members on the council. Burg Simpson will also be the lead sponsor of Phamaly's Big Night, the nonprofit's primary annual fundraiser, which raises funds to support Phamaly's programming. This year the event is being held in conjunction with opening night of Phamaly's 2018 summer musical, Into The Woods and will feature a pre-show reception, silent auction, and champagne toast with cast and crew. 
JUDICIAL VACANCY
The 17th Judicial District Nominating Commission will meet at the Adams County Justice Center on Aug. 14 to interview and select nominees for appointment by the governor to the office of district judge for the 17th Judicial District, which includes Adams and Broomfield counties. The vacancy will be created by the retirement of Judge Thomas Ensor. The vacancy will occur on Sept. 28.
Application forms are available from the office of the ex officio chair of the nominating commission, Justice Monica Márquez, 2 E. 14th Ave. in Denver and the office of the district administrator, Benjamin Stough, 1100 Judicial Center Drive in Brighton. Applications and detailed instructions also are available on the court's home page at courts.state.co.us/Careers/Judge.cfm
Applications must be filed with the ex officio chair no later than July 17. Any person wishing to suggest a candidate to fill the vacancy may do so by letter to be submitted to any member of the nominating commission, with a copy to the ex officio chair, no later than July 10.
The members of the nominating commission for the 17th Judicial District are: Margaret Burd of Thornton; Daniel Carr, Jennifer Chavez, Joann Dawe and Patricia Jarzobski of Westminster; Christina Gomez of Commerce City; and Linda Rodriguez of Broomfield.