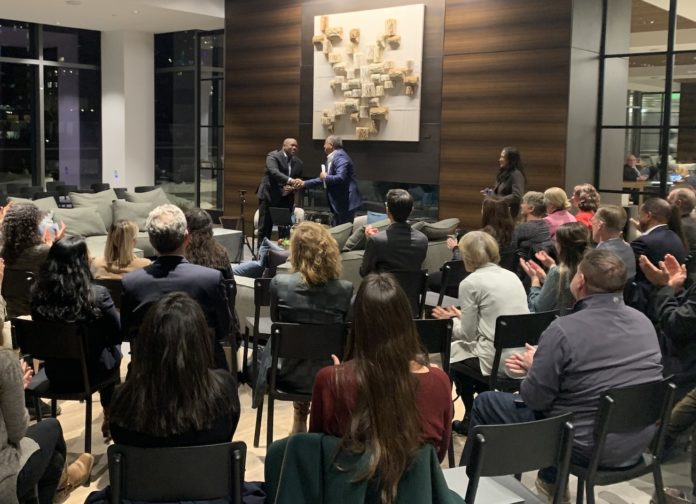 Minneapolis attorney Jerry Blackwell says he went into civil litigation because he thought being a criminal lawyer would be "too heavy a load" to carry. He didn't want to be responsible for whether a person walked free or was sent away to prison.
"I figured I'll focus on the civil side, where there's injunctive relief and exchanges of money. And that's where I've been up until the Chauvin trial," said Blackwell, speaking at a Feb. 17 fireside chat at Sherman & Howard's Denver office. At the event, which was hosted by the Denver Law Firm Coalition for Racial Equity, Blackwell discussed his role as special prosecutor in the trial of former Minneapolis police officer Derek Chauvin, who was convicted of murdering George Floyd. The trial was Blackwell's first foray into criminal law.
Blackwell said he received a call "out of the blue" from Minnesota Attorney General Keith Ellison, who asked him to join the prosecution team. Blackwell said he had "big reservations" about jumping into the criminal arena — especially in a trial that had the world's attention and would be televised; more than 23 million people tuned in to watch the verdict on April 20, 2021.
In his civil practice, Blackwell, the founder and CEO of Blackwell Burke in Minneapolis, defends major corporations in class actions, product liability and other high-stakes cases. "Fortune 500s don't necessarily retain many people like me to represent them at all, let alone as national counsel," said Blackwell, who is African American. He knew there was a risk that clients might want to distance themselves from an attorney who was in the spotlight due to a high-profile criminal trial. "So for me, professionally, it was all-in, in terms of what was on the line," he said.
Like millions of others, he had seen the video of Floyd dying as Chauvin knelt on his neck for more than nine minutes. "I think that's what really caused a cascade of public reaction. You got to see his entire humanness — the vulnerability, the not resisting, the calling for his mother, the fact that he says, 'Tell my kids I love them,'" Blackwell said. He said he felt a calling to respond to what he had seen in the video. He agreed to serve on the prosecution team pro bono.
Blackwell discussed his experiences of racism as a Black man, from childhood memories of the Ku Klux Klan marching in his town's Christmas parade to being pulled over as an adult on "pretext stops" by police. He said his experience made him "both shocked … and not shocked" by what happened to Floyd. "On the broader landscape of my life and existence, this is the sort of thing that we have complained of forever," he said.
While Floyd's death sparked a wave of protests over racial injustice and police brutality, Blackwell said it was important that Chauvin's trial not become a "referendum trial." "If it became a referendum on policing, on Blue Lives Matter, Black Lives Matter, on race or any of it — to me, it just increased the odds that there would be a hung jury or defense verdict, because the jurors end up voting their politics, which means they tend to discount the evidence," he said. "And our case was all about the evidence."
While he was a newcomer to prosecuting criminal cases, Blackwell said his background in civil litigation prepared him well for the Chauvin case. "I don't think that there's such a thing as a criminal jury or a civil jury — there's just the truth," he said. "Learning how to frame narratives, the importance and power of themes [and] learning how … jurors really make decisions were all things I learned on the civil side." He added that his practice focuses on the intersection of medicine and law, "so in a way, I was better equipped than the average prosecutor [or] the average criminal lawyer to deal with cases where there were going to be complex medical causation issues, because I do it all the time."
Blackwell's role on the team included building the case around Floyd's medical cause of death. He argued Floyd died from a lack of oxygen as Chauvin knelt on his neck — a theory that was supported by several expert witnesses. This contradicted the opinion of the doctor who performed Floyd's autopsy, who said he died of cardiac arrest. Chauvin's attorney argued Floyd's heart stopped beating due to underlying health problems, including an enlarged heart. During his rebuttal to Chauvin's closing arguments, Blackwell countered that "the reason George Floyd is dead is because Mr. Chauvin's heart was too small."
Wheeler Trigg O'Donnell partner Juan Ramirez moderated the discussion. "What Jerry brought to the table was years of advocacy and experience and success," Ramirez said, adding that "I don't think you would have gotten the success in that case were it not for someone like Jerry Blackwell." Blackwell had a front-row seat to "an amazing historical event," Ramirez said, as Floyd's murder was a catalyst for change and racial solidarity. "You didn't have to be someone of color to be outraged," he added.
According to Sherman & Howard member Melissa Reagan, Floyd's death was also the catalyst for the formation of the Denver Law Firm Coalition for Racial Equity, which hosted the event. The coalition is a collaboration between five big local firms to advance racial equity in the legal community. The coalition hasn't hosted many other events as it is "focused on action," Reagan said. Its activities include mentoring through programs such as the Colorado Diverse Attorney Community Circle and Law School … Yes We Can! The coalition is also involved in recruitment and pipeline initiatives, including an upcoming effort to recruit diverse attorneys from Chicago to Denver.
"The legal profession …  is literally the least diverse profession in this country," Ramirez said. "And while we're making progress, progress requires self-awareness. And I think Jerry spoke to that need for self-awareness."
During his talk, Blackwell didn't shy away from pointing out the mistakes he's seen law firms make in their diversity, equity and inclusion efforts. He noted that law firms have long-term business plans and goals, and if those goals aren't met, firms will perform a root cause analysis, hold people accountable and tie compensation to performance. But when it comes to diversity, he said, "Then it's funny business. You have none of that."
"If you don't tie it to accountabilities, if you don't tie the objectives to … compensation, then you're more or less left being a cheerleader with a megaphone for the Bad News Bears," Blackwell said.