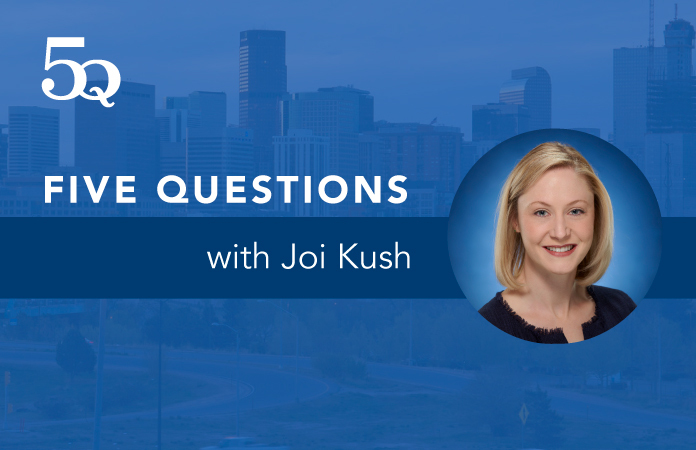 5Q is Law Week Colorado's weekly gateway for members of the legal community to get acquainted with each other. Each week, you'll hear from lawyers, judges and legal academics across Colorado. We ask industry professionals a range of questions from their thoughts on the challenges facing the profession to their personal interests. Responses are lightly edited for clarity and space. Let us know if you'd like to be included by emailing [email protected].
We spoke with Joi Kush, a partner at Johnson Kush in Colorado Springs. Kush, a family law specialist, is a University of Denver alumnus and a 2010 graduate of New York's Albany Law School. She is the president of the Colorado Bar Association and a member of the organization's Board of Governors, a member of the Colorado Supreme Court's Committee on Lawyer Well-Being and Colorado's representative to the American Bar Association House of Delegates. Kush was the 2017 recipient of the El Paso County Bar Association's Brian S. Gardner Outstanding Young Lawyer Award. She has been recognized as a "Rising Star" by SuperLawyers.com.

Question 1
Should Americans be assured a right to counsel in civil cases? Explain.
A: Absolutely. The legal system is intimidating and overwhelming. It is unfair to expect litigants to represent themselves when they are presented with a legal issue. In order to ensure true access to justice, we must ensure all litigants have some legal assistance as they present their case.
Question 2
Should U.S. lawyers have to wear wigs in court, like they do in the United Kingdom and its commonwealth countries and some African nations? Discuss.
A: Wigs bring too much formality to the court proceedings. I firmly believe that the courthouse must be welcoming and accepting of all people. In my opinion, wearing a wig brings a sense of "other" that does not create a welcoming environment.
Question 3
What is your favorite memory of your time in law school?
A: My favorite memory of law school is stepping off the plane in Chiang Mai, Thailand. It was the beginning of a three-month, life changing journey with a non-governmental organization called Bridges Across Borders. That summer, I helped create legal clinics throughout Vietnam, ran my first half-marathon, learned how to rock climb, traveled throughout Southeast Asia and worked with victims of domestic violence from Burma.
Question 4
You decide to spend a weekend on the Great Plains of eastern Colorado. Where, in that part of our state, do you visit?
I enjoy visiting Lamar—it has wonderful charm, great history and there is a true sense of community. La Junta is similar and would be my second choice.
Question 5
Bach or Beethoven? Discuss.
Bach, because I love the Phantom of the Opera and it would be so boring without Toccata and Fugue in D.