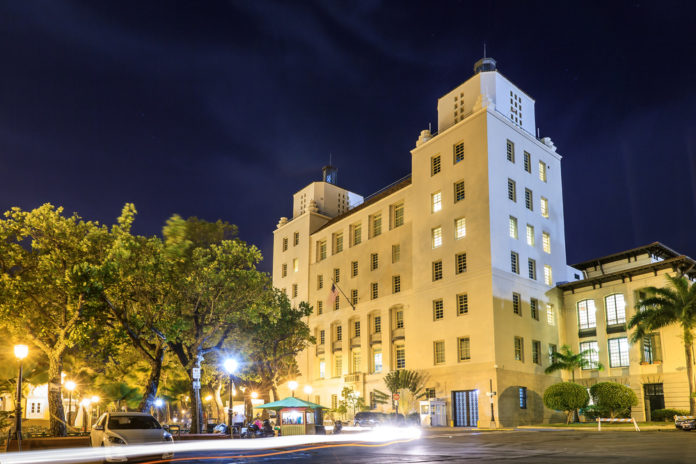 The federal judiciary is urging Congress to include funds for courthouse security and the protection of judges in either the infrastructure package or the anticipated federal budget for the next fiscal year. 
An Aug. 11 letter from the Judicial Conference of the United States to Senate leaders asked for nearly $400 million and lamented the exclusion of any funding in the Emergency Security Supplemental Appropriations Act that was enacted in July. 
"The number of security incidents are increasing and the threat environment is worsening," wrote JCUS Budget Committee Chairman John Lungstrom, a senior federal district judge in Kansas, and Roslynn Mauskopf, the organization's secretary. "The continued existence of these threats and vulnerabilities poses serious risks not just to specific judges, court personnel or facilities, but also to the effective administration of justice in this country."
In a letter to the chairman and ranking minority member of the Senate Budget Committee on July 12, the JCUS asserted "an urgent need for immediate Congressional action to address the security of judges and federal courthouses." Lungstrom and Mauskopf told Senators Bernie Sanders of Vermont and Lindsay Graham of South Carolina that "the number of threats and inappropriate communications targeting judges and other personnel essential to court proceedings rose from 926 in 2015 to 4,261 in 2020, a 360 percent increase," according to the U.S. Marshals Service.    
Among the more notable recent attacks on the judiciary was the murder of U.S. District Judge Esther Salas' son by a disappointed litigant who came to her home and also wounded Salas' husband in the shooting. 
"An FPS guard was shot to death in May 2020 outside the federal courthouse in Oakland, California," said JCUS' July 12 letter. "A court security officer was shot and wounded in September 2020 outside the federal courthouse in Phoenix, Arizona. And more than 50 federal courthouses sustained damage during public disturbances and violent incidents occurring at or near federal courthouses in 2020."
Over the past 42 years, four federal judges were assassinated. Those include U.S. District Judge John Wood, murdered in San Antonio, Texas in May 1979; U.S. District Judge Richard Daronco, killed in Pelham, N.Y. in May 1988; federal appeals court judge Robert Vance, a victim of a Dec. 1989 mail bomb attack; and U.S. District Judge John Roll, gunned down in a mass shooting in Tucson, Ariz. in Jan. 2011.
In addition, an assailant broke into U.S. District Judge Joan Lefkow's Chicago home in 2005. He killed Lefkow's husband and mother.
Of the requested funds, more than $120 million would be used to reduce the likelihood that federal courthouses could be penetrated and to protect federal judges and their families. About $267 million would be used to upgrade security cameras at federal courthouses and other judiciary buildings. 
Legislators in both chambers of Congress included funding for these priorities in their separate versions of the Emergency Security Supplemental Appropriations Act, but that commitment was stripped out during negotiations over the final bill.
The JCUS also asked Congress to include more than $634 million for construction projects, including new courthouses in Hartford, Conn.; San Juan, Puerto Rico; and Chattanooga, Tenn. At an expected cost of $262.2 million, "[t]he San Juan, Puerto Rico project is deemed a judicial space emergency by the Judicial Conference and designated our top space priority due to the significant seismic deficiencies in the courthouse complex in addition to pre-existing building, space and security deficiencies."
Funding for ongoing courthouse projects in Anchorage, Alaska; Bowling Green, Ky.; Greensboro/Winston Salem, N.C; McAllen, Texas; and Norfolk, Va., is also sought. 
The U.S. judiciary also wants $78 million for its Capital Security Program, which "addresses security deficiencies in existing courthouse buildings where physical renovations are viable in lieu of constructing a new courthouse" and which has not been allocated federal money since fiscal year 2018. These projects, which may include secured parking facilities for the transport of prisoners and additional elevators, are requested for courthouses in Augusta, Ga.; Fort Wayne, Ind.;  Hattiesburg, Miss.; and Burlington, Vt.
Cybersecurity and information technology upgrades are also high on the JCUS' priority list. The organization's July budget request includes $515 million for a one-time improvement of that infrastructure. "The combination of sharp increases in the number of cyberattacks on Judiciary IT systems, aging legacy applications critical to court operations and funding shortfalls has created IT vulnerabilities that require an infusion of resources to address," Lungstrom and Mauskopf wrote. "Without additional resources, these IT vulnerabilities will impact our ability to provide core IT services and cyber protections for the courts, or to undertake much needed modernization projects."
The IT request would include appropriations for the judiciary's Probation and Pretrial Services Case Tracking System 360 project, which is intended to "replace the aging and failing case management system used by probation and pretrial services officers to supervise defendants awaiting trial and offenders released from prison." It would also support the courts' Jury Management System and an electronic payment system that assures compensation for attorneys appointed to provide representation to criminal case defendants. 
The federal judiciary's budget request for fiscal year 2022 is $8.1 billion, an increase of 5.2% from the current period. The request, if granted, would provide funding for six additional full-time federal magistrates around the nation, additional court security officers and expenses of the U.S. Marshals Service.