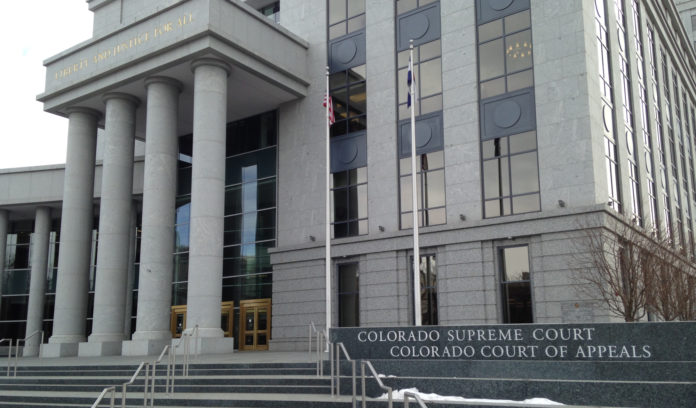 The Colorado Supreme Court on Aug. 16 announced it will hear a case from a convicted murderer who wants his iPad, camera and credit cards back and says the Colorado Governmental Immunity Act violates his constitutional rights by barring his claim to recover the seized property.
James Woo was arrested at the Seattle airport in April 2016 on suspicion of killing his former girlfriend, Julie Tureson, whose body was found handcuffed inside her car in a Colorado Springs storage unit Woo had rented. Woo was convicted of first-degree murder in 2018 and sentenced to life in prison without parole.
In April 2019, Woo filed a replevin action against the El Paso County Sheriff's Office and 4th Judicial District Attorney's Office to recover items seized during his arrest and from his apartment, including electronics, clothing, cash and credit cards. According to Woo, the items are his property, weren't used as evidence in the murder trial and should be returned to him because they lack evidentiary value for future proceedings. He also seeks damages for the alleged wrongful detention of the items. 
The sheriff's and DA's offices moved to dismiss for lack of subject matter jurisdiction, citing the Colorado Governmental Immunity Act. The defendants argued CGIA has a 182-day notice of claim requirement, which Woo failed to comply with, and they are immune under the CGIA from replevin actions, which seek to recover personal property that was wrongfully taken or detained. 
The district court dismissed Woo's complaint with prejudice, finding it lacked jurisdiction because Woo apparently failed to provide proper notice and because the return of property should be resolved in Woo's criminal case.
Woo appealed the case. A division of the Court of Appeals concluded that the CGIA precludes Woo's replevin action because the law bars any action against a public entity that lies in tort. The Court of Appeals also rejected Woo's argument that applying the CGIA to bar his replevin action violates his Fourteenth Amendment rights against deprivation of property without due process. Woo had an alternative remedy because he could have sought to recover his property by filing a motion in his criminal case, the division concluded, so his due process rights were not violated.
"Indeed, his defense counsel's motion for release of certain items to Woo in the criminal case shows that his counsel knew of this procedure, though the motion might have been tardy," stated the Court of Appeals' 2020 decision affirming the dismissal of the case.
Woo, who has represented himself in the replevin action, urged the Colorado Supreme Court to take the case in a handwritten petition for certiorari filed in November. "The issue as to whether the CGIA violates criminal defendants' constitutional rights against deprivation of property seized by law enforcement without due process of law is an important issue faced by courts throughout Colorado," states Woo's petition, which lists his address as the Arkansas Valley Correctional Facility in Ordway.
"This is especially true in light of the [Court of Appeals'] holdings that criminal courts lack jurisdiction to address post-sentence motions for return of property," Woo continued. "The issue with regard to whether district courts may properly dismiss with prejudice all civil claims for property seized by law enforcement for lack of subject matter jurisdiction is likewise substantial."
The Colorado Supreme Court decided to take the case to consider whether the Court of Appeals erred in concluding the CGIA doesn't violate Woo's constitutional rights, even if the criminal court lacks jurisdiction to address a post-sentence motion for return of property. In its order granting certiorari, the Supreme Court also ordered the El Paso County District Court to appoint counsel to Woo in the certiorari proceeding.
Woo was represented in his criminal trial by Miami-based attorney Jose Baez, a star trial lawyer known for representing high-profile clients including Casey Anthony and former New England Patriots player Aaron Hernandez. He also briefly represented Harvey Weinstein in the Hollywood mogul's felony sex crimes case.
Last year, The Gazette reported Woo and Baez had a falling out, with Woo claiming Baez backed out of a promise to waive a portion of his legal fees. In 2019, Woo sued Baez and two other attorneys for fraud, breach of contract, breach of fiduciary duty, professional negligence and other claims. The lawsuit, in which Woo also appears pro se, was thrown out by the El Paso County District Court earlier this year and is currently before the Court of Appeals.