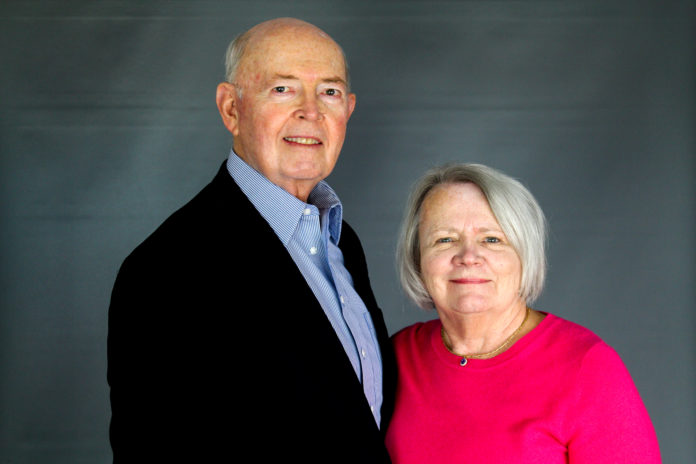 Since 1983, the Jury Verdict Reporter of Colorado has been helping the state's attorneys navigate civil law. 
The organization works nearly every week, outside of a few weeks in July and December, to publish a summary of civil jury verdicts from federal and district courts from every county in Colorado. Those summaries include information like who the attorneys were on both sides, a summary of what happened and who the expert witnesses were.
The newsletter was started by Sally Gilbert who got the idea after seeing something similar elsewhere. Gilbert had a background working for trade magazines. She sent out a sample copy to around 6,000 attorneys and got a strong response. It was officially launched in October 1983.
About 10 years ago, her husband Steve Gilbert was brought on to serve as the director of research where he works to deliver customized research from the company's database when attorneys request it. He has a background in sales and marketing. The Gilberts are the only two staff members.  
A lot of work goes into building the newsletter and database including interviewing the attorneys of record and using court records to flesh out what happened. Jury Verdict Reporter of Colorado has paid subscribers including civil litigators, vendors and insurance companies who get the newsletter in the mail but the couple hopes to move toward going more digital. 
"[Subscribers] use the publication to see what kind of cases are being tried with what results and then they also use the publication to help them prepare for trial if they have a similar type of case or similar jurisdiction," said Sally Gilbert. "Sometimes people use it as a tool to educate their clients. Sometimes plaintiffs have [an] inflated idea of what their case might be worth."
Steve Gilbert provided an example of the customized research they do. An attorney might call who is working on a car accident case where someone has a certain type of injury and wants to see awards that occurred in similar cases. Based on that, he would research the topic through their database of cases. The attorneys can also order expert witness reports or even look at cases opposing counsel has tried before. Jury Verdict Reporter of Colorado has about 10,000 verdicts in its database.
Whenever a non-legal professional looks at court documents, they may find a lot of jargon they don't understand. But hard work and strong connections help Jury Verdict Reporter of Colorado break through that barrier.
"We have been extremely fortunate in that the attorneys have always been really supportive of the newsletter recognizing the value that it provides to them and so they've really been supportive in terms of sources … and that they can really be concise and detailed about their case in a pretty short amount of time," Sally Gilbert said.
Sally Gilbert added over the last 40 years, technology has made it easier to get ahold of the attorneys through email and it's also easier to get information from the courts.
The Gilberts were already prepared for the pandemic as they work from home, but had concerns over a lack of cases due to courthouse shutdowns. They were able to push through, however, reporting on the cases that were happening, along with what the courts were doing to get through the pandemic. 
Steve Gilbert also said they were concerned research would come to a halt during the pandemic.
"But what we found is there were more settlements that were going on, so they needed the verdict research even more during the pandemic," he said. "That worked out great for us."
Whether it was the pandemic, the changes in technology or the growth of their business, the Jury Verdict Reporter of Colorado has stood the test of time.
"If you said to me you'll still be doing this 40 years later, I probably would have been very surprised," Sally Gilbert said. "I'm grateful. It's been a great business. I have three kids. I've worked at home the entire time, so they've watched me grow this business and hopefully I set a good example for them and that's something I'm very proud of."
The Gilberts would like to pass the baton on one day, but they don't have any specific plans for that right now. 
Making an Impact
Law Week reached out to multiple attorneys who discussed the impact the Jury Verdict Reporter of Colorado had on them. 
Attorney Richard Kaudy of The Kaudy Law Firm, LLC who practices in multiple areas including bad faith insurance, insurance law, motor vehicle accidents (plaintiff) and personal injury (plaintiff), told Law Week Jury Verdict Reporter of Colorado has been very helpful to his practice.
"The JVR as a treasured and valuable source of factual data about experts and trial counsel enable claim handlers to assess claim values for jury outcomes when deciding whether to settle or pursue a jury decision,"  Kaudy wrote in an email. "The trials represent not the true value of all cases, just those the insurance industry chooses not to settle but conclude a jury will decide in favor of the defense. The JVR documents the adage of the industry, try your winners, settle your likely losers."
Attorney Tiffaney Norton, a partner at SGR, LLC, who practices in numerous areas including professional liability defense, has also found it very helpful.
"The Jury Verdict Report[er] gathers information that is otherwise not widely available without expending considerable time and resources," Norton wrote in an email. "Custom search parameters can quickly yield salient information to analyze case issues."
Michael Daugherty, a shareholder at White and Steele, P.C., whose practice areas include commercial litigation and trucking/auto law, has also found it very useful.
"Early on in my career I was fortunate to have one of the more experienced lawyers in the firm guide me through the practical side of the practice of law," Daugherty wrote. "One of the important tools I was told about was the Jury Verdict Reporter of Colorado. My mentor told me to 'read it, there is real life information that is not readily available from other resources.' He was right and I still read every issue."
Daugherty added that while each case is different, Jury Verdict Reporter of Colorado shows trends in certain types of cases or damage awards that can be very helpful when evaluating a case and making suggestions to a client.
"These issues are just a few examples of insightful information that reading the JVR provides," Daugherty wrote. "Today I pass on the same [advice] to our new lawyers — read the JVR, not only will you be informed of what is happening in the trenches, but every once in a while you'll be entertained by some of the case facts and conclusions and reminded that you really can't make this stuff up."