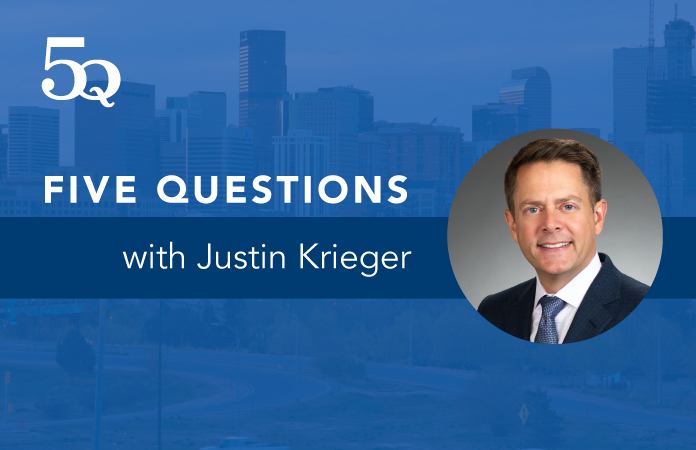 5Q is Law Week Colorado's weekly gateway for members of the legal community to get acquainted with each other. Each week, you'll hear from lawyers, judges, and legal academics across Colorado. We ask industry professionals a range of questions that may range from their thoughts on the challenges facing the profession to their personal interests. Their responses are lightly edited for clarity and space. Let us know if you'd like to be included by emailing [email protected].
This week we spoke with Justin Krieger, managing partner at Kilpatrick Townsend's Denver office. Krieger, a patent lawyer, frequently practices before the Patent Trial and Appeal Board of the U.S. Patent and Trademark Office. A member of the Colorado Bar Association since 2018, he is also licensed to practice in New York and Washington, D.C. Krieger earned his law degree at the University of Florida and an undergraduate degree in chemistry at the College of William and Mary. He holds an adjunct faculty appointment at the University of Denver Sturm College of Law.
Question 1
Should the tradition of elevated courtroom benches for judges and judicial robes be abandoned?
A: Definitely not. Judges have authority over their courtrooms and, by their mere presence, are symbols of the judicial branch of our government. The elevated benches and black robes help remind attendees of that important position and the solemn duty that judges provide. Additionally, it provides a practical benefit to the judges in that they can clearly see what is going on in the entire courtroom, which can be important in hearings as well as at trial.
Question 2 
What should teenagers be taught about how law works and about the country's system of courts while in high school?
A: Students should of course be taught about the fundamental makeup of our government and the importance of all three branches in the enactment and enforcement of laws. 
Perhaps one thing that could be discussed more substantively is the role of juries in our judicial system. There are pros and cons to our American jury system, but many students and high school teachers are unaware of the real problems with the jury system. Although most juries render their decisions after carefully reviewing and considering the evidence, doing their best to arrive at the appropriate decision, occasionally juries become confused and frustrated in the deliberation process. This can result in bad decisions, perhaps based on a misunderstanding of the law or, in a worst case scenario, something as superficial as disapproval of an attorney's wardrobe.
Question 3
What is the greatest rock and roll song of all time? Discuss.
A: The Beach Boys, "God Only Knows."
What an amazing song, far ahead of its time, with beautiful and complex harmonies unmatched since! Truly a Brian Wilson and Tony Asher masterpiece. The song has had a tremendous influence on countless artists, including Paul McCartney, who touted it as "the greatest song ever written." It has a tremendous influence on his songwriting and of innumerable other artists. It still gives me chills each time I hear it!
Question 4 
Tell us briefly about your most memorable childhood adventure.
A: I spent my youth in Cleveland, Ohio, each summer sailing Lake Erie in search of adventure—and walleye. On one trip, when I was about 13 years old, my grandfather, father and I were sailing from Cleveland to "the Islands" of Lake Erie in my father's 27-foot sloop. We would leave in the late evening and typically arrive shortly after sun up. It began so beautifully, sailing by the stars early into the morning hours with the occasional freighter passing by. We were in the middle of the lake with no sight of shore. There was a steady breeze and we were making great time. I was at the helm while the others were resting down below. Soon, a storm came rolling in, and I knew I was in over my head! I woke the others and the next thing I knew we were fighting to get back to shore. The next few hours were terrifying—I wasn't sure our little sailboat was going to make it. With six to eight foot swells, the boat was getting tossed around like a rag doll. But we eventually made it to Vermillion, a river town just shy of the islands, safe and sound. Although I never want to go through something like that again, the trip connected the three of us in a very special way from that day forward.
Question 5
Predict the winner of this year's World Series, along with a reason or two why we should trust your prognostication.
A: The Cleveland Indians (as of next year, the Cleveland Guardians). 
Although I am now an avid Rockies fan, it took me a while to let go of my Cleveland baseball roots. I long loved the Cleveland baseball team, but even as a child I knew there was something very wrong about the team's logo and name. It was a relief to see the team finally move away from its history and go a different, much more honorable, direction. Although I still feel there may have been better options than the "Guardians," the owners did the right thing changing the team name, and I'd like to think that Karma will reward them soon with a solid run at the pennant!