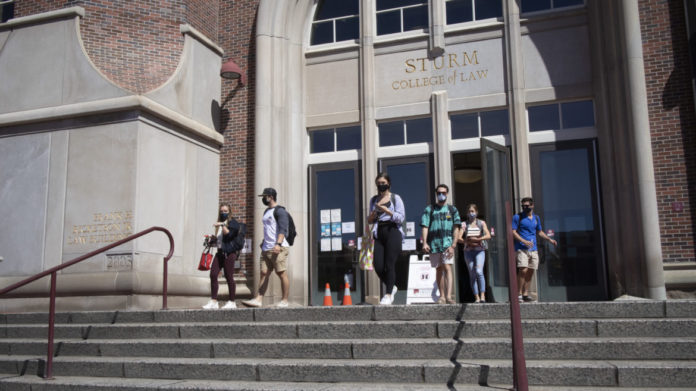 School is back in session at Colorado's law schools, which includes a return to at least partial in-person instruction after an abrupt switch to remote-only classes in March.
While faculty and upper-division students have already experienced what law school during a pandemic is like, first-year students are being introduced to the Socratic method under highly unusual circumstances. But even for returning students and professors, the fall semester has required some adjustments as they pivot to hybrid or "hyflex" teaching models.
The new semester has also brought some pleasant surprises when it comes to enrollment and incoming class diversity. 
DEFERRALS AND DIVERSITY
One big question back in the spring was how the pandemic would shape law school admissions and this year's entering class. Some predicted a wave of deferrals by students willing to wait a year for the traditional 1L experience. Others reasoned that as job opportunities disappeared, recent grads would find law school offers especially appealing. 
"I was impressed with how resilient I found the applicants to be," said Kristine Jackson, assistant dean for admissions and financial aid at the University of Colorado Law School. 
"I was expecting potentially big fallout and that people would choose not to go to law school," she said. "But I was pleasantly surprised to see the applicant pool was, as usual, a very motivated, thoughtful, intelligent group that had decided that they wanted to go to law school, and it was almost as if COVID wasn't going to stand in the way."
Jackson added that although the law school "did end up having more deferrals than we have had in the past," the entering class of 185 is within the normal range and "perhaps just a little bit bigger than I would have expected."
CU Law's incoming class is more diverse than any in its history, with 36% of new students identifying as people of color, a 19% increase from 2015.
Colorado's other law school also saw increased diversity in its incoming class, at least according to preliminary numbers. 
University of Denver Sturm College of Law Dean Bruce Smith notes that admissions data won't be certified until next month.
"But what we have right now… is a class that is considerably more diverse in terms of underrepresented minority groups in the legal profession than we've recruited in any of the prior four years where we have consecutive data, and going back considerably further before that," Smith said.
"That is an objective. It is something we're proud of, and it's not necessarily something that would have been predicted, given the differential impact of COVID on communities of color."
Women make up about 60% of DU Law's incoming class, according to Smith, and preliminary data shows the class's median GPA is the highest in the past five years.

BACK TO SCHOOL
Both of Colorado's law schools are offering a mix of in-person and remote instruction this fall to allow for social distancing while still letting students get face time with professors.
DU Law has allocated more faculty time and resources to teaching first-year students, dividing its class of about 260 into four sections rather than three. The sections are further broken down into cohorts of about 18 students, and the cohorts are assigned different days to be on campus during the week, with the rest of the section participating remotely.
"We started with the principle that all of our instruction matters, but face-to-face instruction is perhaps most meaningful for those new students coming into law school," Smith said. 
"When they're in class, it's a type of experience I've never had. I've never taught first-year students where only 17 or 18 are in that class," Smith said. "It leads to really rich discussions and the ability to follow up and pursue." 
Upper-division classes with larger class sizes use less face-to-face instruction, according to Smith, with some being taught fully online.
After a fully remote spring semester, CU Law has moved to a hybrid instruction model. The school has reduced room capacity to ensure there are at least six feet between students, and students in many classes alternate between remote and in-person attendance on a weekly basis. 
Students can also request to be fully remote, and a "large number of students" have taken the school up on that option, according to Whiting Dimock, senior assistant dean for students at CU Law.
Even for classes that are fully remote, Dimock said, the law school is providing classroom space for students who don't have reliable internet or a suitable living situation for remote class participation.
After a sudden switch to Zoom in the spring, faculty had more time over the summer to think about how to adapt their classes for remote or partially remote learning, which has led to some "really creative uses of breakout rooms and of the chat feature," Dimock said. For example, some professors are having students use the breakout rooms for small group discussion before bringing their ideas to the larger class.

BEYOND THE BOOKS
CU Law held a series of online activities over the summer to introduce incoming students to law school life, starting with a course from Harvard Law School called Zero-L that aims to help students prepare for law school and "equalize the information that folks have," Dimock said.
"Everything I saw in the program I wish I'd had when I went to law school because it's just a lot of the context that you would only have if you knew lawyers," she said.
The school held an online orientation featuring a combination of recorded content and live sessions, including a panel of upper division students who answered questions from incoming students about starting law school. New students were also introduced to at least one upper-division student to ease their transition, Dimock said.
Clinics and other hands-on learning programs are still happening at both law schools, although whether they're taking place in person or remotely depends on the specific risks and needs involved. 
At DU Law, much of the mentoring program is happening through Zoom due to safety concerns, while the legal writing program is delivered in a hybrid model. "Clinics are tricky," Smith said, as some clients are incarcerated or in other high-risk settings, and some cases have required telephonic arguments and remote communication with clients.
"But I would say in terms of our classic impact, we take hard cases and argue them well," Smith said. "We've not slowed down at all in the domains in which we make a difference: immigration and criminal defense, prisoner rights [and] landlord-tenant, which is, of course, in a crisis in many cities in the nation."
While the university campuses have policies for masks, distancing and other safety protocols, law students and faculty are going the extra mile to keep their communities safe, according to the administrators.
"Our law students actually wrote a pledge that really focuses on why we do these safety precautions," Dimock said. "They're in this profession to help people, and so it focuses on caring for our community… by taking safety precautions so that nobody gets sick and so that we can keep having these limited in-person interactions."
One of the big challenges facing society in general, Smith said, is that "we cannot coerce or direct people to adopt a communitarian spirit." While the law school can't police students' behavior all the time, it can try to foster that communitarian spirit and regard for others.
"We have done our very best to build a type of ethic, a type of professionalism that models the behavior we expect," Smith said. "I teach with a mask. When I walk outside my office on the campus and this building, I model the behavior I expect from others. And we've been very focused on building that sense of community."
—Jessica Folker